Hi there! I got the Sims Medieval working... however, when i try to install Pirates & noble it says "its unupdateble"... do we have a fix for this? thanks!

Admin edit: Moved to right section.

- ADMIN
Beginner





Favourite games

: MBP 13 on ML


Posts

: 7


Points

: 1991


Reputation

: 0


Join date

: 2013-02-13



Have you updated the base game (Sims Medieval) to the latest version? What exactly does the error message say? I think I can help you fix this but I need to know the details. Let me know - thanks!
_________________
Andrea

"You're wearing the t-shirt of the band you're going to see? Don't be that guy." - PCU
Posting Nerd





Windows version

:


Favourite games

: The Sims 3, The Sims Medieval


Posts

: 24


Points

: 2312


Reputation

: 8


Join date

: 2012-05-01


Age

: 34


Location

: Chicago, IL



Hi there! oopss i havent updated the base game maybe thats the reason why im having errors with the installation of Pirates and Noble. How do i update it? do we have an updater link? kindly tell me how to proceed? super thanks!
Beginner





Favourite games

: MBP 13 on ML


Posts

: 7


Points

: 1991


Reputation

: 0


Join date

: 2013-02-13



When you open the game and you're in the launcher, click on the button on the side that says, "Game Updates" and see if you have any updates to install. I have Pirates and Nobles installed, and my game version says 2.0.109.00001. Here's a screenshot of my launcher so you know what I'm talking about.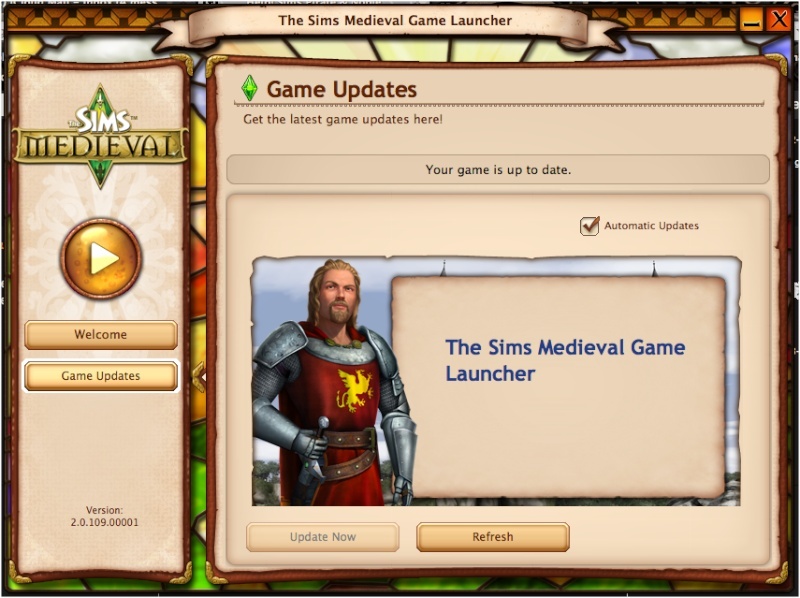 _________________
Andrea

"You're wearing the t-shirt of the band you're going to see? Don't be that guy." - PCU
Posting Nerd





Windows version

:


Favourite games

: The Sims 3, The Sims Medieval


Posts

: 24


Points

: 2312


Reputation

: 8


Join date

: 2012-05-01


Age

: 34


Location

: Chicago, IL



---
Permissions in this forum:
You
cannot
reply to topics in this forum