First of all, I'd like to thank you for fixing the game so we can all enjoy it. I´m not very experienced with game installations but I've searched the forum and I don't see anyone else having this problem.
I have followed your installation guide and the game runs smoothly. I have installed WA, Ambitions, Late Night, Showtime and Pets, also added High end loft, Outdoor living stuff. Before applying ultimate fix, I opened the launcher and it said that I need to update to 1.50 and I decided to use manual patch. After I patched the game and applied the fix, game is working perfectly. I wanted to add Aurora skies and Sunlit Tides as sim3packs and I get this image: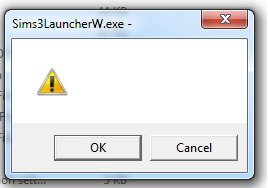 Then I tried opening Launcher ( because I never start the game with launcher anyway), it gave me the same "info" as image above. Now my game is patched to 1.50 but launcher won't work and I tried using using 3Viewer to convert .sims3packs to .packages, and also followed steps to import .packages.
Still no Aurora skies or Sunlite Tides.
Any suggestions why my launcher is dead? And please don't tell me to recheck my installation process 'cause I already installed Master Suite and Diesel stuff after launcher died, and the game is working perfectly. And I've spent more then 10 hours installing complete game with EP and SP so uninstallation is not an option.
Thanks!
//EDIT:
I wanted to update you on my problem.
Yesterday I have deleted whole Sims 3 game, cleaned my registry with Tune Up utilities,
restarted computer and started reinstalling all over. When I had only base Sims
3 game, I tried to activate launcher and got the same message as explained
earlier (launcher will not start but game still working). So I figured it might
be some software blocking my launcher.
I continued with reinstalling most Eps and SPs (I didn't install Supernatural or KP Sweet
Treats) because that is my gaming computer and I want to have the game running
there.
But as I have another computer, I installed base game and some EPs just to check will I
get same problem with launcher. Guess what – game and launcher are working perfectly!
So I believe there is some software blocking launcher or something, and I wanted to
ask if anyone has any idea what to do to solve the problem? I'm not using
Norton Anti-virus. Is there any registry I would remove manually? Or is there
any way to transport my installed worlds packages from one computer to another,
without messing up the game and having to use launcher?
Beginner





Windows version

:


Favourite games

: Sims 3!


Posts

: 1


Points

: 1944


Reputation

: 0


Join date

: 2013-03-23


Location

: Europe



Problem solved, topic locked.
_________________
Have some tea, and take care!
Best regards,
Shamrock
Please PM or e-mail me for any help or advice!
=D Child of Admin =D





Windows version

:


System architecture

:


Favourite games

: The Sims 3 (series), Warcraft III, Civilization V, Vampire Bloodlines, Football Manager 2012, Pokemon games


Posts

: 3265


Points

: 6210


Reputation

: 381


Join date

: 2012-03-06


Location

: On the slim border between sane and insane



---
Permissions in this forum:
You
cannot
reply to topics in this forum