Hello everyone! I have a problem with my game! I download sims for my game... but to see them I have to update it to the last patch so that's what I did, I just update it! to 1.50 patch, when I go to create a Sim "select a sim" section to select the sim I download it show s the thumbnail! but When I select it, it load into a "invisible sim" I tried a lot of things like reinstalling my game! trying without CC, I searched in a lot of forums but it seems like I'm the only one with this problem (I attached a photo) so anyone knows what can I do?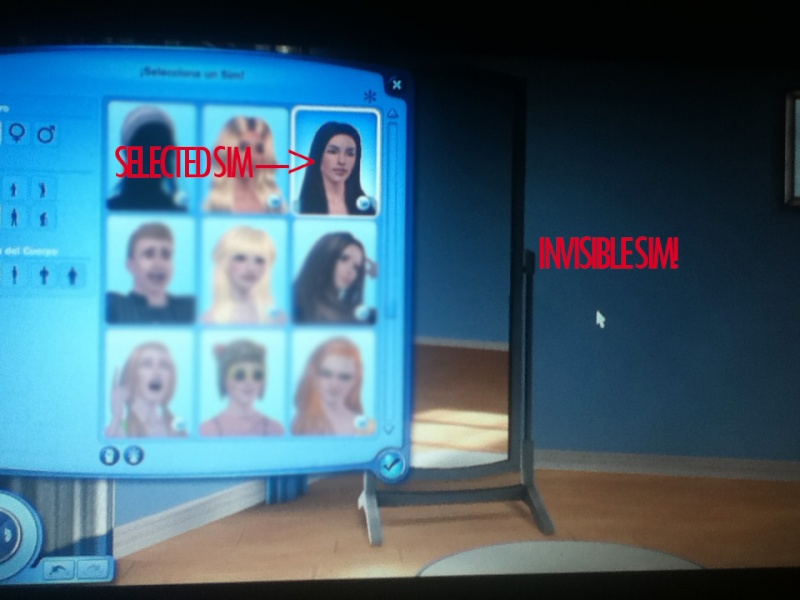 Beginner





Posts

: 2


Points

: 1595


Reputation

: 0


Join date

: 2013-04-08



I can see my sims but some of them have invisible thumbnails... what sorcery is this?

Anyway if reinstalling the game and disabling CC didn't do it then I think you have a problem PC-wise, check your graphics driver.
_________________
BANNED





Windows version

:


System architecture

:


Favourite games

: Grand Theft Auto: San Andreas


Posts

: 646


Points

: -7296


Reputation

: -9982


Join date

: 2012-02-20



Hello,

This is a custom sim though, so that may be the problem. What if you select a different premade sim? One that came with the game?
Forum Administratrix
First Lady of the Forum





Windows version

:

Windows 8
Windows XP
Windows 10




System architecture

:

32 bits (x86)
64 bits (x64)




Posts

: 15105


Points

: 20009


Reputation

: 1430


Join date

: 2011-05-31



Thanks for the replay!

ok when I select a sim in the game! it shows, but it's not only the premade sims that didn't show.. let me explain! before I update the game I already had premade sims and when I selected them they show! but after I update it, the premade sims that I already have they show as well... but! the sim that I'm selecting is a new download sim! and is not only that sims that it didn't show... so I asked to the person who send me the sim! if she made the sims with the patch 1.5 and she said yes!... so I assume all the sims that where created with the patch 1.5 don't work! so I tried download other sim! created with the last patch... and that's it! they don't show in game...

I never had this problem before! so I don't know what would it be!
(sorry for the english)
Last edited by ROTOC on Thu 11 Apr 2013, 09:28; edited 1 time in total
Beginner





Posts

: 2


Points

: 1595


Reputation

: 0


Join date

: 2013-04-08



Hello,

Perhaps some cc's, sliders, custom skins, stuff like that has been used. Usually it would be replaced with a default, but perhaps not in this case. I don't know for sure though, I never use premade sims myself because they tend to be the most problematic type of cc.
Forum Administratrix
First Lady of the Forum





Windows version

:

Windows 8
Windows XP
Windows 10




System architecture

:

32 bits (x86)
64 bits (x64)




Posts

: 15105


Points

: 20009


Reputation

: 1430


Join date

: 2011-05-31



---
Permissions in this forum:
You
cannot
reply to topics in this forum