Hello everyone! First of all I'm sorry if my english is not perfect, it is not my first language.
I scrolled down the fourteen pages of Mac Support and I tried all the solutions proposed in the different topics but none worked.
I'm using a Mac OS X, Version 10.6.8. I own The Sims 3, the base game, legally meaning I bought it and I paid for it. I downloaded The Sims 3 Seasons a while ago from another website and it worked perfectly. I downloaded Pets, 70s, 80s, 90s and Town Life from games4theworld website and it worked perfectly until I add Generation. The game crushes unexpectedly, when I modify an outfit. I added University Life, Diesel and Katy Perry's Sweet Treats and now the game crashes at any moment and sometimes I can't save because error 12 appeared.
I used the tutorial for how to install correctly The Sims 3 base game and expansions Mac guide from games4theworld forum.
I used Stuffit Expander to unzip my folders.
I use the Ultimate Fix for Mac and the manual Patch To-8791-1.50.56.021002
What I've already tried:
- I uninstalled all the expansions and reinstalled it in the order they came out, using the Ultimate Fix and the patch after each installation.
- I deleted my Sims 3 preferences and Caches located in Library/Cache and Library/Preferences
- I renamed my Electronic Arts folder
- I uninstalled Generation
- I clicked save as instead of save while saving my game
Here, a screenshot of the message that appears when the game closes (I only screenshot the first part of it, the rest being a lot of numbers):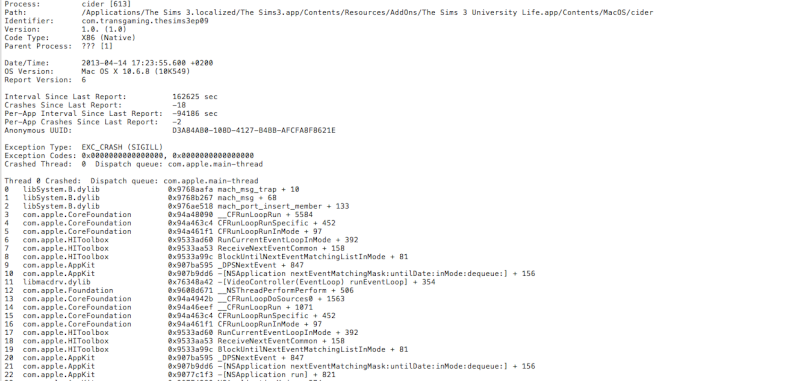 Maybe is it related to the fact that my base game and Seasons are not from games4theworld website?
Let me know if I forgot to add any informations, and thank you if you try to help me.
PS: I have no mods, I think, I don't even know what it is.
EDIT
Well! I don't exactly know how, but I fixed it. What I remember:
- I uninstalled Generation
- used the manual patch
- used the ultimate fix
- used the manual patch once again
- reduced my graphic settings to medium instead of high or low
And now everything is working properly. Might try to reinstall Generation just to be sure that's the reason why my game was crashing. Plus, I miss Generation, probably the best add-on!
Posting Nerd





Windows version

:


Posts

: 45


Points

: 1989


Reputation

: 4


Join date

: 2013-04-14


Age

: 24


Location

: Paris, France



From my own experiences, Mac needs patching AFTER using ultimate fix. I don't know why, but as you said, I've figured it out on my own also.
If you wanna install Generations again, just make sure patch and patch again

Happy simming!
//Helper EDIT: Problem solved, topic is closed.
phoebethetwilightprincess
_________________
Super Spammer





Windows version

:


System architecture

:


Favourite games

: The Sims series, Elder Scrolls Skyrim, The Walking Dead, Sacred I-II, Fables,Vampire Masquerade Bloodlines, Civilization, Don't Starve, Popmundo


Posts

: 781


Points

: 3043


Reputation

: 119


Join date

: 2012-09-17


Age

: 29


Location

: Neverland



---
Permissions in this forum:
You
cannot
reply to topics in this forum