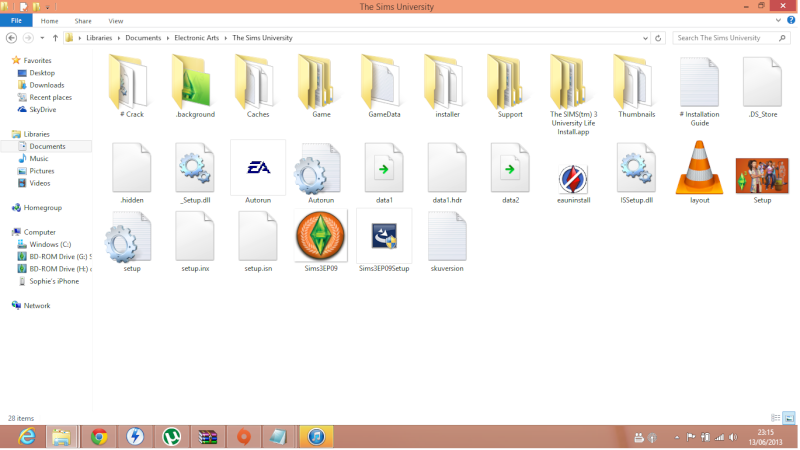 //EDIT
Hi there!
I'm new here and pretty rubbish when it comes to all the technical stuff so apologies in advance for my dumb question! Basically I've downloaded the sims 3 and a number of expansion packs, and managed to install the sims 3 base game. However I'm really not sure how to install the expansion packs! Have extracted them to my documents but don't know what to do from there.. Have looked through the forums and tried to follow the instructions that came with the torrent but think I'm just being really thick! Here's a printscreen of the folder i extracted of the university EP.
Hope you can help, sorry for being useless!

Just double-click the setup file!
And don't take the crack from the torrent, use the Ultimate Fix instead!

_________________
Have some tea, and take care!
Best regards,
Shamrock
Please PM or e-mail me for any help or advice!
=D Child of Admin =D





Windows version

:


System architecture

:


Favourite games

: The Sims 3 (series), Warcraft III, Civilization V, Vampire Bloodlines, Football Manager 2012, Pokemon games


Posts

: 3265


Points

: 6213


Reputation

: 381


Join date

: 2012-03-06


Location

: On the slim border between sane and insane



Thank you, that's what I'd been trying to do, but it asks what program I want to open the file with? Any suggestions? Sorry and thanks again!

He meant the Sims3EP09Setup. The blue icon.
Posting Freak





Windows version

:


System architecture

:


Favourite games

: Sims Series + Medieval


Posts

: 173


Points

: 2162


Reputation

: 6


Join date

: 2013-04-08


Age

: 22


Location

: Philippines



My god I'm bad at all this!
 Thanks!! 

That's alright, I was as bad as you the first time I did it as well.

Posting Freak





Windows version

:


System architecture

:


Favourite games

: Sims Series + Medieval


Posts

: 173


Points

: 2162


Reputation

: 6


Join date

: 2013-04-08


Age

: 22


Location

: Philippines



---
Permissions in this forum:
You
cannot
reply to topics in this forum