Hello everyone,
I first wanted to thank those in charge of this site. I'm a broke college student and I appreciate your hard work!
I am having a lot of trouble tonight getting things to install properly. First, I found your forum posts about how to install and then the ultimate fix and manual patch updates. I downloaded the base game and university life, as well as the ultimate fix from your site. I followed the instructions for installing the base game to a T, or so I thought, except I noticed that it didn't ask for disk 1 like the instructions said it would (if this is relevant). I didn't think much of it. It seemed to have installed successfully into Applications folder but I didn't try to open it. I followed the instructions exactly. 
I next tried to install university life but a pop-up informed me that the base game needed to be installed first, which I found really strange. The FAQ didn't help much and I couldn't find any forum posts with the search function that helped me solve this problem on my own. I'm downloading another expansion right now to see if it's a problem just with the university life expansion. 
Next, I decided to go back and make sure the base game I just installed worked. When I tried to open the application it gave me a pop-up that said "Unknown Error Occurred " I'm not quite sure where the installation went wrong. I applied the manual patcher to see if my comp would recognize that I had the base game installed if it was up-to-date but no luck. 
If it's relevant, I'm on a mac os x 10.6.8. Not super computer savvy but I've installed torrents before and have never had as many complications as I'm having tonight trying to get some sims 3 on my laptop. Also I'm using daemon tools to mount. 
I would love some help!
Attached screenshots of the errors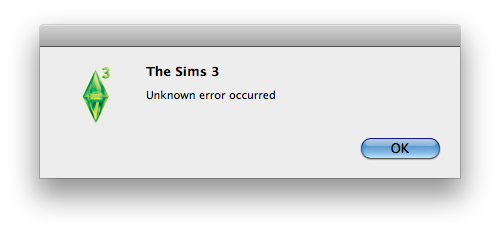 //MOVED: it seems you're on Mac
_________________
Have some tea, and take care!
Best regards,
Shamrock
Please PM or e-mail me for any help or advice!
=D Child of Admin =D





Windows version

:


System architecture

:


Favourite games

: The Sims 3 (series), Warcraft III, Civilization V, Vampire Bloodlines, Football Manager 2012, Pokemon games


Posts

: 3265


Points

: 6210


Reputation

: 381


Join date

: 2012-03-06


Location

: On the slim border between sane and insane



Hello Presentfancies,
Welcome to the forum!

Can I ask which version of base game did you download? The one from thepiratebay, the cracked one? 
If it isn't that version, i'd recommend you to download it. You can download it from 
here
.
As it's already installed and cracked, only thing you need to do is open the .rar file and copy the Sims app. icon to your Applications folder. But I recommend you also a create a new file named The Sims 3 and put it in Applications and put the games in it. It'll be easier to locate the base game for Mac when yo uwant to install a new expansion pack.
Please download this version and try the things I've explained and let me know the result please!
_________________
Super Spammer





Windows version

:


System architecture

:


Favourite games

: The Sims series, Elder Scrolls Skyrim, The Walking Dead, Sacred I-II, Fables,Vampire Masquerade Bloodlines, Civilization, Don't Starve, Popmundo


Posts

: 783


Points

: 3038


Reputation

: 119


Join date

: 2012-09-17


Age

: 29


Location

: Neverland



Hi Phoebe, 

Thank you for the reply. I downloaded the base game from this website and installed/cracked it (or so I thought, haha!). 

I'm about to uninstall everything and start over using the link you provided. Will report back in a bit.
Okay, the base game is now working fine. I however tried to install an expansion and again was given the error message of needing to install sims 3 first.

I followed your step of copying the .rar into my applications folder. Xpac downloaded from games4theworld.org/downloads


EDIT

I'm really dumb. I've been following the PC guide to installing and just realized there was a mac one. *facepalm* Following mac instructions and now manually updating patch. Things seem to be going much more smoothly
Hey, you aren't dumb. We all have had that time of understanding, no worries

 You'll get familiar with installation process and of course getting the exact information from here.
Please let me know if you need anything, ok?
_________________
Super Spammer





Windows version

:


System architecture

:


Favourite games

: The Sims series, Elder Scrolls Skyrim, The Walking Dead, Sacred I-II, Fables,Vampire Masquerade Bloodlines, Civilization, Don't Starve, Popmundo


Posts

: 783


Points

: 3038


Reputation

: 119


Join date

: 2012-09-17


Age

: 29


Location

: Neverland



---
Permissions in this forum:
You
cannot
reply to topics in this forum