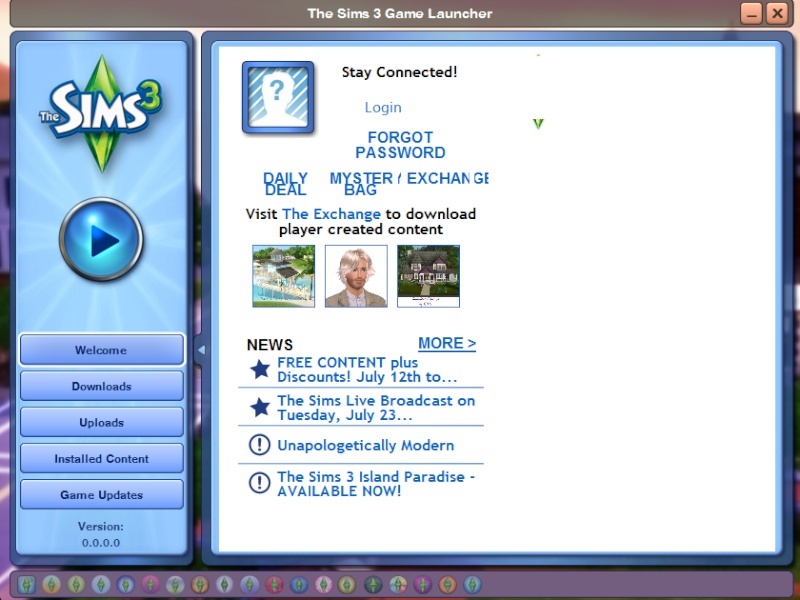 my game was at version 1.31 and i update it to 1.55 when i open the the launcher and click play its says no disk fFOUNDd
then i dowload the ultimate fix from here and copied it just like it says after i want to open my game from the launcher and the launcher is like the image the version is 0.0.0.0.AND I CANT INSTALL THE CUSTOM CONTENT ANYMORE
Beginner





Posts

: 13


Points

: 1817


Reputation

: 0


Join date

: 2013-07-13



Did you apply
the Ultimate Fix compatible with the latest version 1.55 
correctly?
This video will show you how to apply it correctly: https://www.youtube.com/watch?v=TrRrF5ysPa8
Posting Lord





Windows version

:


System architecture

:

32 bits (x86)
64 bits (x64)




Favourite games

: Generals Zero Hour; Counter Strike Source; Call of Duty; Total War; Warcraft III; Civilization IV; World In Conflict; Age of Empires II; Company of Heroes; Jedi Knight; Sins of a Solar Empire; StarCraft II; The Sims 3; FIFA 13.


Posts

: 179


Points

: 2038


Reputation

: 9


Join date

: 2013-06-30


Age

: 22


Location

: Internet



@MALOUKATI123

wrote:

my game was at version 1.31 and i update it to 1.55 when i open the the launcher and click play its says no disk fFOUNDd

then i dowload the ultimate fix from here and copied it just like it says after i want to open my game from the launcher and the launcher is like the image the version is 0.0.0.0.AND I CANT INSTALL THE CUSTOM CONTENT ANYMORE
Hello,
This error usually means that something went wrong during the update of your game. At first, download and apply the "manual patch":
http://games4theworld.bestgoo.com/t1870-can-t-update-the-sims-3-to-v155-fix-manual-patch
After that, download and (re-)apply the Ultimate fix:
http://games4theworld.bestgoo.com/t752-the-sims-3-ultimate-fix-should-fix-most-of-your-problems
Remember: you only need the two files from the #crack-folder in the Ultimate fix (TS3W.exe + TSLHost.dll). Copy these two files to C:\Program files(x86)\Electronic Arts\The Sims 3\Game\Bin. You also need to "replace the existing files".
See if that helps you.
_________________
Forum Rules
// 
Forum FAQ
//
All G4TW Downloads
//
G4TW The Sims 4 Gallery Collection
//
How YOU can help seeding!
How to install The Sims Medieval
//
The Sims 2 Overview
 // 
How to install The Sims 3
//
TS3 Expansion install checklist
// 
How to install The Sims 4
Feel free to e-mail me for general questions about G4TW, Site navigation & Support, if you don't get a reply after 24 hours of opening a new Forum topic!
VETERAN Moderator
Inspector General & Forum O.G.





Windows version

:

Windows 8
Windows 7
Windows XP
Windows 10




System architecture

:

32 bits (x86)
64 bits (x64)




Favourite games

: The Sims 3, L.A. Noire, Saints Row, Red Faction, Team Fortress 2, Overwatch, PvZ: Garden Warfare, GTA: San Andreas, GTA V, Counter-Strike, Hitman, Borderlands, Fallout, COD, Battlefield, The Binding of Isaac, Government simulation & Military strategy games, S.W.A.T 4.


Posts

: 15976


Points

: 21284


Reputation

: 2288


Join date

: 2012-11-01


Location

: Bellisarius Hall



i am so stupid i forgot to copie the crack from ultimate fix but thank to you and you hard work my sims  3 and generations and seasons and university working you deserve all the things


Moderator edit: OK, the problem seems solved now. Happy simming ! Topic closed.

- Carlos

Beginner





Posts

: 13


Points

: 1817


Reputation

: 0


Join date

: 2013-07-13



---
Permissions in this forum:
You
cannot
reply to topics in this forum