I downloaded the Skidrow ultimate edition fifa 14 torrent a while ago and now with the recent launch of Crack I was just about to play the game after applying it but while applying the patch in batch format the 7 initial files went right but after pressing n and confirming it a note shows up in it and says that "Access is denied" and Update continues! After applying the crack without any fault in between I found out that it Stopped working after a while! 

Then I tried every possible tune ups form this website! 
(
http://melonessolution.blogspot.in/2013/09/how-to-fix-fifa-14-crashes-and-all.html
)
then I fixed the stopped working notification but now the game starts and crashes and creates a crash dump file after it too in the same directory! 
//EDIT: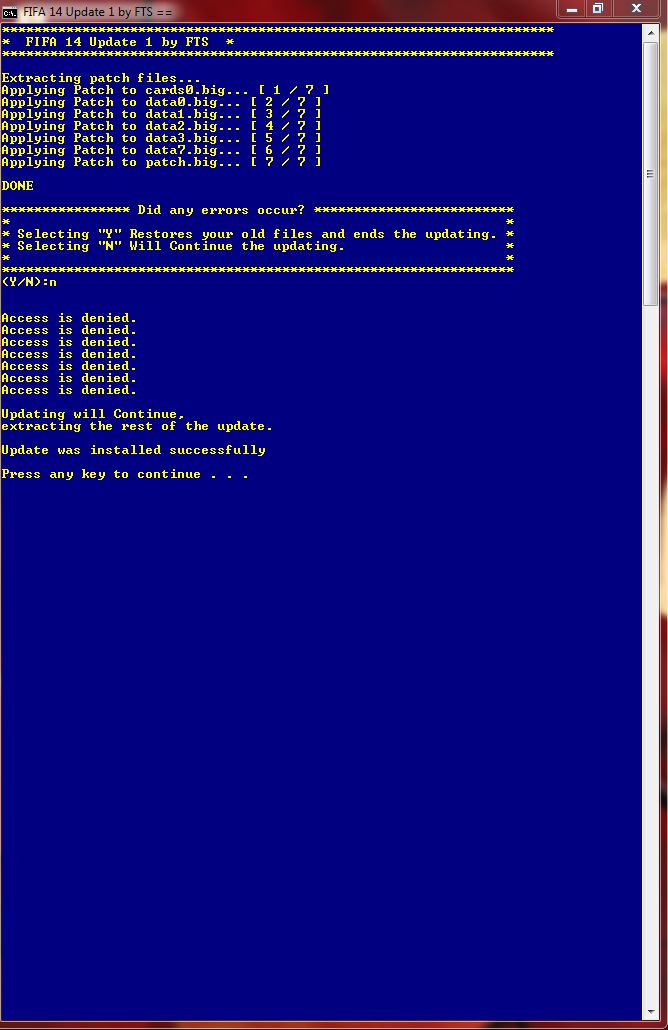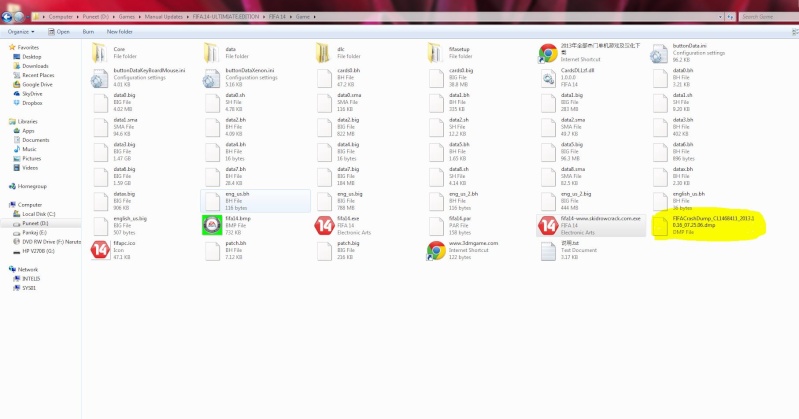 //MOD EDIT:
Please refrain from double-posting and edit your post like I did.
Shamrock
_________________
Posting Nerd





Windows version

:

Windows 7
Windows Vista
Windows XP




System architecture

:


Favourite games

: The Sims 3, Mass Effect Series, Assassin Creed Series, NFS Series, GTA Series, Battlefield Series, Call Of Duty Series, Splinter Cell Series, Counter Strike Series, Tomb Raider Series


Posts

: 71


Points

: 2259


Reputation

: 0


Join date

: 2012-08-10


Age

: 20


Location

: New Delhi



Hello,

I can only guess what could be wrong: can you, for a start, completely shut down your anti-virus software, before attempting to re-install ?

You might also try this: go to the game installation folder, right-click on the FIFA 14 folder, select "properties"; and then Sharing\Advanced Sharing\Permissions. Mark the box "Full control", and then click "apply".

If that doesn't help you, I'm unsure. You might want to look in the comments section of where you downloaded the .torrent from - maybe you'll find more elaborate explanations there.

_________________
Forum Rules
// 
Forum FAQ
//
All G4TW Downloads
//
G4TW The Sims 4 Gallery Collection
//
How YOU can help seeding!
How to install The Sims Medieval
//
The Sims 2 Overview
 // 
How to install The Sims 3
//
TS3 Expansion install checklist
// 
How to install The Sims 4
Feel free to e-mail me for general questions about G4TW, Site navigation & Support, if you don't get a reply after 24 hours of opening a new Forum topic!
VETERAN Moderator
Inspector General & Forum O.G.





Windows version

:

Windows 8
Windows 7
Windows XP
Windows 10




System architecture

:

32 bits (x86)
64 bits (x64)




Favourite games

: The Sims 3, L.A. Noire, Saints Row, Red Faction, Team Fortress 2, Overwatch, PvZ: Garden Warfare, GTA: San Andreas, GTA V, Counter-Strike, Hitman, Borderlands, Fallout, COD, Battlefield, The Binding of Isaac: Afterbirth †, Government simulation & Military strategy games, S.W.A.T 4.


Posts

: 16247


Points

: 21671


Reputation

: 2350


Join date

: 2012-11-02


Location

: Bellisarius Hall



thanks now I've reinstalled it and applied the official update and then cracked it! Now it works great!


Moderator edit: OK, I interpret this as "problem solved". I will close the topic now.

- Carlos

_________________
Posting Nerd





Windows version

:

Windows 7
Windows Vista
Windows XP




System architecture

:


Favourite games

: The Sims 3, Mass Effect Series, Assassin Creed Series, NFS Series, GTA Series, Battlefield Series, Call Of Duty Series, Splinter Cell Series, Counter Strike Series, Tomb Raider Series


Posts

: 71


Points

: 2259


Reputation

: 0


Join date

: 2012-08-10


Age

: 20


Location

: New Delhi



---
Permissions in this forum:
You
cannot
reply to topics in this forum