I know how to mount an image/iso and i know this is required so the game recognises a disc.
My problem is, with both world adventures and ambitions, I use Daemon Lite as I usually do, go to 'Add Image' then go to my Vuze downloads folder where all my sims downloads are stored. With the base game, the iso was the entire, unpacked file located in the folder for the base game. However, when I go into the folders for WA or Ambitions in this way, everything is already unpacked (even though I used the same method) and there is no iso. What should I do?

//EDIT
Also, if this makes a difference, with WA, but *not with Ambitions*, when I use winrar, I can go up folder and see the .iso for WA using winrar but when i go o the same location using Daemon Lite or when i just navigate through the folders normally, all I find is the unpacked files, no iso. With ambitions, i can only get to the unpacked, no matter what I do.
//EDIT
Anoher thing, I'll be installin up to generations so technically, I don't need the images, so long as I can mount generations with no problems, however I would like to check the installs before I do more. Also, as Gens is still downloading, I'm not sure whether I'll encounter the same problem or not...
Admin edit: Please do not double-post, but just edit your message, if no new messages are posted.
- ADMIN
Hello,
Please open the .rar file you downloaded using only WinRar, which can be downloaded from
www.games4theworld.org
. (If you use any other software than WinRar, like WinZip or 7-zip, the files will get messed up!)
When you've opened the file using WinRar, select áll the files in it and drag & drop them to a folder on your Desktop. When the extraction is done, close the .rar file and open the folder on your Desktop.
Now, start by reading the included "# Installation Guide.txt" and you should be able to get the game to work yourself. Good luck!

_________________
Bonsoir, friend.


~ Nobody's gril. ~
free society





Windows version

:


System architecture

:

32 bits (x86)
64 bits (x64)




Favourite games

: GTA Series, Cities: Skylines, Prison Architect, Borderlands series


Posts

: 19211


Points

: 1026347


Reputation

: 2242


Join date

: 2010-03-12


Age

: 15


Location

: Del Perro Heights



The game has been successfully installed. My only problem is, I can't find he image to mount, so when it loads and gets to the main menu, i get the notification saying there is no disc recognised. Where can I get the iso to mount? Because the .rar file doesn't wok as an iso..
Hello,
You don't have to mount anything to start the game.
You do have to apply the crack to the correct folder. Can you show us where you put the crack with a screenshot?
Forum Administratrix
First Lady of the Forum





Windows version

:

Windows 8
Windows XP
Windows 10




System architecture

:

32 bits (x86)
64 bits (x64)




Posts

: 15105


Points

: 20010


Reputation

: 1430


Join date

: 2011-05-31



When I opened the download using WinRAR, there was a folder called '# Crack' and when opened, there were two more folders inside called '# Crack 1' and '# Crack 2'. In the first were the files ' TS3' and 'TSLHost.dlll'. In the second were the files 'TS3EP02' and another 'TSLHost.dlll'. I copied all four files into the location Computer>OS (C:)>Program Files (x86)>Electronic Arts>The SIms 3 Ambitions>Game>Bin. (After I made backups of the original files). And whether I use TS3 or TS3EP02, the game opens, skipping the launcher, gets to the main menu of the game (where you choose town/save game) and then I get a pop-up telling me there is no disc and to insert the Sims 3 Ambitions CD. I have th options to retry or quit; when I press retry, the pop-up just reloads and when I press quit, the game closes.
If I could get help to fix it so the crack works properly (or if i did anything wrong you can spot) it would be great. Also, in the screenshot, the highlighted files are the files copied from the crack folders described above...
//EDIT
[img]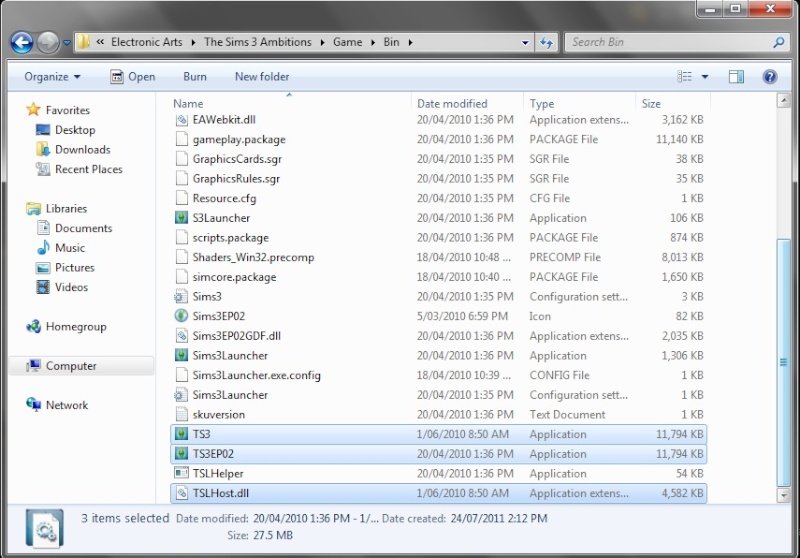 [/img]
//EDIT
OK. I've gone back to the original pirate bay page and gone through the comments. I read the installation guide (which i didn't even notice before.. ><) and I moved the two files from Crack 1 folder into Sims 3/Game/Bin and two files from Crack 2 folder into Sims 3 Ambitions/Game/Bin. Now, when i use crack icon to start launcher, nothing happens. When I use the Ambitions desktop icon, the launcher will start and when i click play, the launcher closes but nothing loads. I also have the latest patch installed but I've downloaded the Sims 3 v 1.22.9 NoDVD fix from this website... after i applied it when i just had the base game, everything worked fine... if that makes any difference...
That fix requires Generations expansionpack
Forum Administratrix
First Lady of the Forum





Windows version

:

Windows 8
Windows XP
Windows 10




System architecture

:

32 bits (x86)
64 bits (x64)




Posts

: 15105


Points

: 20010


Reputation

: 1430


Join date

: 2011-05-31



OK. I've installed up to Generations and moved the cracks into the base game bin folder as directed by the installation guide included in the rar file. I double clicked TS3w.exe from the sims 3 base game bin (after copying the cracks over) and received the following message:
"It looks like you have installed an unofficial game modification that does not match your current version of The Sims 3. We recommend that you either uninstall these game modifications of get updated versions of them - otherwise, you may experience crashes of significant bugs. Do you want to quit?"
And I have two options - to quit or continue. How can I fix this message and how should I proceed if it continues to pop-up in the future?
Thanks
*EDIT*****
I've started installing the Games4theworld Ultimate fix from here:
http://games4theworld.bestgoo.com/t752-the-sims-3-ultimate-fix-should-fix-most-of-your-problems
and I've gotten to the step where I have to open the launcher and update the game. The launcher is open but when I go to updates, whether I'm logged in or not, the update will not start - I select the updates and click 'Update Now' but nothing happens. What can I do so I can finish applying the 'Ultimate fix'?
Last edited by Purpleberry on Sun 24 Jul 2011, 15:24; edited 1 time in total (Reason for editing : New information)
Hello,
When you get the pop-up message, click "continue".
As for your update problem, you need to have ea downloadmanager installed and unblocked in your firewall to update. If that still doesn't do it, try a manual search (on google for example) to find the update and see if that works.
Forum Administratrix
First Lady of the Forum





Windows version

:

Windows 8
Windows XP
Windows 10




System architecture

:

32 bits (x86)
64 bits (x64)




Posts

: 15105


Points

: 20010


Reputation

: 1430


Join date

: 2011-05-31



---
Permissions in this forum:
You
cannot
reply to topics in this forum