I am new to this site. I joined today. I tried to send a message to the admin to submit my link but it seems I am too new. I love to build lots! Mostly I build homes but every now and then I build a public lot.
This is by far my favorite creation: The New Grape Nectary
EDIT: 
Here is a link to download this lot
http://goo.gl/bmih7M
40 X 40 lot size, it was originally made for the hilly area of Riverview, but I find I like it better in Sunset Valley up closer to the waterfall. It has a long back story. I made this years ago so I do not know what update that was. But it seems compatible with the most recent as well as older ones. 
It has a free store item used in it called Cellar arch. I am sure you can find it on this site somewhere. There is no custom content, but according to the sims exchange it has items from the base game, pets, generations, showtime, World adventures, late night, and ambitions.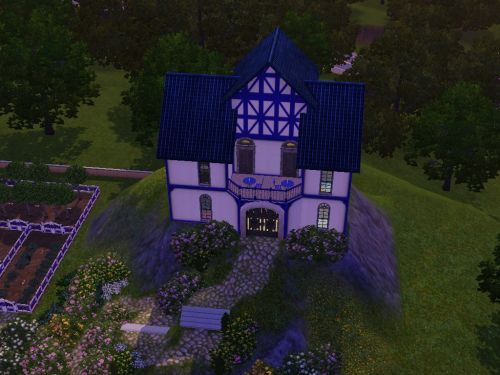 I do have it uploaded to the exchange on the sims 3 but I am not sure where to upload it to a link to everyone here. I would love to share this file though.
KNOWN ISSUES:
This lot has been play tested, and used over the years. For the most part issues have been taken care of but sometimes, some things have become unfixable. My biggest issues have been too many townies clogging up the lot. They block the stares, and doorways. This seems to happen most when you first place the lot, and it seems worse when you place it in an established world. If you place the lot in the edit town game mode when you start a new game this happens less, or not at all. Just reset some of the sims and it works a lot of that out. Since there is a lot of landscaping sometimes a sim will get stuck in all the flowers and bushes. You can reset them, or it may work itself out. I have seen a townie die once that way from starvation. I did thin a lot of that out after that happened so you should not have too many issues.
Just like in WA locations the register ties the townie sim to the register. We call them register slaves in my house. If you want to free a register slave you have to use the testing cheats enabled cheat and maybe the buydebug cheat to place a new register. You may have to rightclick to delete the register. (been a while since I had to do this)
To my knowledge these are the only issues. If you come across others, let me know. I will try to fix them. This has been a favorite lot of mine for years.
Here are some more pictures:
The Gardens (all plants are perfect quality)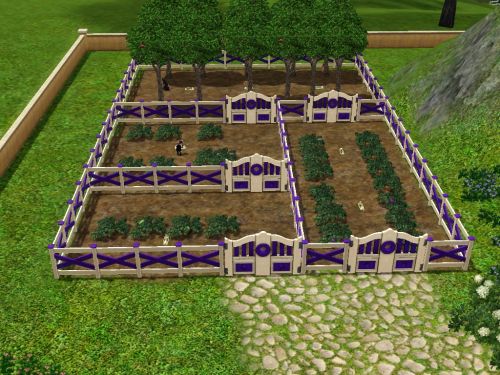 The deep basement (lowest level)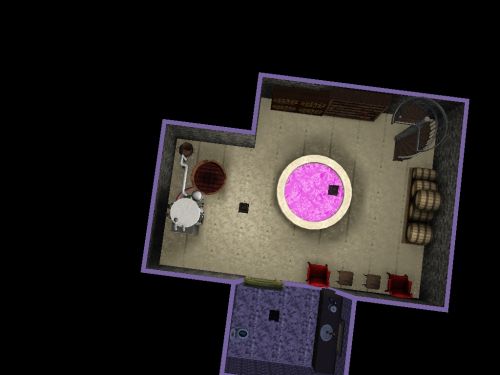 Skill Basement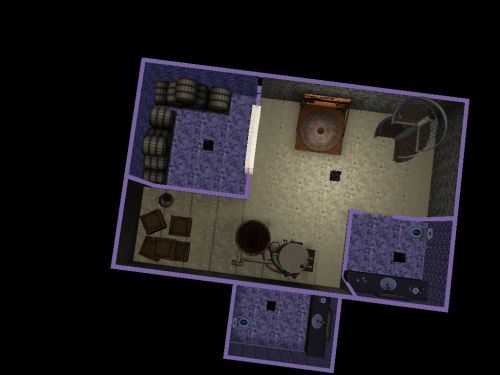 The main Floor and cafe
There is a food and nectar register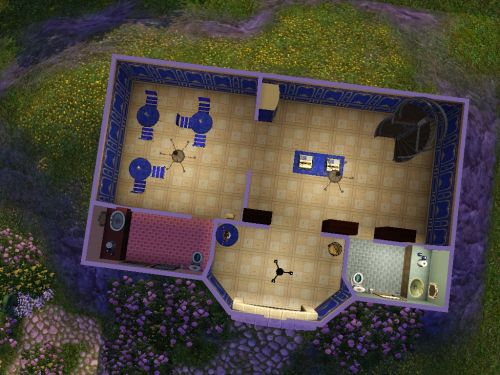 The second floor
There is a bar of Whoohuminum hidden in this room, and makes an interesting place to "hook up."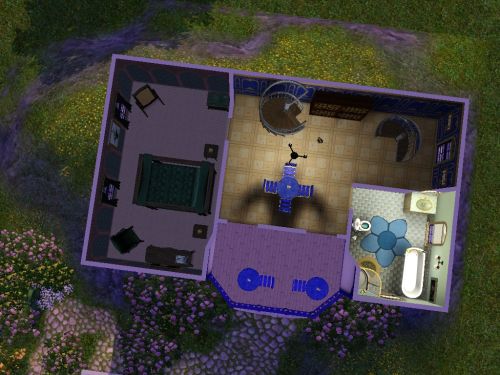 The Attic:
Hidden in the attic is some perfect bottles of nectar, and the remains of two sims. They are the founders of the nectary, and sometimes their ghosts will show up and haunt the grounds. Mostly they just play in the sprinklers.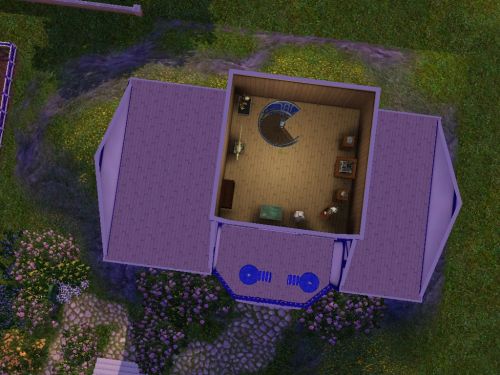 I have WAY more pictures but I did not want to overwhelm the post. I put a lot of detail into this lot and there are tons of small things hidden around it. 
The Story:
When Petra Emmons was young girl, she dreamed of going to France. As soon as she was old enough she took the first airplane to Champs Les Sims. There she met her two greatest loves; Nikola and Nectar. She spent years mastering the art of gardening and Nectar Making.
When she returned home with her new husband she had a handful of seeds with her. She planted a small vineyard, and started making wine.
While she got her hands dirty and worked in the cellar her husband, Nikola followed his passions of art and sculpture. His works can be found all over the grounds, so feel free to linger and enjoy his dream.
Nikola also had a passion for fresh frogs legs, and stocked his pond with them. When he was not painting a landscape or sculpting a work of art he could be found on the edge of the water fishing.
It was a blow to the community when these two grew old and passed away. Wanting to share their love of Art and Nectar with the world, they willed that their home be opened to the world. Fine nectars are still made deep within the cellars here, but the Emmons' home, is now a public nectary! It was turned into a lovely community lot, complete with grills, chess, tables, and two tasting rooms. The couple's remains can still be found on the lot, and late at night you may even see the ghost of an elderly Petra working in her garden. Since good nectar is even better with food, a cafe was opened within the house as well!
Sims are welcome to tour the lot, taste the nectar, and if no one is looking you can sneak away and Woo Hoo in the Emmons bed! There are many exciting surprises found on the grounds. Along with the rare and foreign plants in the vineyard, you can find special guests in the gardens. (Gnomes seem to just show up!) While sipping nectar in the deepest cellar, read a book or three. Things that were dear to the Emmons' can be found everywhere!
The vineyard has:
All of the plants are perfects condition.
4 apple trees
2 Lime trees
1 Plum tree
1 Pomegranate tree
1 Cherry tree
1 Pomelo tree
1 Banana tree
1 Cranerlet Nuala Grape
1 Gralladina Fran Grape
1 Flame fruit bush
2 Avornalino Grapes
2 Meloire Grapes
4 Watermelons
6 Grapevines
3 Cherimola Blan Grapes
3 Renoit Grapes
Thank you for reading this post, and thank you to the people of the sims 3 team who created the things I used to make this. Thank you admin for allowing me to post this.
Last edited by AmandaMae on Sat 14 Jun 2014, 15:30; edited 1 time in total
Posting Nerd





Windows version

:


Favourite games

: The Sims 3! (only thing I play anymore)


Posts

: 28


Points

: 1516


Reputation

: 3


Join date

: 2014-06-09


Age

: 37


Location

: DFW Texas



Hello and welcome,
That looks nice !

  But actually it isn't necessary (anymore ?) to PM the Admin for every item to upload on here. Instead, you can make a (free) account at one of these filehosting sites, like "MediaFire" (google for it).
Once you create your account, log into it, and then use the button called "upload", located at the top of the site. From then, it should be self-explanatory. 
Next, after the item has been uploaded, you should "see" it on your account page. Just right-click on the item and choose "copy link". Finally, you paste your link here, and then you're done !

Good luck !
_________________
Forum Rules
// 
Forum FAQ
//
All G4TW Downloads
//
G4TW The Sims 4 Gallery Collection
//
How YOU can help seeding!
How to install The Sims Medieval
//
The Sims 2 Overview
 // 
How to install The Sims 3
//
TS3 Expansion install checklist
// 
How to install The Sims 4
Feel free to e-mail me for general questions about G4TW, Site navigation & Support, if you don't get a reply after 24 hours of opening a new Forum topic!
VETERAN Moderator
Inspector General & Forum O.G.





Windows version

:

Windows 8
Windows 7
Windows XP
Windows 10




System architecture

:

32 bits (x86)
64 bits (x64)




Favourite games

: The Sims 3, L.A. Noire, Saints Row, Red Faction, Team Fortress 2, Overwatch, PvZ: Garden Warfare, GTA: San Andreas, GTA V, Counter-Strike, Hitman, Borderlands, Fallout, COD, Battlefield, The Binding of Isaac, Government simulation & Military strategy games, S.W.A.T 4.


Posts

: 16059


Points

: 21388


Reputation

: 2300


Join date

: 2012-11-02


Location

: Bellisarius Hall



Oh, Awesome! Thank you! I will do that! It says I have to be a member 7 days before I can post links but I will do that as soon as I can!
Posting Nerd





Windows version

:


Favourite games

: The Sims 3! (only thing I play anymore)


Posts

: 28


Points

: 1516


Reputation

: 3


Join date

: 2014-06-09


Age

: 37


Location

: DFW Texas



Hi there,
Thank you for your contribution!
I don't think I ever got your PM?
Anyway, you can just post your link without the "
www."
part and then contact a Moderator or Administrator and ask them to "fix" the link for you, until you can post links yourself.
By the way, the "PM Admin" will be reintroduced when the Exchange part on our
Download Server
is up. (Which can take a while, lol)
free society





Windows version

:


System architecture

:

32 bits (x86)
64 bits (x64)




Posts

: 19210


Points

: 1026705


Reputation

: 2265


Join date

: 2010-03-12



Thank you for the tip! I downloaded it to my drop box, and made a short link with google...
http://goo.gl/bmih7M
(I removed the http) When I am able I will edit the main post too and add links

EDIT:
Oh the issue seems to resolve itself!
Posting Nerd





Windows version

:


Favourite games

: The Sims 3! (only thing I play anymore)


Posts

: 28


Points

: 1516


Reputation

: 3


Join date

: 2014-06-09


Age

: 37


Location

: DFW Texas



---
Permissions in this forum:
You
cannot
reply to topics in this forum