So I am a total 
 when it comes to these things. I purchased the Sims 3 base game and the expansion packs, Pets, Ambitions, Generations, and Supernatural. I then downloaded Into the Future, Seasons, Showtime, and University. I installed these using the original instructions unaware of the new instructions. Needless to say it did not work. So I uninstalled them all except for the ones I had purchased and re installed them using the new instructions...and it sill did not work. I keep receiving this image: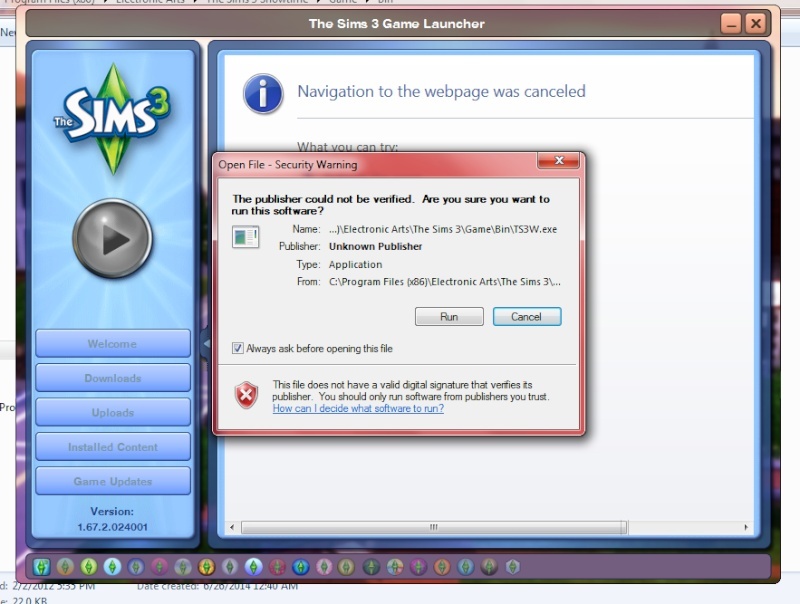 And then when I allow it to run the screen simply goes black and it crashes. Like I said I am a total noob and no where near a professional when it comes to computers. I would really appreciate some help.
Thanks
Beginner





Posts

: 1


Points

: 1485


Reputation

: 0


Join date

: 2014-06-26



Hi. I myself have installed almost all the expansions and stuff packs via Purchasing or Download. I either Install all the Origin Bought Games first and then the G4TW games last or choose to just install all G4TW. Depending on your computer, it can effect it.I also had the issue of crashing until i downloaded NRASS Overwatch Mod.It helps with Errors in game. Also Master Controller can help with that as well..but that is more optional.http://goo.gl/nHZI0If you do use this, just make sure you update it as EA updates the games or it will cause your game to crash.dAlso, Gamebooster helps a great deal with helping your game run faster and smoother as well. Shutting down your background activities manually or letting this program do it and more.http://goo.gl/ZDGW0UYou can try Uninstalling and reinstalling your games and then using those programs and MODS and hopefully there will be some Simming Success in your Future.I hope I helped some.
Posting Lord





Windows version

:


System architecture

:


Favourite games

: Sims 1, 2, & 3, Diablo 1, 2, & 3, Soul Caliber, Mortal Kombat, Super Mario Bros., America Mcgee's Alice, Alice: Madness Returns, Okamiden,Magic: The Gathering,...and other stuffs


Posts

: 263


Points

: 2592


Reputation

: 64


Join date

: 2012-07-24


Age

: 33


Location

: San Antonio, Texas



---
Permissions in this forum:
You
cannot
reply to topics in this forum