This is one of my solution and hopefully this solution work!
If you have a pop error saying "unofficial game modification" this could mean that you did not install the Expansion Packs in order!
It is crucial to
install the Expansion Packs in order
for macs; if not, this error will occur and it will be unplayable. >:
1.) Uninstall everything! (I know it's in the pain v.v)
2.) Install EP correctly in order (by date) (
Click here to see the EP in order
)
3.) Advise to test (by playing) after you successfully install
each individual
EP.
4.) Update and Crack!
5.) Viola hope it works.
---------------------------
Another solution!!
Tthere could be a corrupted mod.
If so, please remove all the mods and play without using mods.
---------------------------
---If anyone found other possible solutions, please do reply in this thread.
---
If other problems have occur, please look through the
Mac Support
, to find other possible solution!
DO NOT POST ANY QUESTIONS OR PROBLEMS IN THIS TOPIC. INSTEAD, PLEASE OPEN A NEW TOPIC IN THE APPROPRIATE FORUM-
SECTION, "MAC SUPPORT"! THANK-YOU-NOTES CAN BE POSTED IN THE SECTION WITH THE SAME NAME.

Note that any and all questions posted under this thread, will be deleted without any explanation or advance warning. We have the Forum sections dedicated to Support purposes, for a reason.
_________________
 | T h a n k   y o u   f o r   b r e a t h i n g | please do not steal my sig & avatar.

Posting Freak





Posts

: 148


Points

: 1689


Reputation

: 15


Join date

: 2014-04-20


Age

: 22


Location

: silicon valley. i camp near google :3



Hello Intropella,
The way you described right here is essential for being able to work The Sims 3 on Mac

 The "Installation an unmodified Game Modification" usually means, if someone had to update their game before installing the latest EPs and forgot to update it again after installing all the expansions and apply the Ultimate Fix, the game detects it. It isn't directly about installing every in order, but to update the game right before applying the Ultimate Fix (whether they applied it before or not)
I am not sure game mods cause this error. But as you said, it won't hurt anyone to remove the Mods file and test the game without it

_________________
Super Spammer





Windows version

:


System architecture

:


Favourite games

: The Sims series, Elder Scrolls Skyrim, The Walking Dead, Sacred I-II, Fables,Vampire Masquerade Bloodlines, Civilization, Don't Starve, Popmundo


Posts

: 783


Points

: 3014


Reputation

: 119


Join date

: 2012-09-17


Age

: 29


Location

: Neverland



hello everyone,
firstt, sorry for my bad english, i hope u all can understand what i mean, i'm not a native speak.
FYI, i'm using
macOS Sierra
version 10.12.6
Macbook Pro (Retina, 13-inch, Early 2015)
Processor 2.7 GHz Intel Core i5
Memory 8 GB 1867 MHz DDR3
Graphics Intel Iris Graphics 6100 1536 MB
and i already install WINESKIN WRAPPER & download all The Sims 4 file include Ultimate fix, and i already follow all instruction from G4TW, but i still have an error and i can't play The Sims 4.
i have windows parallel, but i don't want play in there, i'm so hopefully to play The Sims 4 on my mac not using window parallel.
so my problems is (take a look at picture i sent) everytime i launch The Sims 4 using my wrapper this always pop up
please help, i'm so desprated to play The Sims 4 on my mac
thanks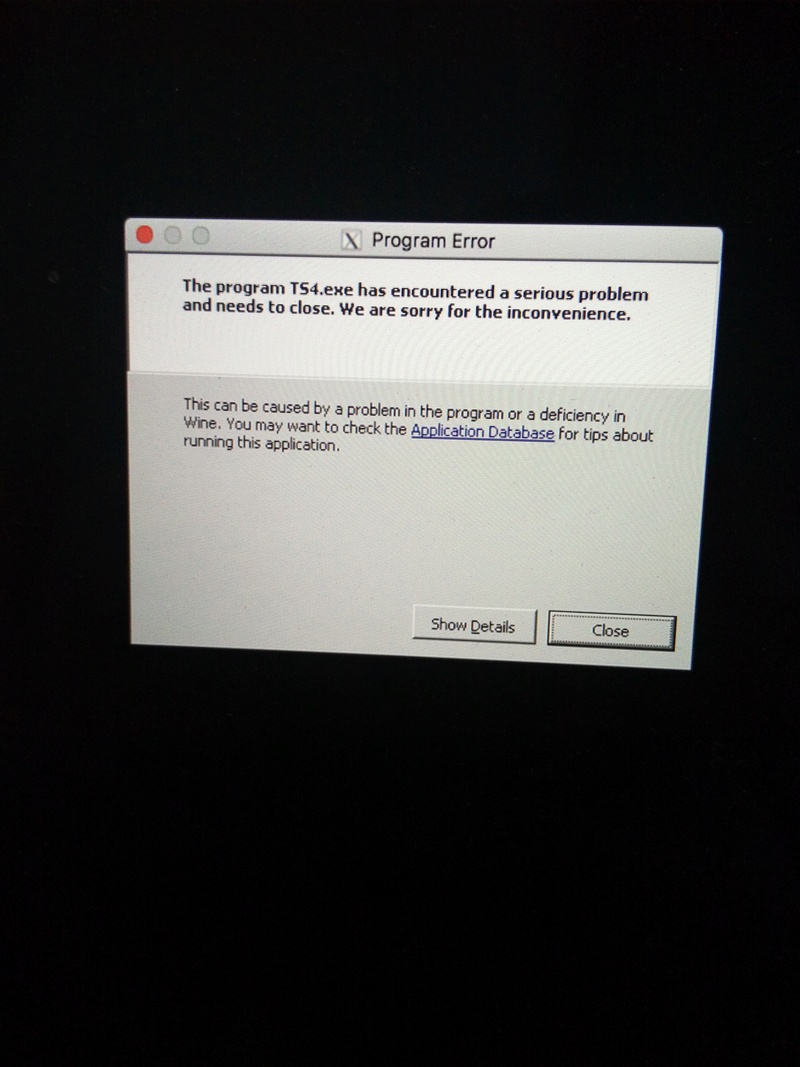 _________________
Give, and it will be given to you; a good measure, pressed down, shaken together, and running over, they will give into your bosom. For with what measure you measure, it shall be measured to you in return.
- Luke 6:38-
Posting Nerd





Favourite games

: The Sims 4


Posts

: 40


Points

: 350


Reputation

: 0


Join date

: 2017-08-24


Age

: 27


Location

: Indonesia



---
Permissions in this forum:
You
cannot
reply to topics in this forum