Well the reason I create this topic It's because I'm curious and also because today I got a fake virus and a fake notification from police from my country (Portugal), I think this is the worst and the scariest virus you can get because this at the beginning you think It's really from the police because it shows your IP, Country (País), Region (Região), city (Cidade), ISP "Internet Service Provider", Operating System (Sistema Operativo) and Username (Nome de Usuário) and also forces you to pay 100€, the reason it says you must pay 100€ It's because they accuses me from watching/distribute pornography child/brutality/rape videos and It also accuses me from violating copyrights by uploading musics/videos/softwares unlicensed, and accuses me from that was done unauthorized access to internal information and the information of national importance in the internet (none of these charges is true) and It also prevents me from using Task Manager, here's the screenshot message that appeared in my computer (this screenshot is not mine but It's exactly the same message that appeared in my computer):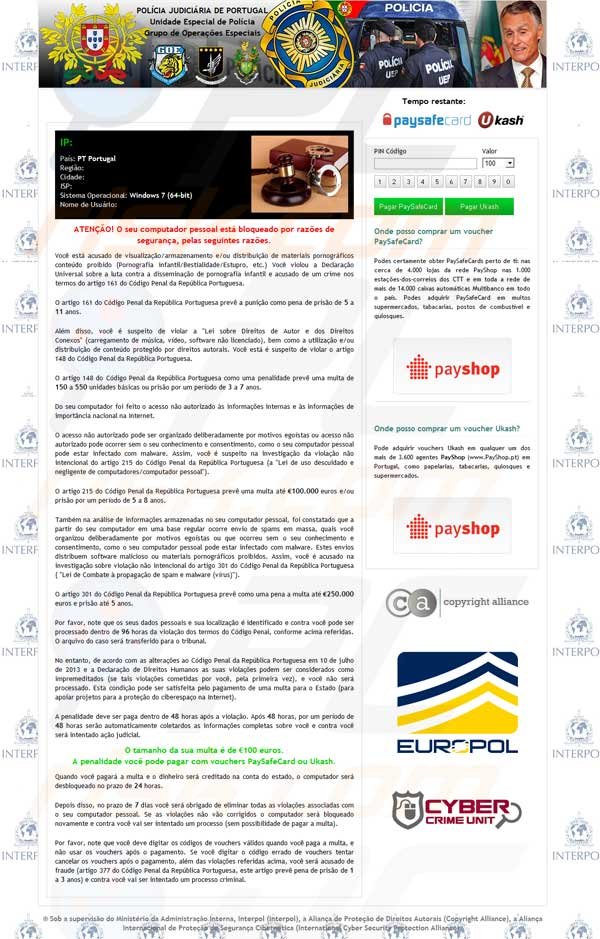 You can go to Google Translator, translate this to see from yourself.
I solve this problem by shutdown the network adapter to prevent connecting to the Internet, then I restart my computer, then when my computer start I scan with my anti virus to try to delete the file a few time later my anti virus detect that virus and then I delete the virus and I finally got my Task Manager working again, then I finally connect to the internet and after that, that message didn't appear in my computer again.
PS: I know this massage It's not really from the police because I search information about this virus, and I found out, that the police from my country doesn't send this kinds of notifications and virus to anyone (I don't know If in the other countries is the same).

_________________
Don't you think my Avatar photo looks like Admin photo ?

Watch my Gãngã St... ups I mean Gangnam style and Gentleman parody videos on YouTube:


And also check my 1st Sims 4 video:


Posting Nerd





Windows version

:


System architecture

:


Favourite games

: The Sims 4, The Sims 3 + all epansions and stuff, The Sims 2 + all expansions and stuff, Grand Theft Auto San Andreas, Grand Theft Auto IV, Grand Theft Auto Episodes from Liberty City, Grand Theft Auto Alien City [Anderius] (San Andreas Total Map Conversion), Need For Speed World, Need For Speed Rivals, Need For Speed Most Wanted 2012, Pro Evolution Soccer 2014, FIFA 14, Saints Row IV, Watch Dogs, Mortal Kombat 9 Komplete Edition, Injustice Gods Among Us Ultimate Edition, Grand Theft Auto V [If being released for PC as soon as possible and not in 2015], Test Drive Unlimited 1, Test Drive Unlimited 2, SimCity 4 Deluxe Edition


Posts

: 41


Points

: 1486


Reputation

: 3


Join date

: 2014-08-18


Age

: 20


Location

: Portugal



Hello,

Depending on the country you're in, the authorities (police,...) will usually contact you by a letter, phone call or they might even "pay you a visit". But that type of notification is...highly unusual. 

And if it's supposed to be something serious like child pornography, the police will definitely come to your door, and NOT just contact you by e-mail, or whatever this notification exactly is.


Good to hear though that it's just fake !
_________________
Forum Rules
// 
Forum FAQ
//
All G4TW Downloads
//
G4TW The Sims 4 Gallery Collection
//
How YOU can help seeding!
How to install The Sims Medieval
//
The Sims 2 Overview
 // 
How to install The Sims 3
//
TS3 Expansion install checklist
// 
How to install The Sims 4
Feel free to e-mail me for general questions about G4TW, Site navigation & Support, if you don't get a reply after 24 hours of opening a new Forum topic!
VETERAN Moderator
Inspector General & Forum O.G.





Windows version

:

Windows 8
Windows 7
Windows XP
Windows 10




System architecture

:

32 bits (x86)
64 bits (x64)




Favourite games

: The Sims 3, L.A. Noire, Saints Row, Red Faction, Team Fortress 2, Overwatch, PvZ: Garden Warfare, GTA: San Andreas, GTA V, Counter-Strike, Hitman, Borderlands, Fallout, COD, Battlefield, The Binding of Isaac: Afterbirth †, Government simulation & Military strategy games, S.W.A.T 4.


Posts

: 16242


Points

: 21659


Reputation

: 2346


Join date

: 2012-11-02


Location

: Bellisarius Hall



I remember long ago I downloaded a Spanish movie and it turned out to be a 120 minutes aggressive video against Internet piracy made by the Spanish police saying that I was committing a crime. Though it wasn't a virus.
_________________
Enric
Desktop custom PC: Windows 10 64-bit, Ryzen 5 1600, GTX1060 6GB, 16 GB RAM DDR4, HDD, SSD, dual 1080p screen
Laptop Ideapad Z570: Windows 7 64-bit, Intel Core i7-2670QM, GT540M, 8 GB RAM DDR3, 750 GB HDD, 768p screen
Redmi Note 5 Global: Android 8.1 on MIUI 9, Snapdragon 636, 4GB RAM LPDDR4X, 64GB eMMC 5.1, 1080p screen
Posting Nerd





Windows version

:


System architecture

:


Favourite games

: The Sims, Minecraft, Zelda, Europa Universalis


Posts

: 68


Points

: 1561


Reputation

: 2


Join date

: 2014-07-09


Location

: Catalonia



---
Permissions in this forum:
You
cannot
reply to topics in this forum