UPDATE: Please note that this fix has become de-facto outdated. The information here might still be useful for a handful of people, but it mainly has 'historic' value. For a more up-to date guide, please continue in my other thread here. Thank you ! 



***NOTE: The following fix is only relevant for you, if you changed the in-game language after the install (in the Windows registry), and you get that error when trying to run the game. If you haven't changed the language, this fix is NOT suitable for you - most likely...***
Hello all,
I was attempting to start up my legit (!) Sims 4 game, when I got the following message: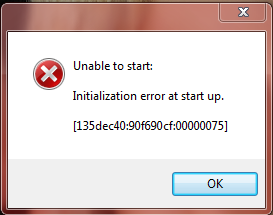 After a little bit of digging around and attempting a few things, here's how I solved my issue:
Originally, my serial key for the game was purchased in the US, but despite that, my in-game language was in a different language (German). I decided to edit my registry to change the language (back) to English.
I pressed the Windows key + R, and in the small window I typed regedit and hit enter. Then I navigated to the location HKEY_LOCAL_MACHINE -> Software -> Wow6432Node -> Maxis -> The Sims 4. See the following screenshot. 
The entry "Locale" was de_DE (German) originally, and I double-clicked on "Locale" then, to change the entry to en_US. To be on the safe side, I also edited another registry entry to en_US, as shown here: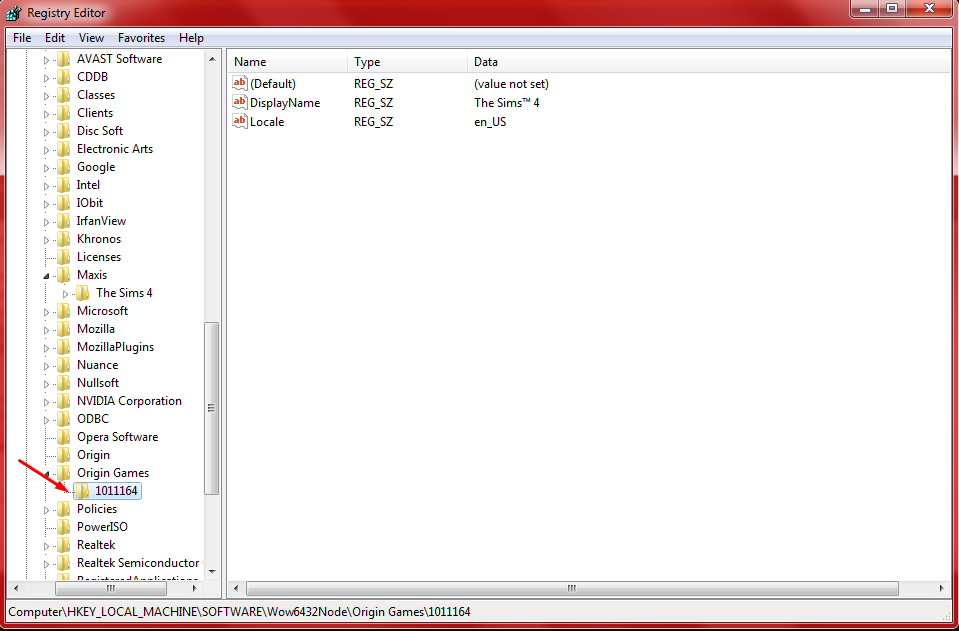 The location of that entry is in my computer HKEY_LOCAL_MACHINE -> Software -> Wow6432Node -> Origin Games -> 1011164
Note that if you have a 32-bit Windows, the registry location is a bit different; basically, "ignore" the part with the Wow6432Node. And look directly under HKEY_LOCAL_MACHINE -> Software.
After that I thought I was ready, but I still got that error message. After a little while I realized that for some strange reason, I only had language files for German in my game install location. So here's the deal:
Download this "language pack" here (extract the contents with WinRAR): 
... (download link deleted due to obsoleteness; see notice at the beginning of the post !)
After extraction, you should get two folders: one named __Installer, and the other one named Data. COPY both of them to the following location (the install location of your Sims 4 base game): C:\Program files(x86)\Origin Games\The Sims 4. 
When prompted, merge the folders with the existing ones. And replace any existing files, if needed. This process will basically add more "language strings" to your game (to be precise: Czech, Danish, German, English, Spanish, Finnish, French, Italian, Japanese, Korean, Dutch, Norwegian, Polish, Brazilian Portuguese, Russian, Swedish & Traditional Chinese).
After I added these language files, the game had now English language files too, so the game started up again.

Keep in mind that this is only one possible solution to this issue; and over time, we will look more into this (hence I named the topic "possible fix
#1
"). Also keep in mind that as we haven't officially released the game yet, we are (still) not fully capable of giving proper support on it.
Good luck, if you attempt the solution.

DO NOT POST ANY QUESTIONS OR PROBLEMS IN THIS TOPIC HERE. INSTEAD, OPEN A NEW TOPIC IN OUR The Sims 4 downloads support - SECTION ! ALL COMMENTS ABOUT QUESTIONS/PROBLEMS WILL BE IMMEDIATELY DELETED WITHOUT ANY ADVANCE WARNING !
Last edited by Carlos on Wed 11 Feb 2015, 15:38; edited 7 times in total
_________________
G4TW Forum Rules
// 
G4TW Forum FAQ
//
All G4TW Downloads
//
G4TW The Sims 4 Gallery Collection
How to install The Sims Medieval
//
The Sims 2 overview !
 // 
How to install The Sims 3
//
Expansion install checklist for TS3
// 
How to install The Sims 4
Feel free to e-mail me for general questions about G4TW & site navigation problems. Also, when after 24 hours of you posting a topic on the Forum you have not received a reply and still need help, you can send me an e-mail message as well!
VETERAN Moderator
Inspector General & Forum O.G.





Windows version

:

Windows 8
Windows 7
Windows XP
Windows 10




System architecture

:

32 bits (x86)
64 bits (x64)




Favourite games

: The Sims 3, L.A. Noire, Saints Row, Red Faction, Minecraft, PvZ: Garden Warfare, Team Fortress 2, Overwatch, GTA: San Andreas, GTA V, S.W.A.T. 4, Counter-Strike, Hitman, Borderlands, Fallout, COD, Battlefield, The Binding of Isaac, Military strategy games (Darkest Hour, Hearts of Iron, Arsenal of Democracy, etc.)


Posts

: 15026


Points

: 19971


Reputation

: 2120


Join date

: 2012-11-02


Location

: The Situation Room



---
Permissions in this forum:
You
cannot
reply to topics in this forum