this my problem I think I need an update from ultimate fix 
I tried to use the sims 4 time trial for getting the game to work because I was getting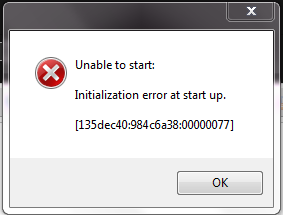 and I fixed the initialization error but now am getting contents error 
I applied the fix but it still doesn't work
and thanks
//EDIT
I solved it I just did whats in this link but you need to backup your folder in documents first
http://sims4.crinrict.com/en/2014/09/resetting-the-game-to-factory-settings-without-reinstalling/
and if you get this message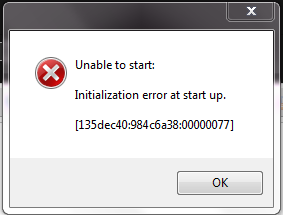 do this
you need to install the sims 4 trial time if it's allready used so you can't do that 
and when it starts to download pause it and after copy your game from your current folder to you origin games folder you will see sims 4 folder put all contents in it if you don't see it then create it
and after continue downloading the time trial version it will get up to 88% I gess and when it complete choose to repair it by clicking in the right mouse and select repair game
when it repairs it close origin and recopy your game to another folder or to your previous folder and crack it with the new ultimate fix with the packs and it should work without problems
am not an admin or moderator but when I did it it worked I hope it will work for you too
Posting Freak





Windows version

:

Windows 8
Windows 7
Windows XP
Windows 10




System architecture

:

32 bits (x86)
64 bits (x64)




Favourite games

: GTA IV, THE WITCHER, PES 2006, PES 2013 ,PES 2014 ,PES 2015 ,FIFA WORLD CUP 2014 ,THE SIMS SERIES ,DRIVER ,GTA 5 ,FARCRY 4 ,FARCRY 2 ,SHADOW FALL ,ASSASSIN'S CREED SERIES ,ALIEN ISOLATION ,FIFA 14 ,FIFA 15 ,SAINTS ROW 4 ,SAINTS ROW 3 ,THE EVIL WITHIN ,DYING LIGHT ,NFS Series, THE Wolfenstein, Battle


Posts

: 91


Points

: 1049


Reputation

: 2


Join date

: 2014-12-14


Location

: Algeria, algiers



Hi there,
@Aymen1234
!

Sorry that we couldn't get to you sooner.
And thanks for letting us know how you fixed it! That solution is certainly very interesting. Unfortunately, as the Game Time for The Sims 4 (48 hours free) isn't available anymore, it can't be tested, and won't be a possibility for someone who has already used it or never got it beforehand.
And, for reference, we do have a guide on how to fix the 'Initialization error at start up' problem. You can find it here:
http://games4theworld.bestgoo.com/t18501-unable-to-start-initialization-error-at-startup-updated-on-3-2-2015
Still, it's good that your issue is solved. I'll close the topic now. If you ever need anything else, don't doubt to come back. Have fun!

_________________
"Why do you ask 'what?', when the delicious question is 'when?'. The only difference between past and present... is semantics.
Lives, lived, will live. Dies, died, will die." - Lutece.
"Shhh... Shhh... It's ok. It's alright. I'm here. Just let go."

Minecraft Moderator
MC Wizard & Keeper of the Realm





Windows version

:

Windows 8
Windows 7
Windows 10




System architecture

:

32 bits (x86)
64 bits (x64)




Favourite games

: Dishonored, Bioshock Infinite, Bioshock 1-2, The Sims series, Terraria, Metro 2033, Metro: Last Light, Batman: Arkham series, Ōkami, Metal Gear Solid series, The Binding of Isaac, Silent Hill, Ace Attorney, Civilization V, Portal 2, Minecraft


Posts

: 1722


Points

: 3514


Reputation

: 297


Join date

: 2013-10-12


Age

: 21


Location

: Dunwall



//MOVED
What I didn't mention in my guide wqas that this whole thing is only relevant if you actually have a pirated game of The Sims 4, from Games4TheWorld. I wull update the guide straight away.

It's very unlikely that you will get this error in a legit game though. 
_________________
Regards, The_gh0stm4n





Forum rules // Forum FAQ // G4TW downloads // Sims store, guides & more (beta) // G4TW on Piratebay How to install The Sims Medieval // The Sims 2 overview ! // How to install The Sims 3 // Expansion install checklist for TS3 // How to install The Sims 4Please post game issues on the Forum only. For more general questions about site navigation, you may also e-mail me !
Supervising Moderator
Inspector General & Chief of Staff





Windows version

:

Windows 8
Windows 7
Windows XP
Windows 10




System architecture

:

32 bits (x86)
64 bits (x64)




Favourite games

: The Sims 3, L.A. Noire, Saints Row, Red Faction, Minecraft, Plants vs. Zombies: Garden Warfare, Team Fortress 2, Darkest Hour, GTA: San Andreas, GTA IV, S.W.A.T. 4, Titanfall, Counter-Strike, Hitman: Absolution, Borderlands, Fallout, Dishonored, COD, Battlefield, The Binding of Isaac: Antibirth & Afterbirth †


Posts

: 13616


Points

: 17969


Reputation

: 1900


Join date

: 2012-11-02


Age

: 30


Location

: The Situation Room



---
Permissions in this forum:
You
cannot
reply to topics in this forum