Hello!
I'm to a point where the only other option is to try and get some help by asking the question.
I'm sorry in advance if this answer as been solved. I've looked on the forum and either haven't
found the fix or couldn't really understand it.

Problem:
I decided to buy The Sims 4 from origin. Deciding that I really didn't like the game I decided to
uninstall. When Outdoor retreat came out I decided to give it another chance but didn't want to
buy it from the store. instead I looked for the torrent. Deciding that it would be best overall I
downloaded both the Sims 4 torrent and the ultimate fix. Following every instruction that was there
I've installed the Sims 4. Only it won't start up. Instead I get this message.

Unable to start:
The contents of your user data directory were created by a newer version of The Sims 4 and
cannot be loaded. Please update your game via Origin to play.
[d6f91ffb]

After getting this error I decided to go ahead and apply the fix hoping that it would well...fix it. I got the
same error again. I'm not really sure what's wrong. I believe I've done all the exceptions dealing with firewalls
and anti-virus. Origin isn't running. I've uninstalled and reinstalled. I'm not really sure what to do at this point.
I've only seen this particuclar error on the site with one other user and apperently they figured it out
to correct it themselves.
If anyone would be able to help me I'll really appreciate it.
Thanks!
Beginner





Posts

: 2


Points

: 1266


Reputation

: 1


Join date

: 2015-02-08



hi am not a an admin but if you want a fix for this
you can try this and if you want you saves and mods
http://sims4.crinrict.com/en/2014/09/resetting-the-game-to-factory-settings-without-reinstalling/
and if you want your saves and mods
do this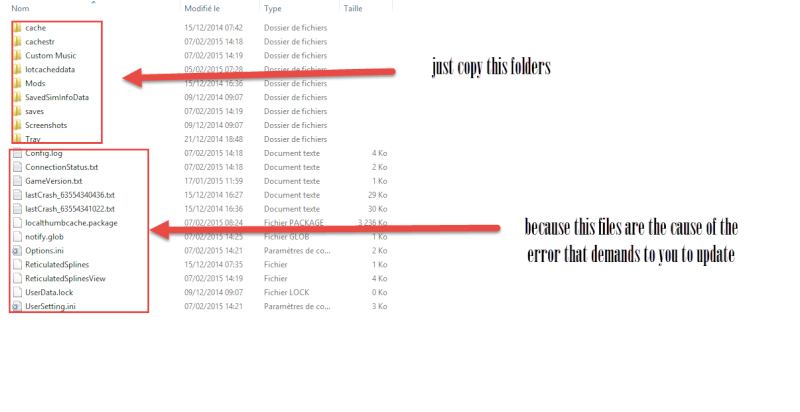 and if you get this message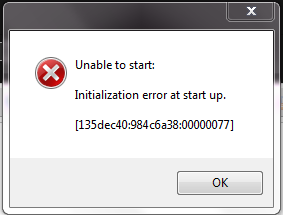 and if you get this message you need to install the sims 4 if you already bought it or just the sims 4 game time if you own it
and when it starts to download pause it and after copy your game from your current folder to your origin games folder you will see sims 4 folder put all contents in it you don't see it create one
and after continue downloading the download it will get up to 88% I guess and when it complete choose to repair it by clicking in the right mouse and select repair game
when it repairs it close origin and recopy your game to another folder or to your previous folder and crack it with the new ultimate fix with the packs and it should work without problems
when I did it it worked I hope it will work for you too and if it works you can uninstall the time trial version or normal version without any problem because origin install it
and when the ultimate fix gets updated I guess this errors will not show up again
Posting Freak





Windows version

:

Windows 8
Windows 7
Windows XP
Windows 10




System architecture

:

32 bits (x86)
64 bits (x64)




Favourite games

: GTA IV, THE WITCHER, PES 2006, PES 2013 ,PES 2014 ,PES 2015 ,FIFA WORLD CUP 2014 ,THE SIMS SERIES ,DRIVER ,GTA 5 ,FARCRY 4 ,FARCRY 2 ,SHADOW FALL ,ASSASSIN'S CREED SERIES ,ALIEN ISOLATION ,FIFA 14 ,FIFA 15 ,SAINTS ROW 4 ,SAINTS ROW 3 ,THE EVIL WITHIN ,DYING LIGHT ,NFS Series, THE Wolfenstein, Battle


Posts

: 91


Points

: 1508


Reputation

: 2


Join date

: 2014-12-14


Location

: Algeria, algiers



Thank you very much. I'm getting ready to try now
//EDIT
Alrighty so I did your first step in resetting the game.
It works!! Thank you very much,
Aymen1234
. I really appreciated it!
*If an admin would like to close/move this topic this issue has
been fixed.
Helper edit: Problem solved, topic closed. Have fun!
-SeoY
Beginner





Posts

: 2


Points

: 1266


Reputation

: 1


Join date

: 2015-02-08



---
Permissions in this forum:
You
cannot
reply to topics in this forum