Hello all,
If you ever heard or wondered what these terms "NTFS" and "FAT32" mean, the following should serve as a small introduction to the subject matter.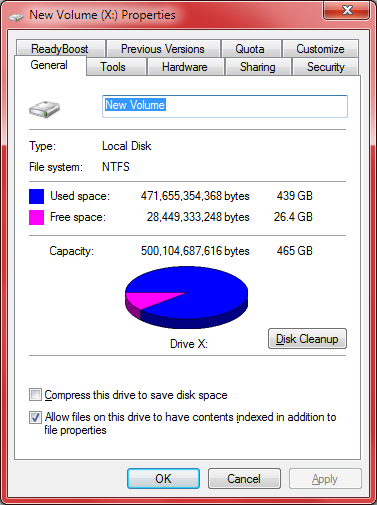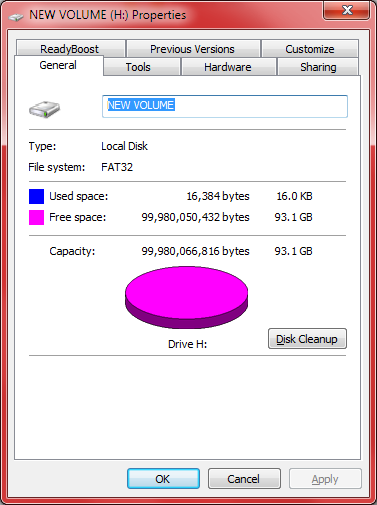 The above screenshots are taken from 2 smaller hard-drives of mine, all hooked up "externally" via USB. The first screen shows the drive "X", formatted in the NTFS file sytem. The second one shows the drive "H", formatted in the FAT32 format.
The following table will give you a very brief overview of these two systems. Note that entries marked with an asterisk (*) will need some elaboration...
FAT32
NTFS
OS compatibility 
- (MS-DOS)

- Windows OS, until Windows 8: read  and write

- Linux: read and write

- Mac OS X: read and write
- Windows NT 3.1 (from 1993) up to recent Windows OSes; read and write.
   
- Mac OS X 10.3 and beyond: read-capabilities, but limited writing capabilites*

- Limited read and write capabilites on Linux operating systems*



Maximum partition size
2 TB (Terabyte; equivalent of 2 thousand Gigabytes)
16 EB (Exabyte; equivalent of 16 billion Gigabytes)
Maximum (individual) filesize
4 GB
16 TB (Windows 7)

256 TB (Windows 8 )
Speed*
- fast
- faster than FAT32
With regards to OS compatibility and practicality, you will mainly want to use the file system NTFS when using a Windows OS, but you may also (still) use FAT32.
Mac OS X seems to have native support for writing to NTFS systems, but as my knowledge with that system is limited (at best), you will need to gather more information on that in other places. But most people appear to use third-party software for writing to an NTFS partition.
For Linux, there are also drivers that enable a better NTFS read/write compatibility, but again, for more details feel free to look up on this matter in a different place.
Concerning the "speed" of these two systems, it will of course depend on many other factors. For instance, the technical type of hard-drive (HDD vs. SSD), the degree of fragementation within individual partitions/drives or the connection of the drive to a computer (SATA vs. USB). It has shown itself though that in most cases NTFS drives will be slightly faster than FAT32, under equal circumstances (same fragmentation, hard-drive type and connection to computer).
In case you are wondering what "partition size" means, it basically means that if you want to format a hard-drive into the FAT32 system, the drive must not be greater than 2TB in filesize, otherwise it won't work (properly). Likewise, if you just want to create an FAT32 partition on a single hard-drive, then this partition cannot be greater than 2TB.
If all of this still looks too mysterious for you, here are two case studies that might help illustrate some practical problems related to these 2 file systems:
Case study # 1: individual file size:
Let's say you have an external hard-drive like my "H" drive in the above screenshot and it is formatted in the FAT32 system. You now hook it onto your computer and decide you want to download Games4TheWorld's "The Sims 3 Complete Collection", or in fact any other file larger than 4GB, onto that external drive. Your torrent client will soon give the error that "the file is too big for the file system...". What to do ?
If you have important files on that drive, back them up somewhere ! After you did that, right-click on the drive (in Windows) and choose "Format". Now select "NTFS" and wait until the format is finished. It should also suffice if you select "quick format". But the most important thing is that you format the drive/partition into the NTFS format otherwise you won't be able to write files bigger than 4GB on it. And in case of G4TW's "TS3 Complete Collection", it has about 27GB filesize.
Case study # 2: multiple operating systems.
Imagine you have a Windows operating system which you mainly use for work/study. And now imagine a few colleagues having different operating systems than you (Linux and/or Mac OS X). And you all have to work together in some sort of project. I strongly recommend you use a USB flashrive for the files that you may need to exchange with your colleagues. This USB flashdrive should be formatted in FAT32, and make sure too that the files are not larger than 4GB ! Save all your relevant work to that FAT32 flashdrive, and from then on you may share the files on it.
Note that this is only a suggestion from my part; if you save your work on an NTFS partition and share those files, the others may still be able to "read" the files (if the files are no larger than 4GB). But they may encounter issues when trying to edit the files.
That is it from me and the very brief introduction to these two filesystems. Have fun ! And should you have any additional information on this or wish to correct something (I may be wrong on some of the technical details), feel free to reply to this thread too.
_________________
Forum Rules
// 
Forum FAQ
//
All G4TW Downloads
//
G4TW The Sims 4 Gallery Collection
//
How YOU can help seeding!
How to install The Sims Medieval
//
The Sims 2 Overview
 // 
How to install The Sims 3
//
TS3 Expansion install checklist
// 
How to install The Sims 4
Feel free to e-mail me for general questions about G4TW, Site navigation & Support, if you don't get a reply after 24 hours of opening a new Forum topic!
VETERAN Moderator
Inspector General & Forum O.G.





Windows version

:

Windows 8
Windows 7
Windows XP
Windows 10




System architecture

:

32 bits (x86)
64 bits (x64)




Favourite games

: The Sims 3, L.A. Noire, Saints Row, Red Faction, Team Fortress 2, Overwatch, PvZ: Garden Warfare, GTA: San Andreas, GTA V, Counter-Strike, Hitman, Borderlands, Fallout, COD, Battlefield, The Binding of Isaac, Government simulation & Military strategy games, S.W.A.T 4.


Posts

: 15994


Points

: 21314


Reputation

: 2294


Join date

: 2012-11-02


Location

: Bellisarius Hall



Loved to read your article above!

_________________
Kind regards!

The Sim Architect

Returning slowly to the forum, after more than 2 YEARS away!
Entertainer
I'll make you smile





Windows version

:


System architecture

:


Favourite games

: The Sims 3, Minecraft, Cities:Skylines


Posts

: 1873


Points

: 4588


Reputation

: 165


Join date

: 2012-03-10


Age

: 39


Location

: Netherlands



---
Permissions in this forum:
You
cannot
reply to topics in this forum