Hi! I know this thread has been done over and over again but despite looking through them all I've yet to find the answers I'm looking for. I want to install the Sims 4 (along with GTW) onto my external hard drive. Completely. I do not have enough space on my C: drive to even get through the installation though, because even though I select that I want to install to my E: drive (the external hard drive), it requires about 8GB of space on the C: drive. I'm assuming this is for the files that go in the Documents\Electronic Arts folder. Is there a way to direct those files onto my E: drive?
Here is the error I get when I press install: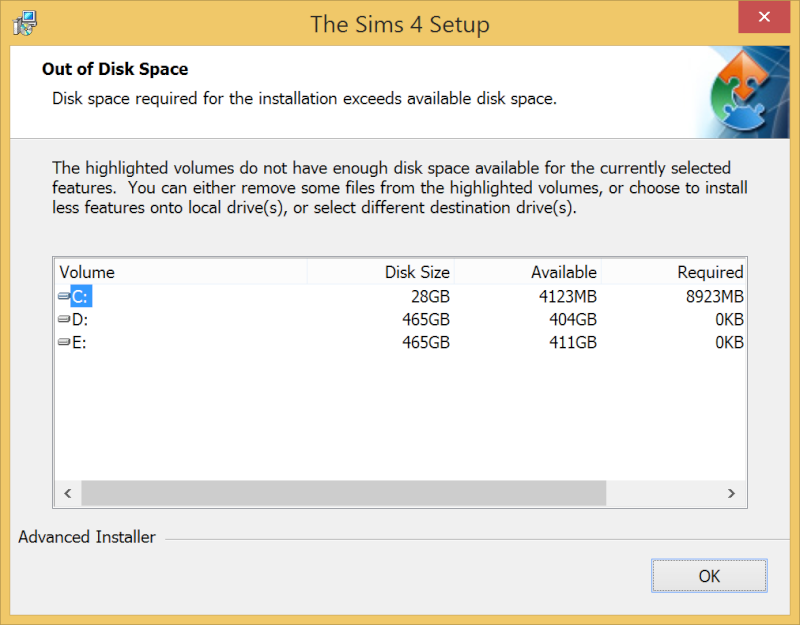 (The D: drive is the other partition on my external hard drive.)
Thanks in advance! I know you guys are a great help on this forum. : )
Beginner





Windows version

:


System architecture

:


Posts

: 7


Points

: 1297


Reputation

: 0


Join date

: 2013-11-16


Age

: 19


Location

: US




_________________
Regards, The_gh0stm4n






VETERAN Moderator
Inspector General & Forum O.G.





Windows version

:

Windows 8
Windows 7
Windows XP
Windows 10




System architecture

:

32 bits (x86)
64 bits (x64)




Favourite games

: The Sims 3, L.A. Noire, Saints Row, Red Faction, Minecraft, Plants vs. Zombies: Garden Warfare, Team Fortress 2, Darkest Hour, GTA: San Andreas, GTA IV, S.W.A.T. 4, Titanfall, Counter-Strike, Hitman: Absolution, Borderlands, Fallout, Dishonored, COD, Battlefield, The Binding of Isaac: Antibirth & Afterbirth†


Posts

: 13689


Points

: 18102


Reputation

: 1906


Join date

: 2012-11-02


Age

: 30


Location

: The Situation Room



Thanks for the reply! I ended up doing as you suggested, and it wasn't too bad. I bootcamp windows, so I just reinstalled it (putting all my files on my external drive before doing so) with more space than I'd reserved for it originally. Sims 4 is working now, but I have come across a new problem. Mods are being acknowledged by the window that appears at start up, but none are appearing in game. Does this have anything to do with installing my game to an external hard drive? I'm almost positive I installed the mods correctly, and I've tried running with just individual cc items to see if there was a problem file, but it still didn't work. Should I open a new thread for this? Thanks in advance.
Beginner





Windows version

:


System architecture

:


Posts

: 7


Points

: 1297


Reputation

: 0


Join date

: 2013-11-16


Age

: 19


Location

: US



---
Permissions in this forum:
You
cannot
reply to topics in this forum