Hi, 
I am very need of help. I been looking this up so far, I am use to more of a visual or vocal help. To this problem

 I need help with this. 
You see, I downloaded my Sims 4 from this site Igg-Games and I got your "Get to work", "Outdoors Retreat", "Spa Day" and the rest of the expansion pack. Soon as I get it together, I see some things goes wrong. I made a Sim and notice some texture and items from the Outdoor Retreat wasn't working. Along with that. I can't really interact with other sims. But I can interact with the items in the world. Only world I can't go to is the Outdoor Retreat one. I thought if I wait it be over but it never shown up. So I just ended it and just played the game instead. 
Once I did everything in the house, I had my sims become housemates. But they never did much. I couldn't do anything. It show to others but never to the sims. Funny thing about it, it just show the introduction menu but to the other interactions conversation content. Nothing. It mostly automatically talk and nothing else. No funny jokes, or no Romance, or no Flirt or anything. I click and click hoping the Interaction screen show up. 
I logout, and Login my computer but nothing. I check my files and they seems fine. Nothing change or anything. I look up patches so far none. So I came here, registered, and made a brand new account for the help. 
So please help me. And Take your Time. I don't mind waiting. As long as you and your site can help me play.  
***NOTE: As well I followed all your Directions in your PDF.
UPDATED- 
NOW another problem, I can't put the Rldorigin.dll file in the bin without the permission. and I can't get permission to place it in. I did the permission guide but still tell me I need permission for it. Do anyone else have any ideas of how to do this. 

More after more... 
Someone please help.. I'm on the last thread here ;____;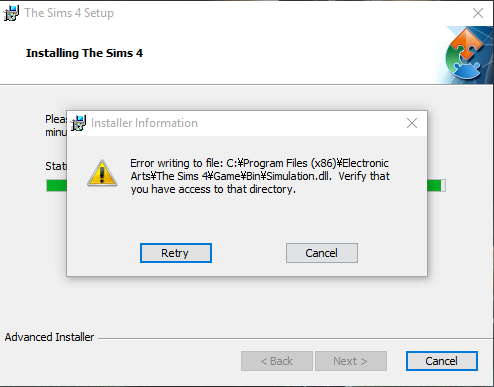 things keep happening... ;_____;
UPDATE: 
Look for the Comment below.

Last edited by NeshBear on Mon 21 Sep 2015, 17:47; edited 4 times in total (Reason for editing : more help needed)
Beginner





Windows version

:


System architecture

:


Favourite games

: Huniepop/Sonic the hedgehog/ Sims 4


Posts

: 2


Points

: 995


Reputation

: 0


Join date

: 2015-09-09


Age

: 22



For Anyone that Download from another SITE! Don't DO IT! 
If you have what I had? 
Win10
Goes to Settings, Apps & Feature and delete Sims4 for from there. Or go to the Application and Right click to Uninstalled.  And For Addition problems.  Please use our Staff's Help. (Either if they didn't comment on it. They are very helpful on here) 
https://www.youtube.com/watch?v=CBHwvwaE2TM
(Our Very Own Moderator The Sim Architect's Video. It help a Lot.)
I solved my own problem.
Beginner





Windows version

:


System architecture

:


Favourite games

: Huniepop/Sonic the hedgehog/ Sims 4


Posts

: 2


Points

: 995


Reputation

: 0


Join date

: 2015-09-09


Age

: 22



---
Permissions in this forum:
You
cannot
reply to topics in this forum