Hey so I've been following the ultimate sims 3 setup guide and I've got to the stage of opening up the game. The intro plays and the loading screen works then the start new game screen appears. 
Unfortunately at this point there's nothing I can click that seems to do anything. All of the click down menus (Like the select town) are empty and the new game and done button at the bottom doesn't do anything. I've included a picture so you can see what's going on
I've had a look through the forums and couldn't find a fix for this and I feel like I've done my due diligence trying to get it to work myself before posting (I've deleted and reinstalled three times now) but I'm hoping someone can point out a stupid error I've made

I'm running it on a mac and I'm using "The SIMS 3 complete (OS X)" files with most of the expansions that I'm sure others are familiar with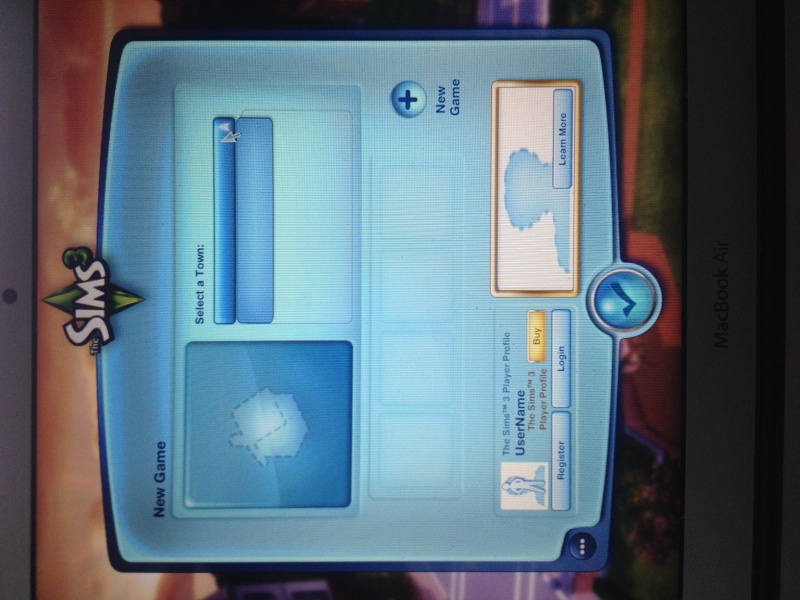 Last edited by Spenceley on Fri 18 Sep 2015, 13:13; edited 1 time in total
Hello,
I've moved your topic to the Mac section! I hope Phoebe can help you soon.
One thing that you can try however, is to install the manual 1.67 patch (again). I'm not familiar with Mac at all, but I believe you can try this without negative consequences, and it seems to work on PC! You'll find the patch for Mac 
here
, as well as a couple of other fixes for known problems on Mac.
_________________
"Under sun and sky, we greet you warmly"
Forum Administratrix
First Lady of the Forum





Windows version

:

Windows 8
Windows XP
Windows 10




System architecture

:

32 bits (x86)
64 bits (x64)




Posts

: 15168


Points

: 20466


Reputation

: 1507


Join date

: 2011-05-31



Thank you! Hopefully someone with more mac expertise than myself can get me sorted here
Finally with a clean install this morning I've got everything running and I'm very happy!
---
Permissions in this forum:
You
cannot
reply to topics in this forum