Hello,
First of all, sorry if I'm not clear, english is not my native language (I'm french). Sorry too if the problem as already been asked, but I looked everywhere, and didn't found anything.
I have Sims 3 and a few EP installed (WA, Pets, Seasons), all of them from dvd I bought. The base game and the EP's are fully patched.
I wanted to play Roaring Heights, but as it is expansive, I decided to try your version. So I downloaded it, I installed it and also the fixes and CCmerged file in my mods folder as explained (I have also mods like overwatch and story progression). I have not any other CC apart from Roaring Heights. I cleared the cache files, and launched my game.
My problem is that there is a missing outfit that shows in my game.Here is what it looks like: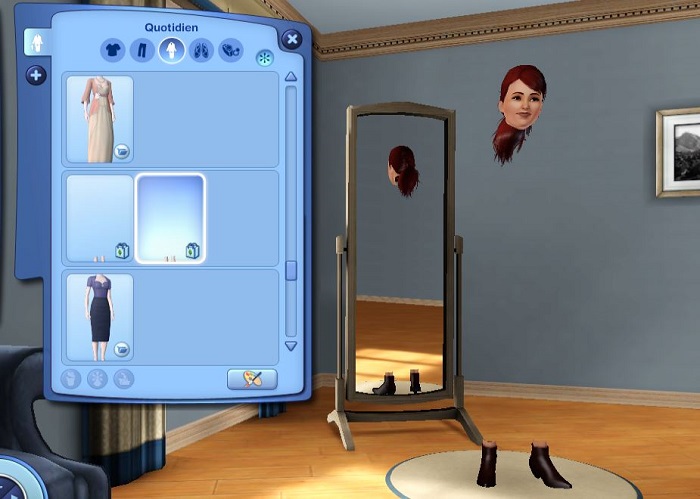 Everything else is okay. It's not a big issue, but it makes randomly sims look partly invisible. Thankfully, it won't make my game crash. I'm a little perfectionnist, and I don't like having things like that in my game most of all when I don't understand why. I tried to delete the outfits individually from the launcher, but it tells me I can't delete item that as dependencies (or something like that). So it seems to be with the missing outfit, or without roaring heights. I really love this new neighborhood, I would like to keep it. Is it kind of punishment for not buying it ?
Would you please tell me if someone else is having the same issue ? For people who installed Roaring Heights, could you check your game in CAS in complete outfits for young adult/ adult? Thank you for helping me
EDIT:
So I carefully checked my game, and I think I found the faulty. Except if it's a clothe for teenager, which would explain why I can't see it, (I don't think so, from my searches on internet, it is said to be adult outfit), the only outfit that won't show in my game is this one:
I checked my launcher, and the file is said to be installed, I can see the thumbnail. If it is installed, it would explain why CAS sees an outfit, but why can't he see the texture?
So, is there a way to repair this particular item (if it's really the one which is faulty, I'm not a 100% sure)? As anyone else have issue with that particular clothe?
It seems this outfit is part of the content offered in the gold edition of Roaring Heights. So could someone tell me where I could find a Standard version of RH ? I don't care having this outfit as long as I can have the world itself.
Last edited by Annesorry on Tue 24 Nov 2015, 15:18; edited 1 time in total
Beginner





Posts

: 2


Points

: 973


Reputation

: 1


Join date

: 2015-11-23



Hello and welcome to the forum,
I never paid particular attention to details like that. This phenomenon with the "missing outfit" is most common though with third-party CC, and not so much with content from actual and official expansions/DLC.
I don't want to suggest this here:
http://games4theworld.bestgoo.com/t2208-sims3pack-installed-world-inaccessible-or-wont-install-fix
As it basically involves "purging" ALL your installed .sims3packs and starting afresh. Please only do that at your own risk, and if you are really motivated for a very long session of re-installing .sims3packs.
As a personal note, I have long given up on .sims3packs and am largely using .package file store content where possible. However, the worlds are always in .sims3pack format, and hence need to be installed through the launcher...
It's a difficult issue, but in the end I suggest you let it be. The possible benefit that you can gain from this is outweighed by the fact that you literally need to re-install all your .sims3packs. But that's up to you. Good luck !
_________________
Forum Rules
// 
Forum FAQ
//
All G4TW Downloads
//
G4TW The Sims 4 Gallery Collection
//
How YOU can help seeding!
How to install The Sims Medieval
//
The Sims 2 Overview
 // 
How to install The Sims 3
//
TS3 Expansion install checklist
// 
How to install The Sims 4
Feel free to e-mail me for general questions about G4TW, Site navigation & Support, if you don't get a reply after 24 hours of opening a new Forum topic!
VETERAN Moderator
Inspector General & Forum O.G.





Windows version

:

Windows 8
Windows 7
Windows XP
Windows 10




System architecture

:

32 bits (x86)
64 bits (x64)




Favourite games

: The Sims 3, L.A. Noire, Saints Row, Red Faction, Team Fortress 2, Overwatch, PvZ: Garden Warfare, GTA: San Andreas, GTA V, Counter-Strike, Hitman, Borderlands, Fallout, COD, Battlefield, The Binding of Isaac: Afterbirth †, Government simulation & Military strategy games, S.W.A.T 4.


Posts

: 16246


Points

: 21664


Reputation

: 2346


Join date

: 2012-11-02


Location

: Bellisarius Hall



Hello,
First of all, thank you for your answear.
In fact, I had no other CC installed in my game, so I already tried the solution given in your link (I had made a long search in this forum before opening my own topic). It changed nothing at all. Roaring Heights is my only sims3pack, I only have 2 mods (master controller and overwatch), which never caused any problem before, and I also tried installing 2 outfit packages just to see what would happen, and they work perfectly in my game. I don't like sim3pack neither, but as you said, it's the only option to install a world...
I really think it's an issue with this world, and the worse of it, is that this item is in the Gold edition of this World which I don't need, whereas I would be very happy to find the Standard edition to get rid of it. But as I can't find it anywhere, I think I'm going to follow your advice and let my invisibles sims live (or maybe will I edit them with master controller...).
I still would like to know if the other people using that world have this missing outfit issue. Am I the only one, which would mean it's something in my almost CC free game that don't work, or does it happens to someone else?
It seems that a lot of people have read this topic, I would be happy if some of them could tell me if everything is fine in Roaring Heights (for those of course who have downloaded it from here). Have you also this blank outfit? Is it he same as mine?
It is not a big deal, but I am interested.
Thanks for reading and thank you for you help.
EDIT: I just made an ultimate test. I took my whole Sims3 folder and placed it on desktop, then launched the game so it created a brand clean one. I installed Roaring Heights through the launcher, and guess what ? The invisible outfit is back. It's always the same. So this time, I think my investigation is done, this outfit just doesn't work. If anyone is kind enough to repair it or to offer a Roaring Heights Standard edition, it would be very much appreciated (the gold only brings 4 more outfits and just three are working, that's not what I call "Gold").
As far as I'm concerned, I'll play like that, but the partly invisible sims who will cross my path should beware as they risk to be hit by a meteor (thank you, mods creator ! 
).  It may be kind of fun in fact.
Thank you very much for your reading and for your help.
Mod edit: thanks for letting us know about this.

  Feel free to get back in touch with us anytime again. Have fun ! Problem solved, topic closed.
- Carlos
Beginner





Posts

: 2


Points

: 973


Reputation

: 1


Join date

: 2015-11-23



---
Permissions in this forum:
You
cannot
reply to topics in this forum