Hello all,
I just very recently started playing "The Saboteur" and was wondering about the awkward graphics settings, in-game. I thought a little post about it could come in handy.

1)
If you want to play the game in "windowed mode", navigate to
Documents\My games\The Saboteur\SaveGames
and double-click on the
config.ini
file (should you not want to play in windowed mode, please skip the step).
Now add another line named "Windowed 1" (without quotation marks), as shown here.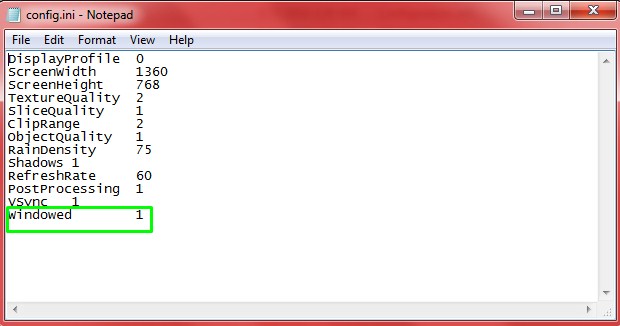 While we're at it, some spectators and commentators have suggested changing the digit next to "VSync" to 0, in case of frequent game crashes or freezes, but I'm not so sure if that is the case (with this game). Since I myself have VSync forced to "ON" in my NVIDIA control panel, I guess it doesn't matter in my case, but for you out there, I would suggest leaving VSync as "1", for now.
2)
Should you want to adjust the in-game resolution or any other graphics settings after that, you can either edit this config.ini file again - or you navigate to the location where you installed the game. Typically that will be
C:\Program files (x86)\Electronic Arts\The Saboteur
. Now double-click on the
SaboteurLauncher.exe
and edit the settings to your liking.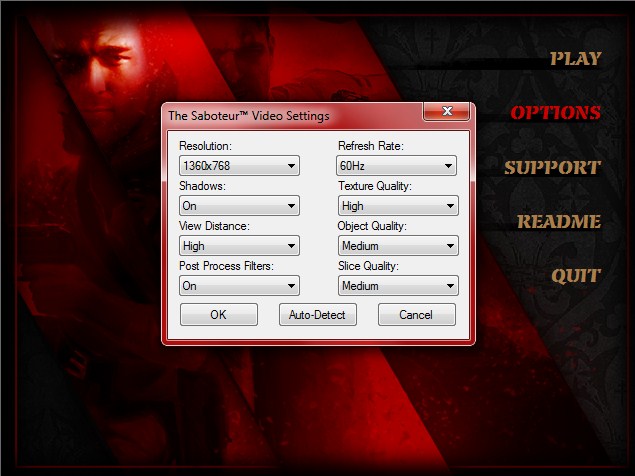 When done, click on "OK" and then "Play". Should the game start again in fullscreen (and you want to play windowed), you may need to repeat what is described above, to get the game in windowed mode again.
The game has a very strange way of providing tweaks to graphics options, all of which one would expect in "modern" games, but with these little workarounds, you should be able to find your way through. Good luck for now !
DO NOT POST ANY QUESTIONS OR PROBLEMS IN THIS TOPIC. INSTEAD, PLEASE OPEN A NEW TOPIC IN THE APPROPRIATE FORUM-SECTION, "NON-SIMS SUPPORT"! THANK-YOU-NOTES CAN BE POSTED HERE.
Last edited by The_gh0stm4n on Sun 03 Sep 2017, 16:09; edited 1 time in total
_________________
Forum Rules
// 
Forum FAQ
//
All G4TW Downloads
//
G4TW The Sims 4 Gallery Collection
//
How YOU can help seeding!
How to install The Sims Medieval
//
The Sims 2 Overview
 // 
How to install The Sims 3
//
TS3 Expansion install checklist
// 
How to install The Sims 4
Feel free to e-mail me for general questions about G4TW, Site navigation & Support, if you don't get a reply after 24 hours of opening a new Forum topic!
VETERAN Moderator
Inspector General & Forum O.G.





Windows version

:

Windows 8
Windows 7
Windows XP
Windows 10




System architecture

:

32 bits (x86)
64 bits (x64)




Favourite games

: The Sims 3, L.A. Noire, Saints Row, Red Faction, Team Fortress 2, Overwatch, PvZ: Garden Warfare, GTA: San Andreas, GTA V, Counter-Strike, Hitman, Borderlands, Fallout, COD, Battlefield, The Binding of Isaac, Government simulation & Military strategy games, S.W.A.T 4.


Posts

: 16059


Points

: 21388


Reputation

: 2300


Join date

: 2012-11-02


Location

: Bellisarius Hall



Thanks for sharing, Carlos!
It's a very good game, in my opinion. I really enjoyed playing this game back then.
And the music. Oh, the music. 10/10 music. Some of their songs were even used in television commercials here.

Vive la resistance!

LOVED IT when this song played in the car radio.




free society





Windows version

:


System architecture

:

32 bits (x86)
64 bits (x64)




Posts

: 19210


Points

: 1026705


Reputation

: 2265


Join date

: 2010-03-12



---
Permissions in this forum:
You
cannot
reply to topics in this forum