So, I was playing my sims 3 pets game and ordered both my cats to jump to my kitchen chair and then cancelled the action. But now they don't move anymore. They are like statues. I've exited and opened the game and the problem continues...
I've used moveobjects on cheat to take them off the kitchen chair to see if they would move but nothing works... Now I have two cat statues in my kitchen floor
I want my cats back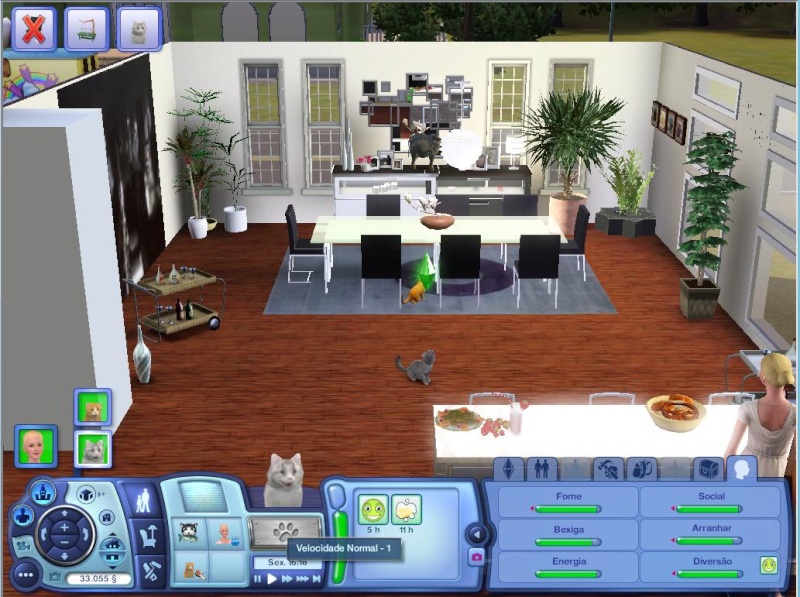 Also, Is anyone having problems with cc after installing the pets expansion?I can't place any object on top of a few cc tables
Beginner





Posts

: 11


Points

: 2182


Reputation

: 2


Join date

: 2011-09-19



Hello,
Your problem with CC is a familiar one. You'll have to redownload your CC but make sure its been updated to be compatible with Pets. Read more
here
.
You can try the resetsim cheat on your cats.
Forum Administratrix
First Lady of the Forum





Windows version

:

Windows 8
Windows XP
Windows 10




System architecture

:

32 bits (x86)
64 bits (x64)




Posts

: 15105


Points

: 20015


Reputation

: 1430


Join date

: 2011-05-31



This happened with my Sims, My mother and daughter sim where interacting and then they just got stuck.. In the end.

I went edit town mode, Save a copy of the family to the bin.
So I had 2 copies of my family.
copy 1 was still in the house,
copy 2 in the save library/bin

I merged copy 2 to move in with copy 1

So i had 2 of each sim.

Enter the house have the
testingcheatsenabled true
cheat on, SHIFT click my multible sims and deleted them, the two which were stuck were deleted leaving my two new ones.

Fixed.


I did later read someone else fixed it by editing town and spliting the family up and then moving them back in.. You could try this, Just make sure you move a sim out with the pets
Beginner





Posts

: 7


Points

: 2141


Reputation

: 0


Join date

: 2011-10-24



Thanks for the help

Beginner





Posts

: 11


Points

: 2182


Reputation

: 2


Join date

: 2011-09-19



Forum Administratrix
First Lady of the Forum





Windows version

:

Windows 8
Windows XP
Windows 10




System architecture

:

32 bits (x86)
64 bits (x64)




Posts

: 15105


Points

: 20015


Reputation

: 1430


Join date

: 2011-05-31



Posting Freak





Windows version

:


System architecture

:


Favourite games

: Wolfenstein ET, Army of Two, Gears of War, Halo, Sims 3


Posts

: 142


Points

: 2773


Reputation

: 6


Join date

: 2010-07-13


Age

: 25


Location

: The Netherlands



---
Permissions in this forum:
You
cannot
reply to topics in this forum