Hello!
I recently downloaded the Sims 4 from Games4theworld's downloads page. I installed it without a hitch and everything went smoothly, and then I attempted to install the expansions (Get to Work, Get Together, and then the Ultimate Fix with Dine Out) For some reason, whenever I attempt to replace the files in my C:\Program Files(x86)\Electronic Arts\The Sims 4 file with the expansion's replacement files, it gives me this error message: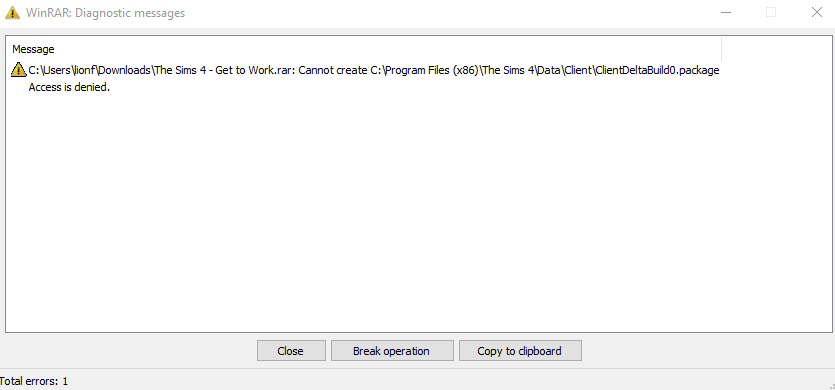 The same message repeats for all files attempted to be replaced. I have followed the instructions on the forum "How to Install the Sims 4 Correctly" but I cannot seem to get past the installing the expansions step. I have done this before with Games4theworld and have all of the _Install files already dealt with and am aware of needing to move the Sims 4 to C:\Program Files(x86)\ after installation of the packs.
I hope you can help me out with this and it helps someone else in the future.
Thanks,
Vandagyre
Beginner





Windows version

:


Favourite games

: League of Legends, Minecraft, Fantasy Life, Blade & Soul, Civ 5, The Sims 4, Dangan Ronpa


Posts

: 1


Points

: 839


Reputation

: 0


Join date

: 2016-04-08


Age

: 24



Hi,

I have exactly the same problem when I try to install the sims 4 get to work expansion pack. I have been searching everywhere for a solution, but I can't find one. The problem arises when it wants to rewrite the files.

So I was wondering wheter this problem had already been solved, or that someone can solve it.

Thanks,
Yleeri
Beginner





Windows version

:


System architecture

:


Posts

: 1


Points

: 592


Reputation

: 0


Join date

: 2016-12-09



Welcome to the Forum
@Vandagyre
and sorry for the late-ish reply,
I think there are several things you could try. One possibility is, you temporarily move your install folder of The Sims 4 to the desktop, and THEN you try again copying the stuff from Get to Work/Get together/the latest Ultimate fix, over it. If that is successful, move the install folder of The Sims 4 back to where it was.
The other (slightly more difficult) possibility is this here:
http://games4theworld.bestgoo.com/t17678-permissions-error-when-copying-cracked-files-fix
This was written for The Sims 3, back then. But the basic procedure should be applicable to any folder basically. I suspect this is another instance of the common file/folder permission errors, which have become so common from Windows 8 onwards.  
Good luck!

_________________
Forum Rules
// 
Forum FAQ
//
All G4TW Downloads
//
G4TW The Sims 4 Gallery Collection
//
How YOU can help seeding!
How to install The Sims Medieval
//
The Sims 2 Overview
 // 
How to install The Sims 3
//
TS3 Expansion install checklist
// 
How to install The Sims 4
Feel free to e-mail me for general questions about G4TW, site navigation & if you don't get a reply after 24 hours of opening a new Forum topic!
G4TW Acting Administrator
General of the Armies & Gatekeeper





Windows version

:

Windows 8
Windows 7
Windows XP
Windows 10




System architecture

:

32 bits (x86)
64 bits (x64)




Favourite games

: The Sims 3, L.A. Noire, Saints Row, Red Faction, Team Fortress 2, Overwatch, PvZ: Garden Warfare, GTA: San Andreas, GTA V, Counter-Strike, Hitman, Borderlands, Fallout, COD, Battlefield, The Binding of Isaac: Afterbirth †, Government simulation & Military strategy games, S.W.A.T 4.


Posts

: 16204


Points

: 21714


Reputation

: 2354


Join date

: 2012-11-02


Location

: Bellisarius Hall



---
Permissions in this forum:
You
cannot
reply to topics in this forum