Hello! help please!! I cant follow the links for the manual update that you have in the beginning of this post, i installed sims 3 and i am on step 2 of the proccess you describe in http://games4theworld.bestgoo.com/t1171-must-read-how-to-install-the-sims-3-correctly can you please help me? i follow the links and i am getting to a page where i read the following, i tried with chome and mozilla
Warning!
It appears that you have an advert blocking browser extension enabled.

Our Publishers use this revenue in order to monetize their websites and provide you with their content. To continue to your destination, you must white list our website in your software.

Adblock Plus users, click on Adblock plus icon, and deselect 'Enabled for this website'

For more information please see our Knowledge Base article:

http://support.adf.ly/hc/en-us/articles/207705113
Beginner





Posts

: 4


Points

: 646


Reputation

: 0


Join date

: 2016-09-21



Hello,
I've split your reply into a new post, so we can help you. 
If you know how to disable your adblocker, you can easily fix this. When using Chrome, the button is on top of the page, on the right side. Click on the icon to get into the menu as shown on the picture below, and click on "Enabled for this site" to disable your adblocker. Do this on the adf.ly page that you are directed to when you click the link.
That should do it.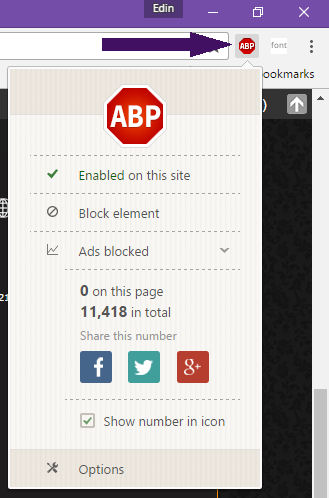 _________________
"Under sun and sky, we greet you warmly"
Forum Administratrix
First Lady of the Forum





Windows version

:

Windows 8
Windows XP
Windows 10




System architecture

:

32 bits (x86)
64 bits (x64)




Posts

: 15181


Points

: 20519


Reputation

: 1514


Join date

: 2011-05-31



thank you very much

however i dont have such an icon in my browser
well i downloaded generation exp. and just did the crack so it worked fine
today i did the update from ea and it doesnt work anymore
finally i downloaded into the future expansion with a hope that this would fix something, i did the crack as usual (copy crack files to the destination folder) but it doesnt work
it starts and it loads as usual but when i get to play everything is blank, there are no towns/neigbourhoods to choose and no households and there are blank spaces in the three dots menu so i neither can quit the game, i closed it with ctrl-alt-del 
when i starts it says i dont have a genuine copy and it wont play properly or something like this asking if i want to continue or stop the game.
I start the game from the base game icon and it starts the launcher

What do i do?

((I am sorry for my english, I hope you understand what i write)
Beginner





Posts

: 4


Points

: 646


Reputation

: 0


Join date

: 2016-09-21



Hello,
No worries, I understand perfectly fine

You could try and find the superpatch on EA's own site, it could be a simple matter of googling along the lines of
sims 3 superpatch 1.67
, that will bypass the adfly for sure.
It certainly sounds like (re)installing the patch could fix this. 
It is however also possible that you have the wrong crack version for your gameversion. Start by checking your current game version on the launcher. It's in the lower-left corner when you open it.
If
it is at 1.67, grab the latest fix 
here
, and
only copy the contents of the #crack folder
to the base game\bin.
_________________
"Under sun and sky, we greet you warmly"
Forum Administratrix
First Lady of the Forum





Windows version

:

Windows 8
Windows XP
Windows 10




System architecture

:

32 bits (x86)
64 bits (x64)




Posts

: 15181


Points

: 20519


Reputation

: 1514


Join date

: 2011-05-31



---
Permissions in this forum:
You
cannot
reply to topics in this forum