Hello everyone,
It is a hot topic again, as it always is when we're forced to wait for a new crack:
Fake Downloads
.
Perhaps it is unfathomable to think that people may have a malicious intent, but those fake downloads only serve a purpose for the person who decided to post these links. There are a few examples of fake links. Sure, some of these could be legit, but we advice you
not to take any chances
with these downloads. It's better to be safe than sorry, afteral. And the repercussions can indeed be serious, let's have a look again at this:

Here we have a user who has the knowledge to stay safe from these threats. Most of the users here are not that knowledgeable when it comes to staying safe, and fixing these infections when they do occur. Which is why we are against trying these things. Of course it is up to the individual to make their own choices. So I have decided to compile a list of things here to look out for, so you can make the
right
choice

Let's have a look at some of the different fakes.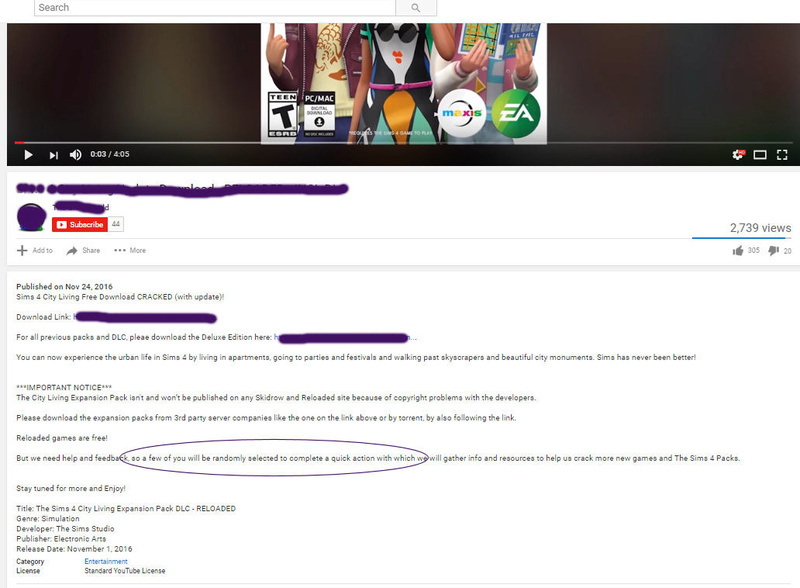 Here's a very common one, YouTube is full of these. I have censored any identifying information, lest you decide to try this for yourself. Note the statement that I have circled right there: " a few of you will be randomly selected to complete a quick action ..." 
Actually, there's nothing random about that selection. Each and everyone who clicks that link is asked to complete an action, and it looks exactly like this: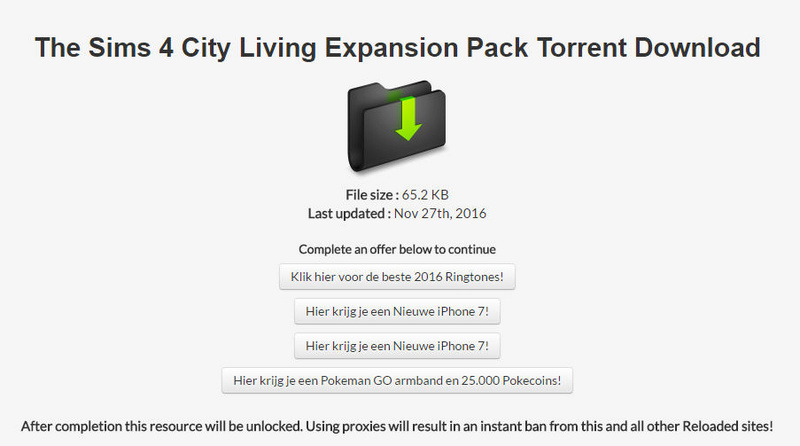 Minus the Dutch, that is, unless you're in The Netherlands/Belgium yourself. Clicking either one of these will prompt you to enter your phone number. I didn't care to go that far myself. Needless to say, whoever is providing these links, is making a lot of money for advertising these and, basically, selling phone numbers which can then be spammed with advertisements, or even called by call centers.
A variation of this type of scam is the survey. It'll take your time (answering 5-10 or even more silly questions) and again, you have to leave a phone number and/or email address to complete the survey, which will then be used to spam you with advertisements.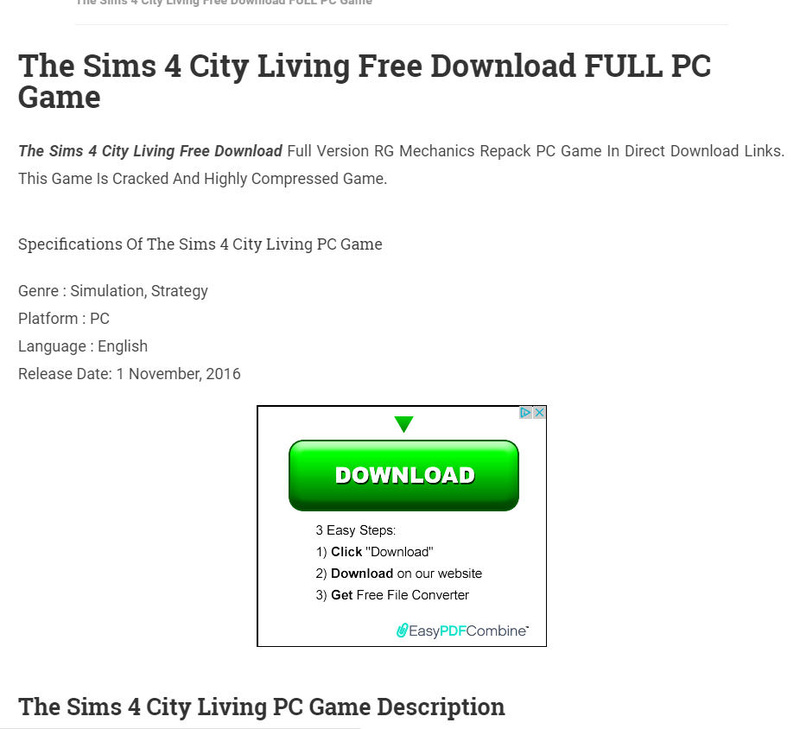 This one looks promising! There's even a downloadbutton there! Yes, there is. I had to disable my adblocker to get that to show up and in fact, that page is
full
of downloadbuttons and ads. And guess what? Those downloadbuttons are all fake. When used, they will probably install some addware on your PC which is then near-impossible to remove. Another advertising scam. Once my adblocker was active again, I found not a single "download" button on the entire page. And neither did the one person who left a comment on the bottom of that page.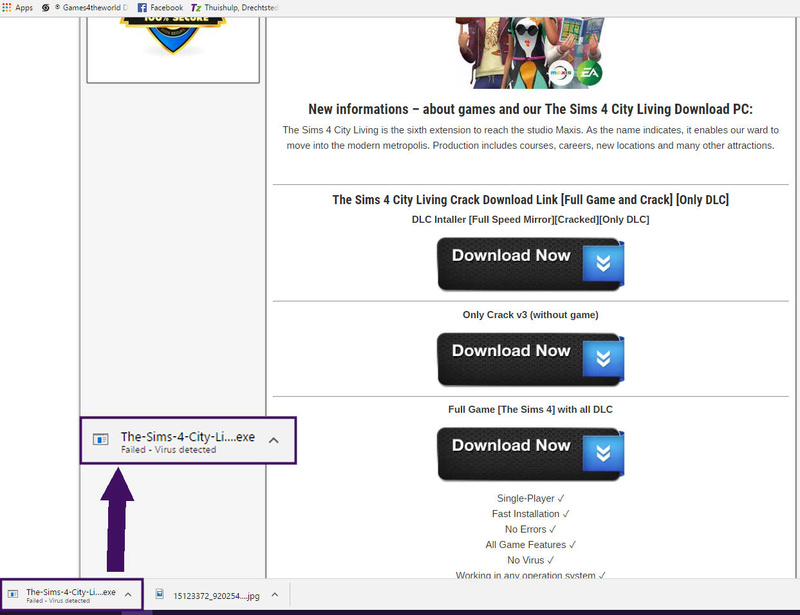 Another similar one, pay attention to what's going on in the lower left corner of that picture! This one is a bit more malicious, best not to tangle with it.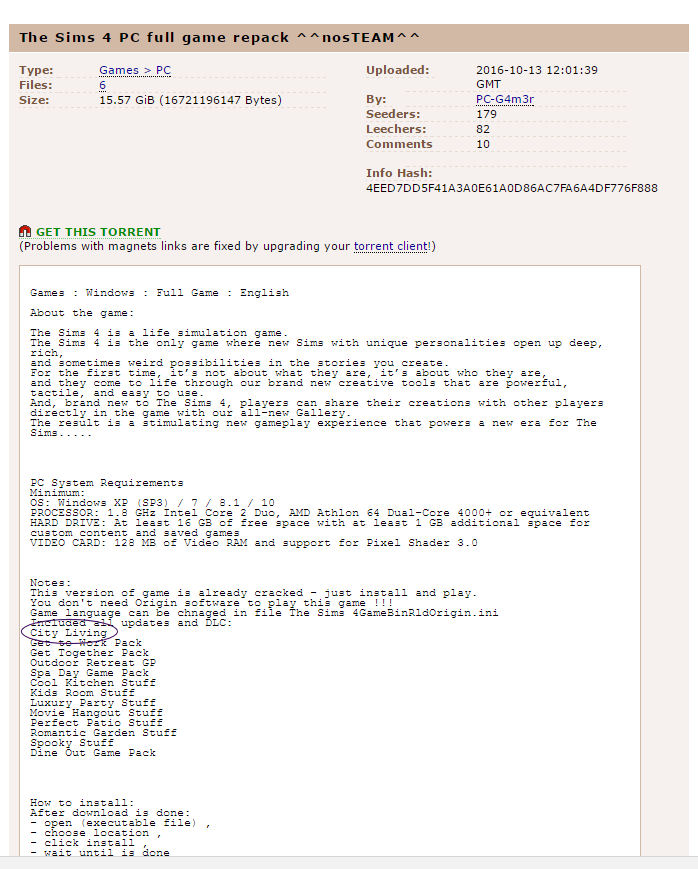 This here is the final example for this post. As you can see, this screenshot comes from a well-known torrent site and look! It says it includes City Living! Not quite malicious, but fake nonetheless. When something seems to good to be true (after all, this is the only torrent offering City Living, at this time) have a good look at the comments, if there are any. 
In this case, you would find that commenters claim that the game works fine, no virus is included but, also, no City Living is included. While this particular example probably doesn't hurt your PC, you will be disappointed.
A few simple pointers:

If you have to provide personal information, it's probably a fake.

Everything that seems too good to be true, probably is

Only download from sources you trust

If you must experiment, make sure you know what you're doing. We always recommend against experimenting.
Last edited by Ɛɗιη on Tue 13 Jun 2017, 10:51; edited 1 time in total
_________________
"Under sun and sky, we greet you warmly"
Forum Administratrix
First Lady of the Forum





Windows version

:

Windows 8
Windows XP
Windows 10




System architecture

:

32 bits (x86)
64 bits (x64)




Posts

: 15179


Points

: 20512


Reputation

: 1511


Join date

: 2011-05-31



TY! for sharing this what I consider very very valuable information!

_________________
Aria
Beginner





Windows version

:


System architecture

:


Favourite games

: the sims 3 & 4 gta 5 and (online) WOW neverwinter blade & soul


Posts

: 12


Points

: 870


Reputation

: 1


Join date

: 2016-03-03


Age

: 118



---
Permissions in this forum:
You
cannot
reply to topics in this forum