Hi all, im sorry if this have been posted before but i did search and nothing like this popped up. The issue is: executing the setup when it is almost done it says, feature/component transfer error. Then nothing happens at all. Moreover i have tried to install the sims from other paths (Sims 3 and Sims 4) and when the installation is done nothing happens. There is no folder where i can put the crack or anything like that. Just nothing, the folder is not anywhere in my computer, no icons on the desktop even if the installation is successful. I havent found any clue of what this could be caused by. If someone could bring a little bit of help with this issue would be rly nice. Thx in advance for looking into my post
Beginner





Posts

: 2


Points

: 524


Reputation

: 0


Join date

: 2017-02-14



Most problems are caused by not extracting the download with WINRAR !
If you can't find your installationfolder, do a search for TS3 (Sims 3) or TS4 (Sims 4)
=D Child of Admin =D





Windows version

:

Windows 8
Windows 7
Windows Vista
Windows XP
Windows 98
Windows 95
Windows 10




System architecture

:


Favourite games

: Card games


Posts

: 3057


Points

: 5475


Reputation

: 513


Join date

: 2013-09-14


Age

: 74


Location

: The Netherlands



Hello,
Welcome to the forum.
Also, make sure your file is complete in Utorrent. 
I would suggest that you check your registry at this point, to make sure there are no entries for TS3 or TS4. These could cause problems later on. 
You can find any registry entries by following the steps in 
this
 post. Skip the first part, and start here: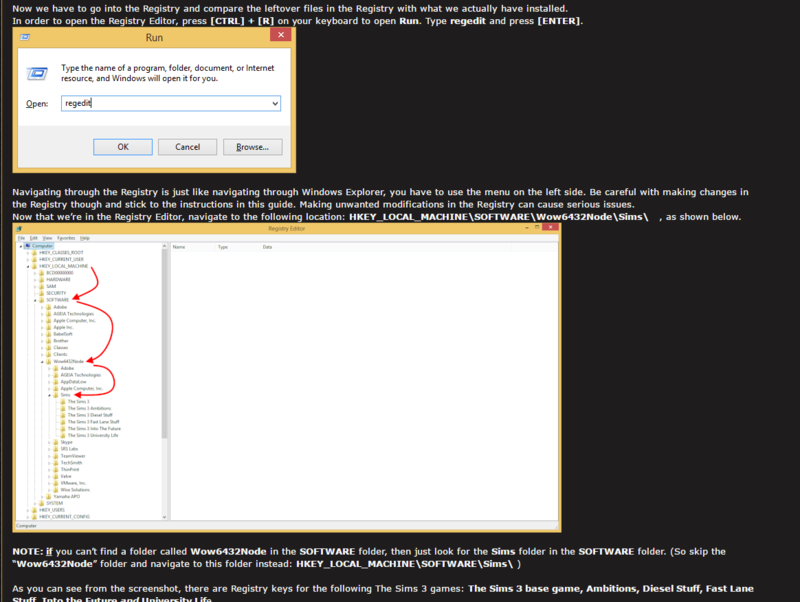 _________________
"Under sun and sky, we greet you warmly"
Forum Administratrix
First Lady of the Forum





Windows version

:

Windows 8
Windows XP
Windows 10




System architecture

:

32 bits (x86)
64 bits (x64)




Posts

: 15196


Points

: 20583


Reputation

: 1535


Join date

: 2011-05-31



Hi again, ty for the fast response. I did extract correctly the sims 3 the complete collection in a folder. The thing is thar when im installing pops up the file transer error or whatever. And then nothing happens, is the same thing with the sims 4. I do install it correctly and then whem im going to apply the crack, there is nothing, no desktop icons, no installation folder after the installation... its like it was vanished. I did check the registry, nothing at all about that. Idk what to do..
Beginner





Posts

: 2


Points

: 524


Reputation

: 0


Join date

: 2017-02-14



---
Permissions in this forum:
You
cannot
reply to topics in this forum