Hi all,
I'll start by saying that up until yesterday I only had the base game (with update-only fix applied) and tons of CC which I've spent hours building and creating sims with without any issue whatsoever. 
I decided, however, to install the expansion packs because I was getting a bit bored of the base game. Initially I only downloaded Get To Work and City Living and spent an evening installing and reinstalling before I decided to properly read the installation instructions and found out that I needed Get Together for all of it to work. So I did and the game opens and seems to be working fine, all with the exception of my CC not showing up at all.
Which at this point is becoming very frustrating.
To begin with, as said above, it was a fresh install. I copied Mods, Tray and Saves folder before making any changes to the base game just in case. After installing everything properly and running the game to see if it works, I added those folders back. I opened the game again and my sims are missing hair and bodies, even though
the CC and mods are showing on the list at startup.
I looked up what to do and moved the content to a different folder and deleted the Mods folder along with the resource file, then opened the game again to let it create a new one. Added all content back, and nothing. Repeated, adding only a set of skins from TSR which I downloaded specifically to test it. Again, nothing. Disabled and enabled cc from game options, numerous times, nothing. I don't even have the option to filter only cc in-game, so it's not a case of it being a recolour under a default item swatch. My CC houses and lots in the Tray folder are showing in the gallery, which is fine but everything else - hair, skins, clothes, etc. is missing, again, even though it shows up on the startup list. 
I've ran every possible fix in Sims4Studio in attempt to fix this and it still isn't working. I'm starting to think that I'm missing something ridiculously obvious and I'm completely stuck in looking for a solution because I've tried literally everything to the letter. All expansion packs are from games4theworld and the base game is from RELOADED. 
If anyone has a solution, please, please let me know.
Thanks.
UPDATE:
I don't know if this helps at all, but I just played one of my saved households and as soon as it loaded, I got the "Items removed" message saying it's removed however many items from build and buy mode (posted below). Quite a few of my cc build mode items are there, but when I went to CAS from in-game my CAS cc was still missing.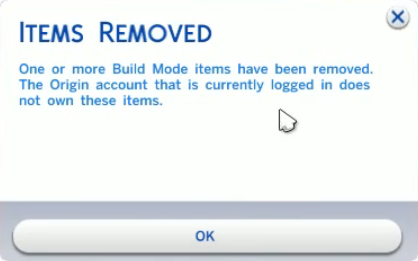 Beginner





Windows version

:


System architecture

:

32 bits (x86)
64 bits (x64)




Favourite games

: The Sims 4


Posts

: 2


Points

: 10


Reputation

: 0


Join date

: 2017-03-19


Age

: 23



MAJOR UPDATE: I just reinstalled the game again, hoping to be able to troubleshoot along the way. I tried a few things, I won't explain in detail, instead I'll say what I think actually worked. When installing before and getting the game to run, I always used Reloaded's crack that came with the base game straight after installing it. This time (after uninstalling, deleting the Electronic Arts folder in Documents, restarting PC and doing a disk cleanup), I installed Reloaded's base game, then immediately added Get To Work, Get Together and City Living in that order without using the base game crack. Beforehand I'd deleted all the expansion pack folders in case I'd damaged any files and extracted them from the original downloads. 
I haven't added my saves yet, but I added my CC and Tray content to the newly generated folders and my CC now shows up in CAS.

So there it is, in case anyone ever gets it as wrong as I do.


Beginner





Windows version

:


System architecture

:

32 bits (x86)
64 bits (x64)




Favourite games

: The Sims 4


Posts

: 2


Points

: 10


Reputation

: 0


Join date

: 2017-03-19


Age

: 23



Welcome to the Forum and sorry for the belated reply,
The "update-only-fix" gives your base game the 1.25 patch, minus the DLC of course. You really have to install the Base game -> Get to Work -> Get together -> City Living in this and ONLY this order, to get the patch plus the DLC.
If you did a wrong step, you can start again by copying and pasting the Get to Work-stuff first (replacing the existing files of course), and continuing to do the same with Get together and City Living.
Was there anything else you wanted to ask for now?

_________________
Regards, The_gh0stm4n





Forum rules // Forum FAQ // G4TW downloads // Sims store, guides & more (beta) // G4TW on Piratebay How to install The Sims Medieval // The Sims 2 overview ! // How to install The Sims 3 // Expansion install checklist for TS3 // How to install The Sims 4Please post game issues on the Forum only. For more general questions about site navigation, you may also e-mail me !
Supervising Moderator
Inspector General & Chief of Staff





Windows version

:

Windows 8
Windows 7
Windows XP
Windows 10




System architecture

:

32 bits (x86)
64 bits (x64)




Favourite games

: The Sims 3, L.A. Noire, Saints Row, Red Faction, Minecraft, Plants vs. Zombies: Garden Warfare, Team Fortress 2, Darkest Hour, GTA: San Andreas, GTA IV, S.W.A.T. 4, Titanfall, Counter-Strike, Hitman: Absolution, Borderlands, Fallout, Dishonored, COD, Battlefield, The Binding of Isaac: Antibirth & Afterbirth †


Posts

: 13463


Points

: 17758


Reputation

: 1882


Join date

: 2012-11-02


Age

: 30


Location

: The Situation Room



---
Permissions in this forum:
You
cannot
reply to topics in this forum