Hi 
i've downloaded The Sims 4 (cracked) after uninstalling the legal version, done all the step, checked em once twice, well, thrice? anyhow too much BUT its still wont work, tried to read up all related subjects to find a solution but oh well natta
..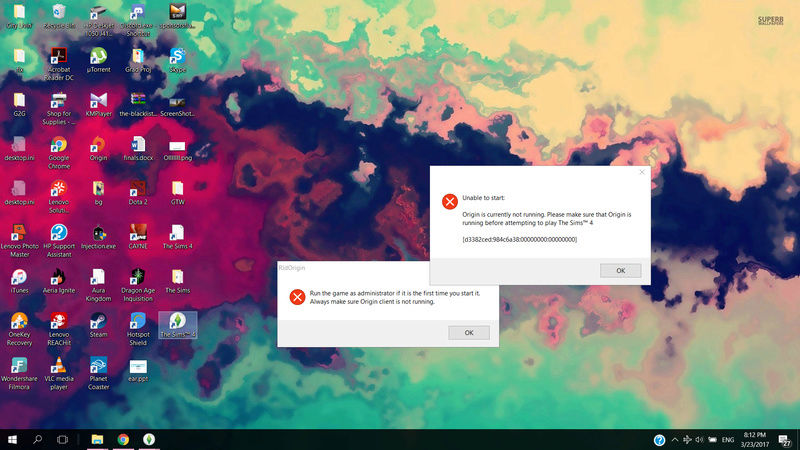 as you can see, when i exit origin i get the msg to open it, and when i do, i get the msg to end it? 
i dunno what to do pls halp ;w;
Beginner





Windows version

:


System architecture

:


Favourite games

: Aura kingdom, The Sims (currently on The 4th) DA:I, GTA


Posts

: 1


Points

: 100


Reputation

: 0


Join date

: 2017-03-23


Age

: 21


Location

: Coffeelando



Hello and welcome to the Forum
@Samzi
,
I also apologize for the belated reply.
  First of all, please make sure to have Origin completely closed. Then, check the install location of your RELOADED/Games4theworld The Sims 4.
Is the install patch really under C:\Program files (x86)\The Sims 4? If the folder "The Sims 4" is still under C:\Program files (x86)\Electronic Arts, then please MOVE the older directly under Program files(x86).
Next thing is, have you tried both the TS4.exe and the TS4_x64.exe? Do they both display the same error message when used?

_________________
Regards, The_gh0stm4n






VETERAN Moderator
Inspector General & Forum O.G.





Windows version

:

Windows 8
Windows 7
Windows XP
Windows 10




System architecture

:

32 bits (x86)
64 bits (x64)




Favourite games

: The Sims 3, L.A. Noire, Saints Row, Red Faction, Minecraft, Plants vs. Zombies: Garden Warfare, Team Fortress 2, Darkest Hour, GTA: San Andreas, S.W.A.T. 4, Titanfall, Counter-Strike, Hitman: Absolution, Borderlands, Fallout, Dishonored, COD, Battlefield, The Binding of Isaac: Afterbirth†


Posts

: 13760


Points

: 18247


Reputation

: 1921


Join date

: 2012-11-02


Age

: 30


Location

: The Situation Room



---
Permissions in this forum:
You
cannot
reply to topics in this forum