It was my first time ever installing the Sims, and after following the instructions here: 
How to install the sims correctly
I got the same error "
Origin is currently not running. Please make sure that Origin is running before playing The Sims 4
" However I found a way to make the game work with all the DLC's.
Since many people are having this same problem, I decided to open a topic instead of replying to each of them.
I hope what I did works for you too
.
(By the way, I'm working on Windows7 x64 with Microsoft Visual C++ (2013) x64 already installed)
FIRST of all make sure you only use G4TW downloads (base game + DLC's )
My first try at installing the game was a failure, so I uninstalled & deleted the "Sims 4" folder. But before reinstalling the game I configured Windows Defender and my Antivirus following this guide:
Unable to start: initialization error on startup
(Just in case, I also turned off my anti-virus)
I suspected the "
origin not running
" error was detected by an online connection, so I disabled my internet connection.(I unplugged my cable connection)
Then I reinstalled ONLY the base game and moved "The Sims 4" folder located in: 
C:\Program Files (x86)\Electronic Arts\
 to
C:\Program Files (x86)\
I tried to run the base game (TS4.exe) as Administrator to check if it was working. It worked fine. So, instead of playing the game I stopped at the welcome screen, disabled "Online Access" and clicked "Apply changes". (This option is at the welcome screen: Options menu>Game options>Other)
If you can't run the base game and get an error, something like "
you're using a different version, update via Origin
" Try this:
Go to the folder: User\Documents\Electronic Arts\The Sims 4. Delete the file "GameVersion" and start the game as an Administrator
Then I closed the game and copied all the files and folders from "Get to work" to the installation folder. I started the game (I didn't play it) to check if "Online Access" was still disabled. It was. I did the same after copying "Get together" and "City Living".
The game finally worked even after installing the "City Living" expansion. I didn't need to use the "TS4_x64.exe". Just running the game from "TS4.exe" as an Administrator worked fine for me (Despite having an x64 system)
Finally I enabled my Internet connection and my anti-virus.
These are the files I have right now in:
The Sims 4\Game\Bin  
If any .dll is missing, the game won't run.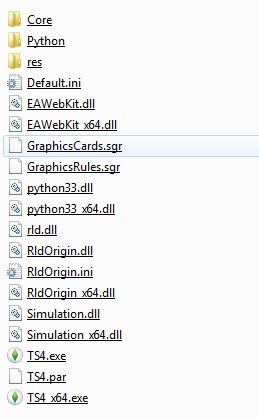 Thanks for reading. I hope someone find this useful.
Beginner





Windows version

:


System architecture

:


Favourite games

: FFXV, Nier Automata


Posts

: 1


Points

: 412


Reputation

: 0


Join date

: 2017-04-12



---
Permissions in this forum:
You
cannot
reply to topics in this forum