Hello all!
If you are getting issues with endless loading screens into households, error codes 3 or game starting up (unexpectedly) in Spanish, here are two ways to solve the problem.
1) One way of dealing with this:
Look at the guide here, and in particular from
step #7 onwards
(the step after applying the Toddlers-update):
http://games4theworld.bestgoo.com/t21806-must-read-how-to-install-the-sims-4-correctly
Follow the guide carefully until the end (and install all available DLC), and you should be able to play your game just fine.
2) A second way of dealing with this:
Since a lot of people forget to rename the "Game"-folder after installing the G4TW Toddlers-update, you could theoretically apply the fix at the very end as well (a.k.a. after installing ALL of the available G4TW The Sims 4 torrents/updates), provided you always download a fresh "Game"-folder from one of the download links at the end of this tutorial. Now, after you installed all the G4TW The Sims 4 torrents, go to where you installed The Sims 4 to. Typically that is the folder under
C:\Program files (x86)\The Sims 4\Game
At first, change your existing Game-folder to
Game_
. Your folder will then look like this.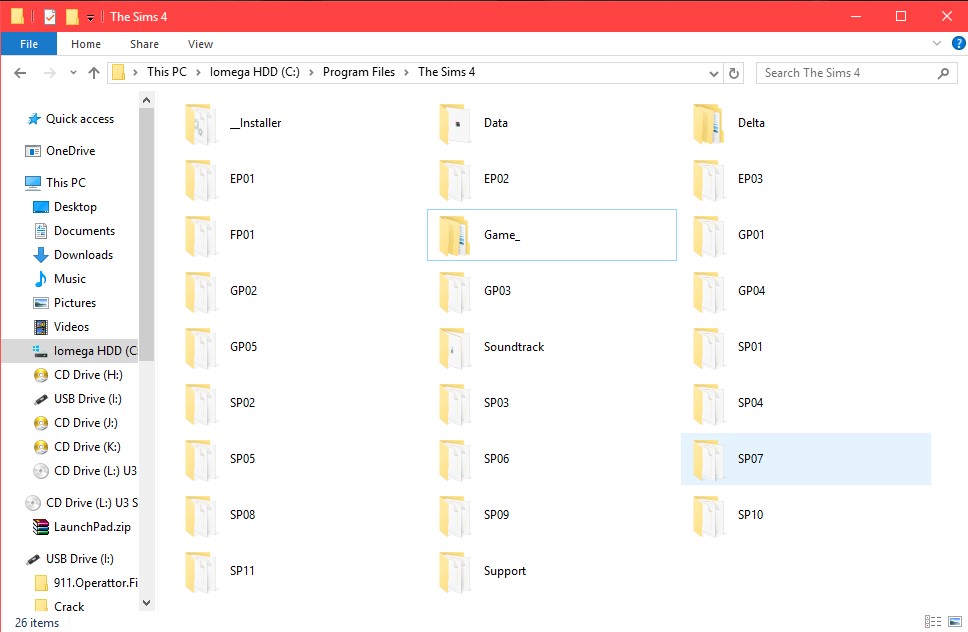 Now you have to simply copy the "fixed" Game-folder from one of the download links below, into your The Sims 4 installation. After which your folder will look as follows.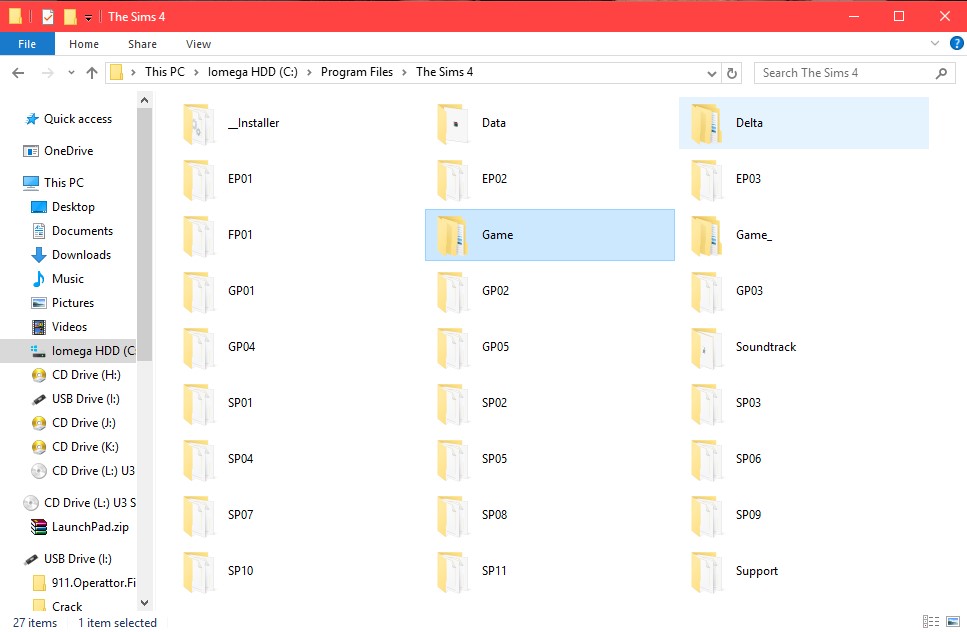 The most current version of the fix is
1.41.38.1020
. 

Download link
(
Mirror 1
 - 
Mirror 2
)
After you placed this fresh Game-folder, simply go inside, then under Bin, and start the game with your TS4.exe or TS4_x64.exe (the latter, in case you have a 64-bit operating system). I noticed the game now takes a bit longer to start up, but by this method I was able to load my old savefile.
Good luck for the time being! 

  (note that the above download link ALWAYS contains the "Game"-folder for the most recent DLC/patch; if you need folders for earlier DLC/patch versions, look below under 4).
3) ...and a third way of dealing with this:
Sometimes cache files and/or corrupted savefiles can come in the way and cause the issue as well, despite you having applied a "fixed Game folder" (many thanks to user
@Jessica_Revolver
for hinting at this possibility!). You can try renaming your folder "The Sims 4" under Documents\Electronic Arts, into anything. Then start up The Sims 4, and see if it lets you load up a household. If a fixed Game-folder was applied (correctly), it should.
You can then take the subfolder "saves" from your old/renamed "The Sims 4" and then transfer it to the folder The Sims 4, that was freshly created. Now start up the game and see what happens.
Does the game let you load into a household? If yes, then you can continue playing, or even transferring back mods/CC from your renamed "The Sims 4" folder.
Does the issue persist? If so, then the issue may be a broken savefile, and you have to consider starting a new game. It's worth noting in this context that savefile corruption appears to be a frequently-observed issue in The Sims 4,
so we recommend that you back up your savefiles regularly
. So make a backup of the folder Documents\Electronic Arts\The Sims 4\
saves
.
4) Older "Game"-folders:
Should you need "Game"-folders for previous TS4 torrents, have a look below. As usual, please rename or delete your old "Game"-folder, before applying these fixes. These fixes assume you have installed only "up to" certain previous torrents (as laid out 
here
).

  Toddlers, Vampires, Bowling Stuff: 
https://tinyurl.com/y7jxavnd

  Parenthood (for simplicity, this link includes the entire 1.30.105.1010 "follow up patch"): 
https://tinyurl.com/ya5zeuek
    (
Mirrror link)

  Fitness Stuff: 
https://tinyurl.com/y7znwa85

  Toddlers Stuff: 
https://tinyurl.com/ycvbanyf

  Cats and Dogs (version 1.36.102.1020!!!, in case you did not use the "follow up patch" for Cats & Dogs): 
https://tinyurl.com/y8qhlv8o

  Laundry Day Stuff:
https://goo.gl/wK4LdG

  Jungle Adventure:
https://tinyurl.com/y86zwjfl
DO NOT POST ANY QUESTIONS OR PROBLEMS IN THIS TOPIC. INSTEAD, PLEASE OPEN A NEW TOPIC IN THE APPROPRIATE FORUM-
SECTION, EITHER "THE SIMS 4 DOWNLOADS SUPPORT" OR "THE SIMS 4 IN-GAME SUPPORT"! THANK-YOU-NOTES CAN BE POSTED IN THE APPROPRIATE FORUM-SECTION, or directly under this thread.

Note that any and all questions posted under this thread, will be deleted without any explanation or advance warning. We have the Forum sections dedicated to Support purposes, for a reason.


Disclaimer: the download link(s) in this tutorial can be accessed by (temporarily) disabling your browser adblockers. For more information on the topic, please see this commentary here. 

Last edited by The_gh0stm4n on Sun 18 Mar 2018, 22:24; edited 15 times in total
_________________
Forum Rules
// 
Forum FAQ
//
All G4TW Downloads
//
G4TW The Sims 4 Gallery Collection
//
How YOU can help us seeding!
How to install The Sims Medieval
//
The Sims 2 overview !
 // 
How to install The Sims 3
//
TS3 Expansion install checklist
// 
How to install The Sims 4
You can E-MAIL me about general questions & site navigation. Also, after 24 hours of you posting a topic on the Forum and NOT getting a reply, you can e-mail me for Support as well!
VETERAN Moderator
Inspector General & Forum O.G.





Windows version

:

Windows 8
Windows 7
Windows XP
Windows 10




System architecture

:

32 bits (x86)
64 bits (x64)




Favourite games

: The Sims 3, L.A. Noire, Saints Row, Red Faction, Minecraft, PvZ: Garden Warfare, Team Fortress 2, Overwatch, GTA: San Andreas, GTA V, S.W.A.T. 4, Counter-Strike, Hitman, Borderlands, Fallout, COD, Battlefield, The Binding of Isaac, Military strategy games (Darkest Hour, Hearts of Iron, Arsenal of Democracy, etc.), Enter the Gungeon.


Posts

: 15616


Points

: 20747


Reputation

: 2219


Join date

: 2012-11-02


Location

: Bellisarius Hall



When you apply the latest Game folder for 1.39.74.1020 and you have not installed all DLC's you will see some messages on start-up of the game.
The opening-screen will show that all DLC's have been installed (which of course is untrue) and the missing DLC's will be installed (which also is not true)
In addition to the above manual I suggest the following:
1. Open your present folder Game\Bin in The Sims 4 in Program Files
2. Open RldOrigin. ini (sometimes also shown as just RldOrigin)
3. Scroll down a bit to the [ENT] section and note the number after CNT=
4. Close RldOrigin.ini
5. Now delete all Game folders from your install folder The Sims 4 in Program Files
6. Download the new Game folder
HERE
and extract with Winrar
7. In this new Game\Bin folder open RldOrigin.ini and amend CNT=151 to the number you noted in #3, if necessary also change the language in case you don't want to play in English
8. Save RldOrigin.ini again
9. Copy the new folder Game to your install folder The Sims 4 in Program Files
10. Start your game first time as an administrator
In this example I have set CNT=0 to play with basegame only. Use the number as noted at #3 to adjust for your presently installed DLC's
Quick guide of CNT=
When you have installed upto and incl.:
Laundry day ........ CNT=151
Cats & Dogs ........ CNT=146
Toddlers Stuff ...... CNT=138
Fitness Stuff ........CNT=137
Parenthood stuff ...CNT=136
Vampires/Bowling ...CNT=133
City Living ............CNT=131
Get Together ....... CNT=28
Get to Work ......... CNT=22
=D Child of Admin =D





Windows version

:

Windows 8
Windows 7
Windows Vista
Windows XP
Windows 98
Windows 95
Windows 10




System architecture

:


Favourite games

: Card games


Posts

: 2604


Points

: 4791


Reputation

: 436


Join date

: 2013-09-14


Age

: 74


Location

: The Netherlands



---
Permissions in this forum:
You
cannot
reply to topics in this forum