Hello all,
Are you getting an error message in-game (after loading a household) that looks like this?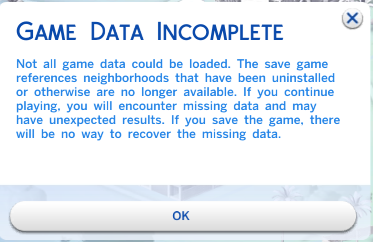 Most of you will - by now - have installed The Sims 4 in one specific location, and sticked with it. For the majority of you, that location is going to be C:\Program files (x86). I had the game installed on there as well, but I decided to move the folder to C:\Program files, in order to be able to properly use the TS4_x64.exe. Once I restarted the game from the new location, I got the above error message. 
If you read the error message carefully it says "(...) the savefile references neighborhoods that have been uninstalled or otherwise are no longer available." From there I figured, why not briefly start up the game, and test which neighborhoods exactly are not available anymore?
After loading the household I used the smartphone to try and "move" the household. I clicked in the top left to bring up the screen that shows the neighborhoods.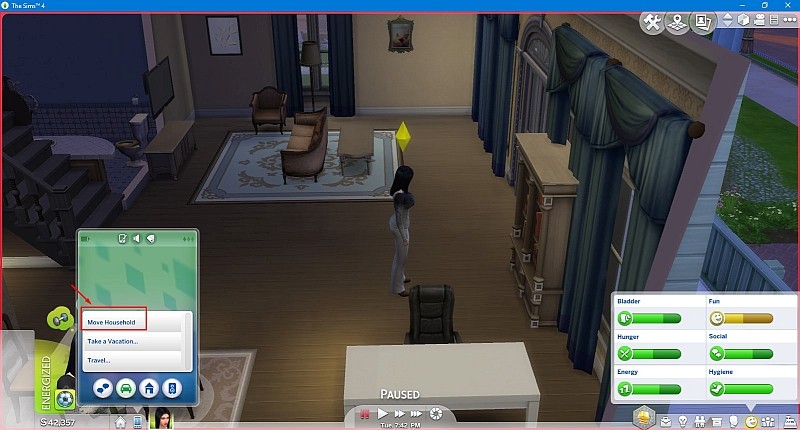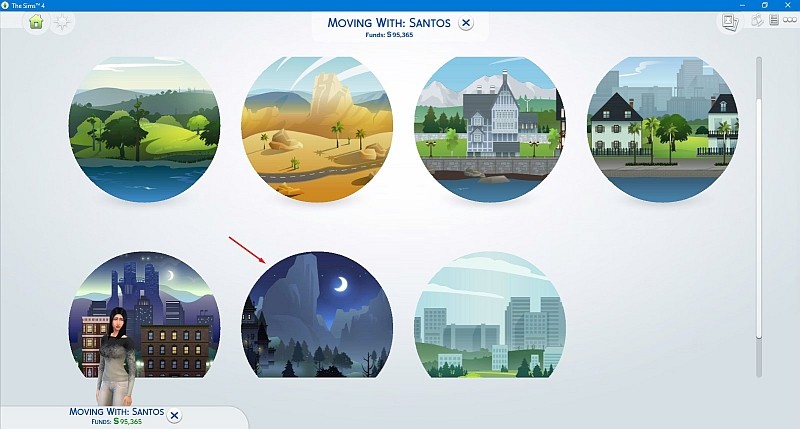 The second screenshot (normally) indicates an intact game setup, with a total of 7 neighborhoods. In my case it was relatively easy. The neighborhood marked in the second screenshot shows "Forgotten Hollow", the one added in the Vampires gamepack. I simply re-applied the G4TW repack of toddlers+ vampires+ bowling stuff (+ the temp fix), and when I loaded the game up the next time, the missing neighborhood was back, and everything else OK with the game. What if other neighborhoods are now missing for you?
San Myshuno 

 re-apply City Living + Toddlers (+ temp fix)
Windenburg    

 re-apply Get together + City Living + Toddlers (+ temp fix)
Magnolia Promenade 

  re-apply Get to Work + Get together + City Living + Toddlers (+ temp fix)
Granite Falls 

  re-apply Get to Work + Get together + City Living + Toddlers (+ temp fix)
If more than one neighborhood is missing in your game, it's probably the easiest for most of you to re-apply every G4TW DLC of TS4, starting with Get to Work. See the guide here for the latest available information on the installation order and general procedure:
http://games4theworld.bestgoo.com/t21806-must-read-how-to-install-the-sims-4-correctly
I suspect that Windows' handling of file/folder permissions can cause the problem that during the moving of the folder, parts of the folder contents simply vanish. But you also have to make sure that you have set your exclusions in Windows Defender and any other security program as well, as these programs tends to react to new file/folder movements. If you feel you have to "move" the installation folder of The Sims 4,
I would suggest that instead of moving the folder, you simply COPY it, to the new destination. So in case anything goes wrong, you still have the folder in the original location. And you wouldn't necessarily have to re-install or re-apply anything
.
That said, good luck, and be mindful of moving the install folder of The Sims 4!
P.S. for those players who may actually get this error with an Origin-based The Sims 4, I suppose you could try right-clicking on The Sims 4 in your game library and choose "Repair Game".
DO NOT POST ANY QUESTIONS OR PROBLEMS IN THIS TOPIC. INSTEAD, PLEASE OPEN A NEW TOPIC IN THE APPROPRIATE FORUM-
SECTION, EITHER "THE SIMS 4 DOWNLOADS SUPPORT" OR "THE SIMS 4 IN-GAME SUPPORT"! THANK-YOU-NOTES CAN BE POSTED IN THE APPROPRIATE FORUM-SECTION, or directly under this thread.

Note that any and all questions posted under this thread, will be deleted without any explanation or advance warning. We have the Forum sections dedicated to Support purposes, for a reason.



Last edited by The_gh0stm4n on Fri 19 Jan 2018, 18:48; edited 2 times in total
_________________
Forum Rules
// 
Forum FAQ
//
All G4TW Downloads
//
G4TW The Sims 4 Gallery Collection
//
How YOU can help seeding!
How to install The Sims Medieval
//
The Sims 2 Overview
 // 
How to install The Sims 3
//
TS3 Expansion install checklist
// 
How to install The Sims 4
Feel free to e-mail me for general questions about G4TW, Site navigation & Support, if you don't get a reply after 24 hours of opening a new Forum topic!
VETERAN Moderator
Inspector General & Forum O.G.





Windows version

:

Windows 8
Windows 7
Windows XP
Windows 10




System architecture

:

32 bits (x86)
64 bits (x64)




Favourite games

: The Sims 3, L.A. Noire, Saints Row, Red Faction, Team Fortress 2, Overwatch, PvZ: Garden Warfare, GTA: San Andreas, GTA V, Counter-Strike, Hitman, Borderlands, Fallout, COD, Battlefield, The Binding of Isaac, Government simulation & Military strategy games, S.W.A.T 4.


Posts

: 16059


Points

: 21388


Reputation

: 2300


Join date

: 2012-11-02


Location

: Bellisarius Hall



Or simply just install it in a folder in c named Games "wink"
_________________
Posting Nerd





Windows version

:


System architecture

:


Posts

: 49


Points

: 574


Reputation

: 5


Join date

: 2017-02-04



---
Permissions in this forum:
You
cannot
reply to topics in this forum