SO I've decided to install the complete Sims 3 collection on my Macbook Pro.
I have been following the guide on G4TW titled 'The Sims 3 Mac Guide', which is linked:     
https://www.games4theworlddownloads.org/Downloads/Guides/Sims_3_Mac_Guide.pdf
I have downloaded 'The Sims 3: The Complete Collection' from the downloads page on G4TW.
I have extracted the RAR file, and created DMGs of each folder using disk utility, in the 'hybrid image' format.
Now for the problem:  I open the Sims 3 base game DMG, double click the installer.  Instead of the installer appearing, there is an error message saying "The application 'Sims 3 Installer' cannot be opened"
I've looked around for solutions, couldn't find any, and this seems to be the best resource for Mac Sims 3 troubleshooting.
I've included a screenshot of the error message.
I've perused the other threads on installation issues bot couldn't find any solutions for this particular problem.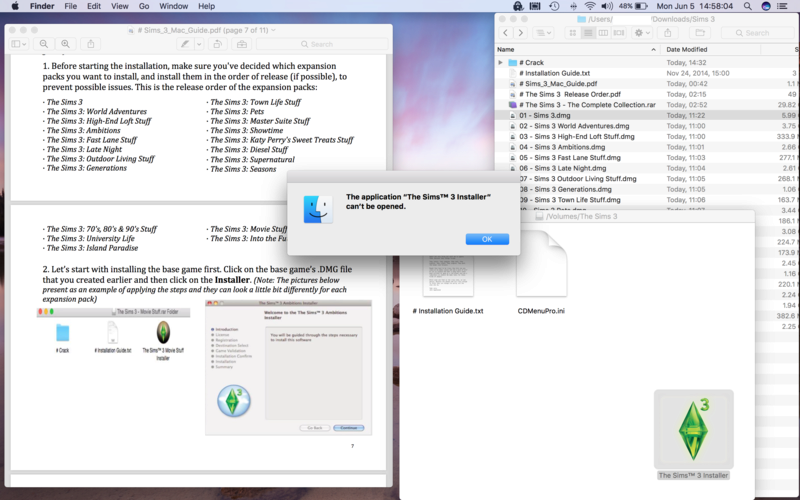 Beginner





Posts

: 5


Points

: 1542


Reputation

: 1


Join date

: 2014-05-04



I have the same problem. Hope somebody will help us 
Beginner





Favourite games

: The Sims; Runaway; Age of Empires; Patrician


Posts

: 1


Points

: 402


Reputation

: 0


Join date

: 2017-06-12



Hiya there!

Have you tried making those DMGs into ISO files (preferably using Keka)? If not, you may have to download the other RAR file, meant for windows, convert all those files into ISO files, mount them, and follow the procedures as provided. 

If you still need help, please feel free to PM me!

Nilah
Beginner





Posts

: 4


Points

: 1211


Reputation

: 0


Join date

: 2015-04-01



Beginner





Posts

: 5


Points

: 1542


Reputation

: 1


Join date

: 2014-05-04



---
Permissions in this forum:
You
cannot
reply to topics in this forum