I know there was already a topic for this, and I followed the recommended support actions and they didn't work, so I had to open a new one.
This is the pop up that I recieved:

And I followed the games4theworld guide for installing the Sims 2 and did correctly follow step number 17. I also used that shortcut to open the game.
I don't have an antivirus so that's not the problem, and according to my computer I have direct x 11.
You can see that here: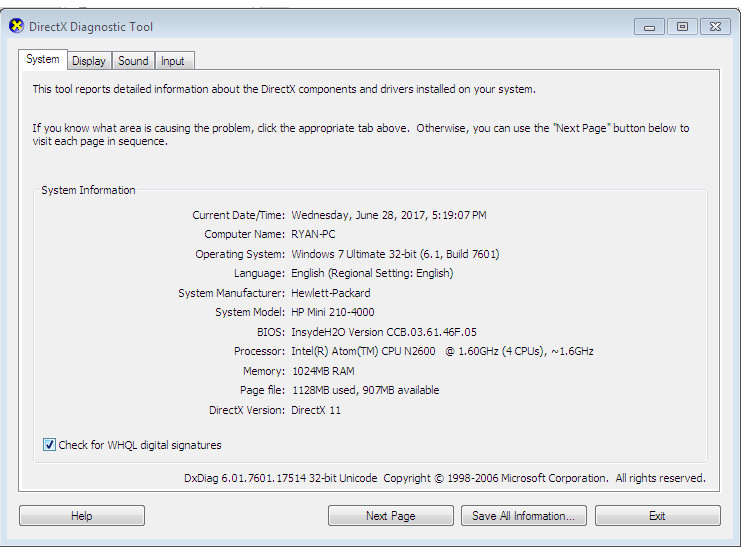 Yes I know I have a crappy computer BUT it can run it so that's all I really care about. I have been able to run this before, I just had to reinstall it after my dad messed with my computer for a while
Thank you to anyone who can help

Beginner





Windows version

:


System architecture

:


Favourite games

: Sims 1-4


Posts

: 6


Points

: 568


Reputation

: 0


Join date

: 2016-12-11


Age

: 17


Location

: United States



_________________
Forum Rules
// 
Forum FAQ
//
All G4TW Downloads
//
G4TW The Sims 4 Gallery Collection
//
How YOU can help seeding!
How to install The Sims Medieval
//
The Sims 2 Overview
 // 
How to install The Sims 3
//
TS3 Expansion install checklist
// 
How to install The Sims 4
Feel free to e-mail me for general questions about G4TW, Site navigation & Support, if you don't get a reply after 24 hours of opening a new Forum topic!
VETERAN Moderator
Inspector General & Forum O.G.





Windows version

:

Windows 8
Windows 7
Windows XP
Windows 10




System architecture

:

32 bits (x86)
64 bits (x64)




Favourite games

: The Sims 3, L.A. Noire, Saints Row, Red Faction, Team Fortress 2, Overwatch, PvZ: Garden Warfare, GTA: San Andreas, GTA V, Counter-Strike, Hitman, Borderlands, Fallout, COD, Battlefield, The Binding of Isaac, Government simulation & Military strategy games, S.W.A.T 4.


Posts

: 15973


Points

: 21279


Reputation

: 2287


Join date

: 2012-11-02


Location

: Bellisarius Hall



After doing some digging around on my specific laptop model, it turned out the driver for my graphics card wasn't installed so it wasn't being used at all. It was running some odd Microsoft backup card that wasn't compatible. Normally when the computer doesn't have the right driver installed for the primary card there will be an error in the control panel in the hardware section. There wasn't one so I assumed that there wasn't an issue with my card. Thank you for your help though.
Beginner





Windows version

:


System architecture

:


Favourite games

: Sims 1-4


Posts

: 6


Points

: 568


Reputation

: 0


Join date

: 2016-12-11


Age

: 17


Location

: United States



Posting Nerd





Windows version

:

Windows 8
Windows 7
Windows Vista
Windows XP
Windows 98
Windows 95
Windows 10




System architecture

:

32 bits (x86)
64 bits (x64)




Favourite games

: fps


Posts

: 28


Points

: 468


Reputation

: 0


Join date

: 2017-04-10


Location

: here



---
Permissions in this forum:
You
cannot
reply to topics in this forum