I have never had a single issue with ZClient up until now for reasons I am not even sure how to explain so please bear with me. Lol
I was experiencing a few in game glitches, such as festivals over lapping one another and serious lag when children would go off to school. I was told by someone to click repair game. Looking back that was probably the downfall, however, I went ahead and deleted all Sims 4 folders and tried to start over. The download exceeded to 100% then an error popped up and it automatically turns into an Install button even though the download failed for whatever reason. Yes, I have uninstalled everything and reinstalled, restarted etc. Nothing has changed. 
Has anyone else had this issue or any idea on how I can go about fixing it? Please!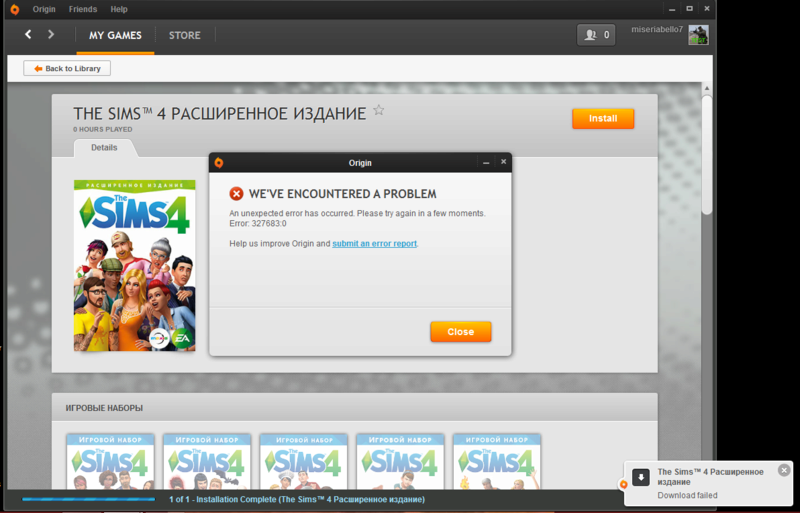 Beginner





Windows version

:


System architecture

:


Posts

: 13


Points

: 628


Reputation

: 0


Join date

: 2016-11-21


Age

: 30



First delete ZLOrigin (Open your zl-System folder ->ZLOrigin ->uninstall ZL Origin)
Now re-install ZLOrigin

Still problems ?

Although The Sims 4 is portable, which means that no entry in the register is required, both Origin and ZLOrigin do make entries.
Keep Windowskey pressed and press R
In the windows type   regedit
Now follow this path:
HKEY_LOCAL_MACHINE
SOFTWARE
Maxis
Delete the folder The Sims 4
for 64-bits windows:
scroll down to WOW6432Node
Maxis
Delete the Sims 4 folder
Close the register


Now install The Sims 4 again via Zclient/ZLOrigin
=D Child of Admin =D





Windows version

:

Windows 8
Windows 7
Windows Vista
Windows XP
Windows 98
Windows 95
Windows 10




System architecture

:


Favourite games

: Card games


Posts

: 3049


Points

: 5459


Reputation

: 509


Join date

: 2013-09-14


Age

: 74


Location

: The Netherlands



I am having this same issue, the only difference is that I've never used ZLOrigin before. I just realized that I posted about this in the wrong part of the forum. I followed your suggestions Tarac, but I am getting the same error message. Is there anything else that you can think of that I can do to solve this issue?
Beginner





Windows version

:

Windows 8
Windows 7
Windows 10




System architecture

:

32 bits (x86)
64 bits (x64)




Favourite games

: The Sims 1 - 3 sometimes 4, Minecraft, GTA, Banished, Skyrim, Oblivion, The Walking Dead, Midnight Club


Posts

: 3


Points

: 483


Reputation

: 0


Join date

: 2017-03-24


Age

: 26



---
Permissions in this forum:
You
cannot
reply to topics in this forum