Everything has been going great with ZLOrigin Until the latest patch popped up. I attempted to update my game, Windows decided it wanted an update at the same exact moment and everything went down the proverbial crapper. ZLOrigin failed to download/install the update repeated for 3 days now. I've done everything I can think of, including deleting the _installer file. Nothing works. I uninstalled/re-installed ZLOrigin to no avail. I've tried repairing the game as well with the same results. So in a last ditch effort, I uninstalled The Sims 4 from the computer completely. Tried re-installing it and ZLOrigin cracked the whip yet again. It fails to download/install anything at all now. At this point it seems a fairly worthless piece of software on my system if I cannot get it to work as it did a few weeks ago.
The question is this: Is there any way to fix this issue or am I now just done with ZLOrigin? Any help would be greatly appreciated.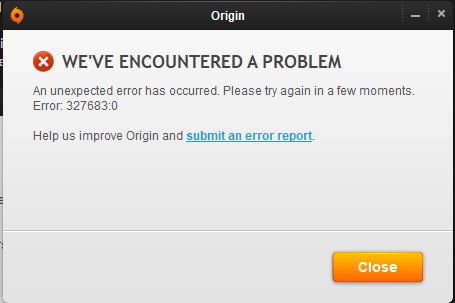 Side Note: I have not run official Origin in months. I have made sure that all Origin related tasks are closed in Task Manager before running ZLOrigin.
//EDIT
I have tried everything I could think of and nothing was working. There is some good news in all of this.
Apparently EA has gotten super sneaky and added something that runs silently in the background (doesn't show up in Task Manager). This tiny string will cause ZLOrigin to pop the 327683.0 error. (I have the offical Origin installed.)
The solution:
Rename the official Origin folder in Programs (x86). This tricks the system into believing the official Origin is no longer on the hard-drive. ZLOrigin will now download/install updates and games error free. 
The only problem I encountered after this solution was with the Play button. Hitting the Play button resulted in ZLOrigin insisting that there was a download pending. Ignore this and play anyway. It seems to be a glitch, the game plays fine and is properly patched up to 1.34.yada.yada.yada.
Hope this helps someone else avoid the headache I've had with it over the last few days.
Mod edit: moved to the right section. Thanks for sharing! 

- The_gh0stm4n
DO NOT POST ANY QUESTIONS OR PROBLEMS IN THIS TOPIC. INSTEAD, PLEASE OPEN A NEW TOPIC IN THE APPROPRIATE FORUM-
SECTION, EITHER "THE SIMS 4 DOWNLOADS SUPPORT" OR "THE SIMS 4 IN-GAME SUPPORT"! THANK-YOU-NOTES CAN BE POSTED IN THE APPROPRIATE FORUM-SECTION, or directly under this thread.

Note that any and all questions posted under this thread, will be deleted without any explanation or advance warning. We have the Forum sections dedicated to Support purposes, for a reason.



Posting Nerd





Windows version

:


System architecture

:


Favourite games

: GTA 5, Resident Evil, Sims, Dead Rising, PWI, and anything I'm currently attempting to build or scare my socks off with.


Posts

: 24


Points

: 439


Reputation

: 9


Join date

: 2017-01-17


Age

: 44


Location

: USA



---
Permissions in this forum:
You
cannot
reply to topics in this forum