I have scoured the forum for a fix for this but nothing I have tried works. My game was running fine until about 3 days ago. I didnt install anything new or change anything with the sims 4, I had a fully updated and working version of the game. However randomly 3 days ago I try to launch the game and it tells me Orgin is not running. I don't even have Orgin on my computer never have, and this is the first time I have gotten an orgin error. I uninstalled the game completely then reinstalled, I have the proper folders in the antivirus exceptions list, I used the error code 3 fix, I used the update only fix, I made a new game folder and renamed the older game_. I am at a total loss now as to what could have possibly happened. I can post screen shots of whatever I need too just let me know if there are some ideas to what could be happening here.
_________________
If you're lost you can look and you will find me, time after time.
(GMT+0800 Timezone)
=D Child of Admin =D





Windows version

:

Windows 8
Windows 7
Windows 10




System architecture

:

32 bits (x86)
64 bits (x64)




Favourite games

: Assassin's Creed Series, Mass Effect + Dragon Age Series, The Sims Series, Saints Row: The Third/IV, Mirror's Edge/Catalyst, BioShock Series, Jade Empire


Posts

: 1962


Points

: 3394


Reputation

: 295


Join date

: 2015-09-09


Location

: Skyhold



Hi. Actually I already did reinstall after trying that link you put there for the ultimate fix. I do have every sims 4 game, expansion, update, and stuff pack that you guys have available on your download site installed, also my folder is not in the EA folder. I have been using this site for a long time so I know I have installed everything right and have it in the right places. I tried each fix i found one at a time and tried running it after each time and nothing worked. I don't even get any other errors just this origin one. I am uninstalling and trying again one more time with everything while following the step by step guide. I will post my results again soon.
Okay I have completely reinstalled everything in the correct order. Now rather than getting a error message about origin the thing wont open at all. It opens for a fraction of a second then closes out. No warning or message. At this point I have my virus protection completely off.
Heres what my sims 4 folder looks like currently.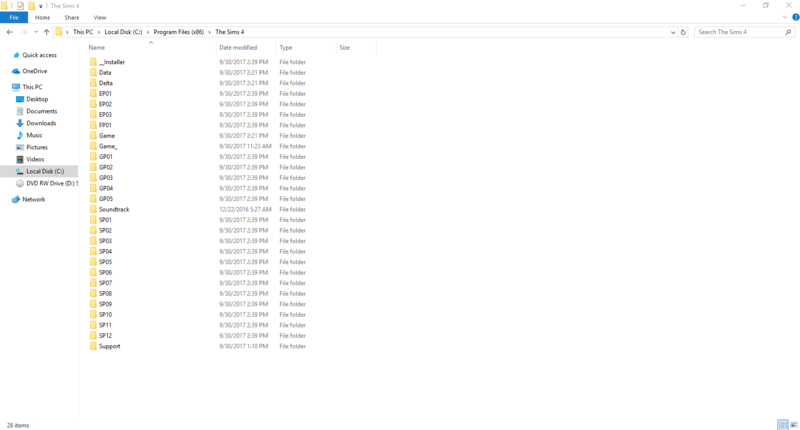 As I am installing/removing/re-installing pretty often it always struck me that a new installation and/or a new Sims-folder caused the game to start very slowly.
You click on TS4 or TS4_x64 (or a shortcut), the cursor blinks for a short while and then ..... NOTHING !
But have a close look at the LED showing the activity of your HDD and you'll notice that it blinks or even constantly burns.
So, just have patience.

I do have a pretty good PC, but yesterday after testing a new way of downloading/installing the Sims 4, I started the game, went down for lunch and after about 30 minutes a heard the tune of the Sims 4.
Posting Lord





Windows version

:


System architecture

:


Favourite games

: Sims


Posts

: 210


Points

: 554


Reputation

: 29


Join date

: 2017-09-22



_________________
If you're lost you can look and you will find me, time after time.
(GMT+0800 Timezone)
=D Child of Admin =D





Windows version

:

Windows 8
Windows 7
Windows 10




System architecture

:

32 bits (x86)
64 bits (x64)




Favourite games

: Assassin's Creed Series, Mass Effect + Dragon Age Series, The Sims Series, Saints Row: The Third/IV, Mirror's Edge/Catalyst, BioShock Series, Jade Empire


Posts

: 1962


Points

: 3394


Reputation

: 295


Join date

: 2015-09-09


Location

: Skyhold



---
Permissions in this forum:
You
cannot
reply to topics in this forum