Hello! 
It's my second time using your sims 3 tutorial. First time was ok... now I've tried again and there's no way I can play sims 3 on my mac... The instalation was done (After 2 days trying) ahaha but now I can't play it... Can you pleeeeease help me!? I really miss sims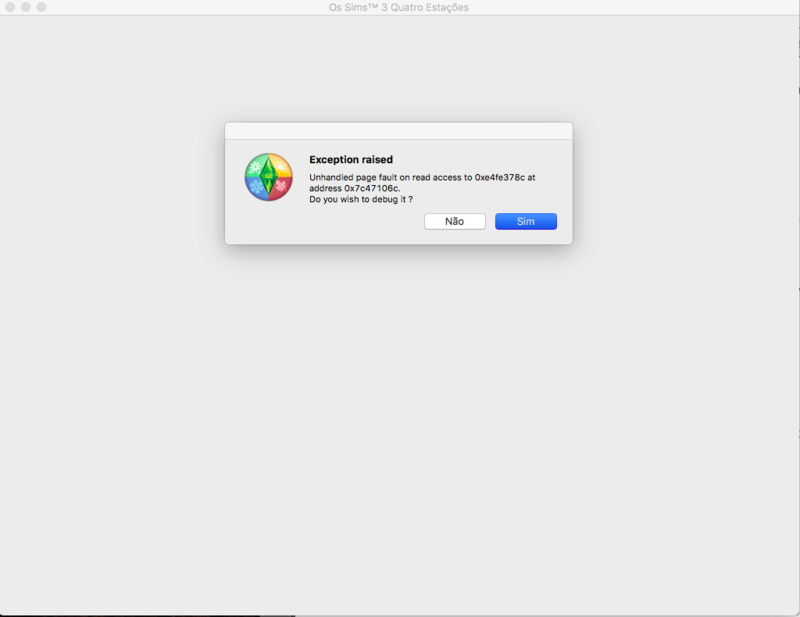 Thank you, 
Miguel
Mod edit: moved to the right section.
- The_gh0stm4n
Beginner





Favourite games

: Sims 3


Posts

: 1


Points

: 289


Reputation

: 0


Join date

: 2017-10-06



Miguel,
an Exception Raised problem could be the result of a lot of things; in order to understand the problem, i suggest you do the following:
• go to your Documents/Electronic Arts/ folder and move the "The Sims 3" folder to the Desktop, or rename it to something like "The Old Sims 3" (just an example — it doesn't need to be that foolish 

 );
• now open The Sims 3 game; when Sims' launcher fully opens, the folder "Documents/Electronic Arts/The Sims 3/" will be automatically regenerated;
• click on the launcher's arrow to start the game.
if The Sims 3 opens fine, then the problem is the result of a corrupted file inside the previous "The Sims 3" folder — the one you renamed or moved to the desktop. at this point i ask:
• do you have any downloaded CC (Custom Content) installed?
• do you have any Mod or CC Installed? (it/they should be in "Documents/Electronic Arts/The Sims 3/Mods/Packages/" folder.
if so, i then suggest we continue this later, for you'll have to test which CC(s) or Mod(s) is/are conflicting with your game. there are several ways to do it, the reason i won't get ahead of myself in this message.
on the other hand: if the problem remains, then your copy of the game is corrupted.
the "Exception Raised" issue is a true "P.I.T.A.," Miguel; i've been playing TS3 since the beginning of 2014 and only last week i could get rid (or around) all problems regarding playing it.
wish you the very best, and please keep in touch.
E.
_________________
Dõgen wrote:

The whole moon and the entire sky are reflected in one dewdrop on the grass.
Beginner





Windows version

:


System architecture

:


Favourite games

: The Sims™ 3


Posts

: 12


Points

: 299


Reputation

: 0


Join date

: 2017-10-05


Age

: 117


Location

: Canada & Brazil



---
Permissions in this forum:
You
cannot
reply to topics in this forum