Hi guys,
Ive downloaded the most recent expansion pack, cats and dogs and i played it once and everything was fine. 
Next day the game loads to worlds and i edited some sims before selecting a lot to play and during the loading screen, it dims and then shows me an error! 
When downloading the cats and dogs, i didn't rename the game folder to game_ because i forgot to and once i did, the problem still persists. I've also tried downloading the endless loading screen update but still no luck.
I've attached a photo for you guys to see, the error reads: 
"The game failed to load. Error Code:
102:70c7f9a6:8998dd17. It is recommended that you relaunch the game."
please let me know if it was something i did wrong or the game itself, THANKS!!!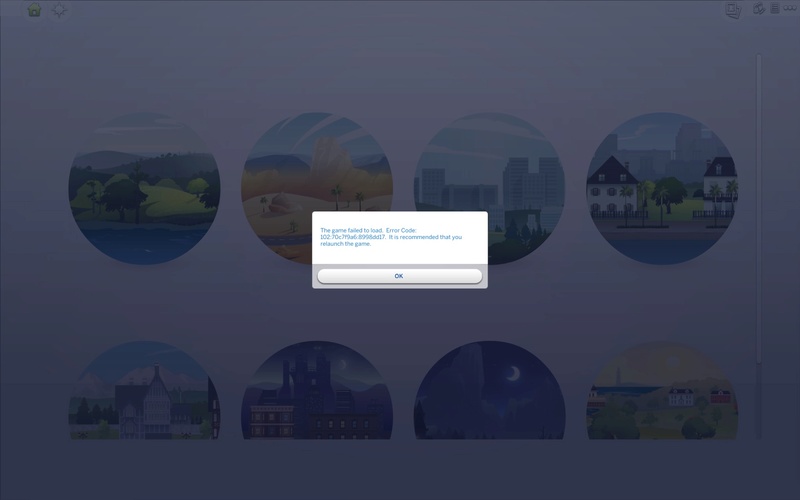 Beginner





Favourite games

: sims


Posts

: 6


Points

: 418


Reputation

: 0


Join date

: 2017-06-12



This error is currently being addressed by EA. Seems they messed something up really bad, and have yet to figure it out. I refer you to the official thread. It's long.
https://answers.ea.com/t5/Technical-Issues-PC/Error-102-122/td-p/6402676
In essence, I suggest you only use a new game, and only "save as". If you overwrite your old saves, there is a good chance they may no longer be usable. It's not something you did wrong, it's a bug introduced with the expansion and/or the update.
Posting Nerd





System architecture

:

32 bits (x86)
64 bits (x64)




Posts

: 56


Points

: 2392


Reputation

: 7


Join date

: 2012-03-09



Thanks for your reply, also i did some research and found a workaround the error.

On the start up menu screen you click load game and select a previous saved game and click recover and then just load that. It worked for me!
Beginner





Favourite games

: sims


Posts

: 6


Points

: 418


Reputation

: 0


Join date

: 2017-06-12



---
Permissions in this forum:
You
cannot
reply to topics in this forum