Hello! I apologize if I'm posting something that has a simple fix. I've scoured the forums to the best of my ability in an attempt to find something to fix this error, but have thus far had no luck. I'm really hoping that someone will be able to offer a solution!
It seems like this error isn't particularly uncommon, from what I've gathered! In case it matters, this is exactly what I'm getting: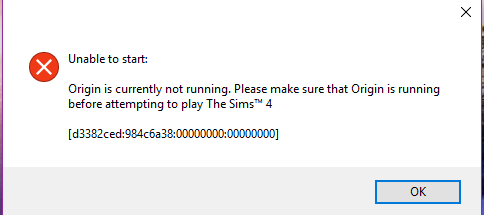 I suppose I should start from the beginning! I'm going to do the best I can to provide a step-by-step of what I've done so far in case I've done something wrong!
The first time:
I was able to successfully install Sims 4
I was able to successfully install Sims  + Get to Work
I was unable to successfully install Sims + Get to Work + Get Together (I began getting this error)
Growing frustrated, I chose to simply push forward and "installed" (copied the folders from the extracted folder into Sims 4) until I'd done all of them through Cats and Dogs (the update had not been released at this time). Same error.
Following this, I chose to uninstall sims (via the installer) and then deleted the folder. Try, try again, right?
Wrong. I figured that worst-case scenario I would be grateful just able to play Sims 4 with Get to Work.
Upon installing the two, and trying to start my game, it told me that I was missing files (I believe that was the error, something to that degree, I apologize if that's incorrect, I can't remember specifically!)
I was curious if somehow it had taken into account my pre-existing files despite my deleting them, and if I just needed to reinstall through Cats and Dogs for it to work.
I did that (following all of the instructions, in the correct order, including the Game_ folder and update added yesterday) and am still getting the Origin error! I even re-extracted my Sims 4 base game and Get Together expansion in case something had gotten messed up through my process, but still nothing.
I've tried relocating my Sims 4 file (I have a 64 bit with Windows 10) directly into program files, and then program files x86, and the game still wouldn't work. I came across the ultimate fix but was almost immediately confused about when/if it should be used, and afraid I would do more damage, didn't download it.
A note: The only anti-virus program I currently use on my laptop is Windows Firewall/Windows Defender. I have both the Sims 4 folder and the folder containing my downloaded files added as exceptions.
Thank you for taking the time to read this and I'm hoping someone is able to offer some advice! I truly will try anything.
Beginner





Favourite games

: Sims


Posts

: 1


Points

: 250


Reputation

: 0


Join date

: 2017-11-16



i had the exact same problem when i got sims 4 get together i downloaded origin then whenever i started my laptop i would go onto task manager and closed origin this worked for me i hope it works for you
Beginner





Favourite games

: sims 4 sims 3 fallout4 fallout 3


Posts

: 12


Points

: 272


Reputation

: 0


Join date

: 2017-11-05



Hey, I had the same problem. I tried to change the folder of my Sims 4 installation, so instead of letting it on the "C:\Program Files (x86)\Eletronic Arts\The Sims 4 to just C:\Program Files (x86)\The Sims 4, and it worked after that.
I hope it works for you too

Beginner





Favourite games

: TS4


Posts

: 1


Points

: 245


Reputation

: 0


Join date

: 2017-11-19



Posting Master





Windows version

:


System architecture

:


Favourite games

: Sims 4


Posts

: 657


Points

: 1801


Reputation

: 118


Join date

: 2015-10-21


Location

: Somewhere in Southern Africa



---
Permissions in this forum:
You
cannot
reply to topics in this forum