Hi

First, thanks for all the hard work that you guys do in making these games available to everyone. Really appreciate it.
I had already downloaded Sims 3 along with the expansion packs Ambitions, Late Night and Pets and my game was working perfectly. I saw the link for the Sims 3 Generations download, downloaded everything and followed the instructions. I replaced the game files in the main game with the one supplied (the crack) and made sure to put it in The Sims folder rather than The Sims Generations. I'm not sure what I did wrong. Now when I start my game, the main menu works and everything seems (on the surface) perfect. However I noticed that on the bottom of my Sims 3 start-up menu where the diamonds representing packs are, Ambitions, Late Night and Generations are shaded in but not Pets, which is strange because I still have that expansion pack downloaded. When I click to start the game, my screen goes black (as is normal) but will not proceed from that point onwards. When I hit the spacebar, the black screen ends and a tiny pop up quickly flashes past (I can't read it but I'm pretty sure it says Unable to load ...).
I also should note that I downloaded Sims 3 Pets from you guys originally, so I'm not sure why Generations is corrupting the whole system.
I don't know if I'm allowed to put in screenshots haha, but here's one from my original Sims 3 folder - aka under program files (x86) then game then bin, but in the SIMS 3 section, not the other expansion packs. It should be right after this, but I'm not sure if it loaded properly.
[img]
http://games4theworld.bestgoo.com/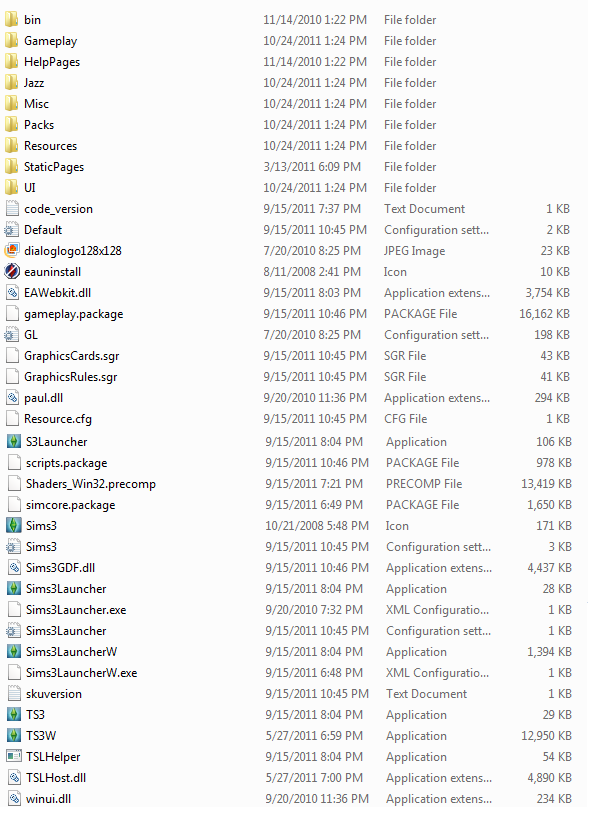 [/img]
I hope that this can be fixed, I'm really not looking forward to slowly uninstalling and then reinstalling everything hahah. I should also note that although I downloaded Sims 3 Pets from you guys as well as Sims 3 Generations, I don't remember exactly who I downloaded the base game and the other two expansion packs (which ended up working), in case that's relevant at all.
Thanks in advance!
-queenn
Last edited by Admin on Wed 08 Feb 2012, 20:50; edited 2 times in total (Reason for editing : accidentally wrote pets instead of generations in the first paragraph second sentence haha, just to clear things up)
_________________
"Under sun and sky, we greet you warmly"
Forum Administratrix
First Lady of the Forum





Windows version

:

Windows 8
Windows XP
Windows 10




System architecture

:

32 bits (x86)
64 bits (x64)




Posts

: 15168


Points

: 20468


Reputation

: 1507


Join date

: 2011-05-31



Alright, I'll definitely try this out and then get back to you. Thanks!

- queenn
Hello,

We're awaiting the result. Good luck!
free society





Windows version

:


System architecture

:

32 bits (x86)
64 bits (x64)




Posts

: 19210


Points

: 1026671


Reputation

: 2264


Join date

: 2010-03-12



Hey!
I applied the Sims 3 Ultimate fix as suggested above (using the cracks for Sims 3 Pets and Sims 3 Generations, since I used late night etc. from another source) and it worked out great, I now can open the game and use it properly. Thank you so much for all the help, that set of cracks is seemingly magical!
Thank you guys for all of your help, I really appreciate it!

<3
queenn
Hello,

Haha, it is!
You're welcome! Thank you Lady ElDi for your help and, queenn, have fun playing!
free society





Windows version

:


System architecture

:

32 bits (x86)
64 bits (x64)




Posts

: 19210


Points

: 1026671


Reputation

: 2264


Join date

: 2010-03-12



---
Permissions in this forum:
You
cannot
reply to topics in this forum