Hi, apologies if this error has already been posted and solved. I searched for it but only found a CRC error for a different patch.
I am receiving this error while in the middle of patching: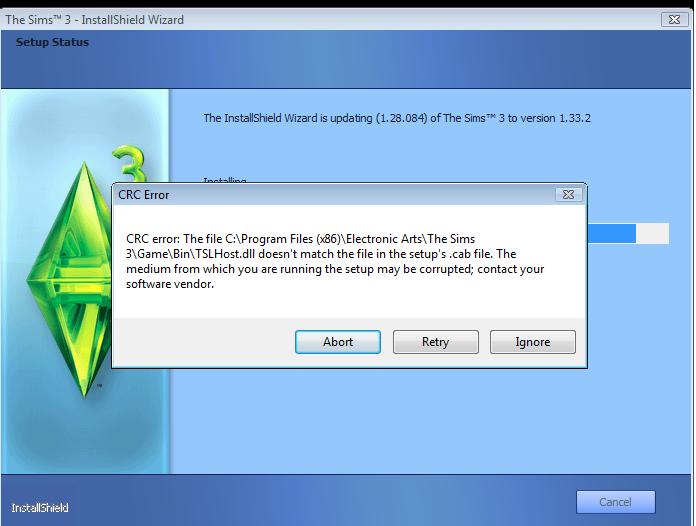 I have followed the Sims 3 installation instructions exactly. I installed High End Loft Stuff and Master Suite Stuff along with the Sims 3 download from this website. (Note: I also received this error when trying to update my purchased version of the Sims 3. Got sick of EA and their crap which is why I've turned here. The purchased version is of course uninstalled and replaced with only downloads from this site.)
I don't know if the final crack in the Ultimate Fix will trump this CRC error (I'm not extremely computer savvy beyond the basics) so I've decided to post here for help before I continue on from Step 11 in the Ultimate Fix. I've uninstalled and reinstalled both the base game and the expansions a few times because I wasn't following the directions correctly at first, so this round, I'd like to make sure I'm doing everything correctly.
P.s. Amazing what you've done here with all these Sims expansions! You are saving us all from the incompetence of EA.
Beginner





Posts

: 2


Points

: 1975


Reputation

: 0


Join date

: 2012-03-23



Hello,
Its better to start with another patch anyway, first download and install the 1.29
superpatch
, then onto patch 1.31 which can be found
here
, you may get a region error which is why you should get the one that matches your SKUversion. You can find out which one you need like this:
-Open "Start", type "regedit" in the search box and
then press [ENTER].
- When you're in the Register Editor, navigate to:
HKEY_LOCAL_MACHINE > SOFTWARE > Sims > The Sims 3 OR IT MAY BE IN:
HKEY_LOCAL_MACHINE > SOFTWARE > Wow6432Node > Sims > The Sims 3 (Windows 7, Vista)
-Here you'll see a file called "SKU". Double click on it and have a look at the value.
-Now download the 1.31 patch that matches your SKU.
After that, use the manual patch you've been trying to install.
Forum Administratrix
First Lady of the Forum





Windows version

:

Windows 8
Windows XP
Windows 10




System architecture

:

32 bits (x86)
64 bits (x64)




Posts

: 15105


Points

: 20009


Reputation

: 1430


Join date

: 2011-05-31



Hi Lady Eldi. I followed your instructions exactly. Patched up to 1.29 with no issues, up to 1.31 with no issues (made sure I had the right region) but when patching up to 1.33, I received the CRC error again.

Are there any other known solutions?
Beginner





Posts

: 2


Points

: 1975


Reputation

: 0


Join date

: 2012-03-23



Hello,

Try to redownload the patch, maybe it got corrupted during the download process.
Forum Administratrix
First Lady of the Forum





Windows version

:

Windows 8
Windows XP
Windows 10




System architecture

:

32 bits (x86)
64 bits (x64)




Posts

: 15105


Points

: 20009


Reputation

: 1430


Join date

: 2011-05-31



---
Permissions in this forum:
You
cannot
reply to topics in this forum