Hi
Today I just installed the Sims 3 by following steps 1 to 8 in the installation guide. I then decided to install World adventures and followed the steps 1 to 7 while skipping 3 to 6. When i got to step 8 however and tried to install Sims3ep01.setup i got this message:
I then clicked on yes and got this message:

I then tried checking the update thingy on sims 3 launcher but it says its up to date.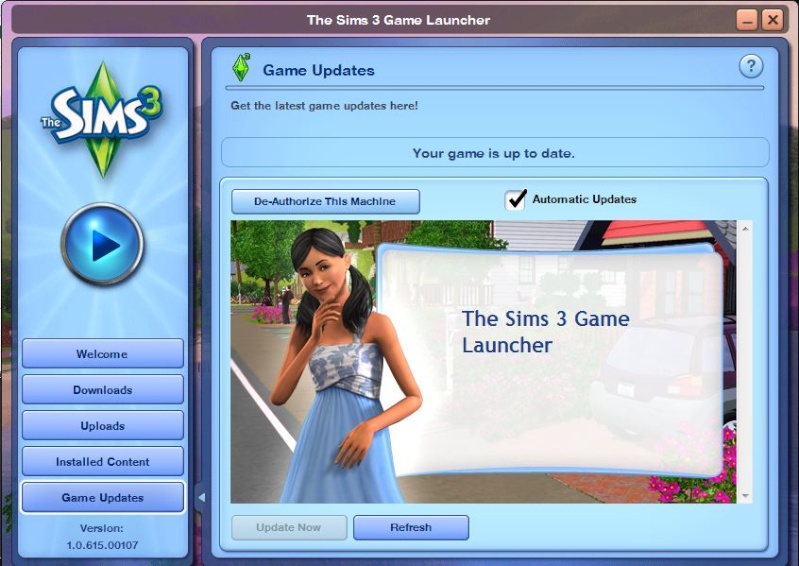 Btw during step 7
7. When you applied all the Updates, open The Sims 3 Launcher. You'll be prompted to Download
the EA Download Manager if you haven't already Installed it. So, if you don't have it, Install
it. When you've Installed the EA Download Manager, click on 'Refresh' on the Game Updates -tab.
A pop-up will appear, telling you that there's an Update for you Game. Click 'OK' to Download
and Install the Update.
when i installed EA Download manager I clicked on refresh my computer asked me whether to let the program (EA download manager through) and I accidentally click on X and closed the thing, and then i clicked on refresh again but no pop-up appeared to tell me to update the game. Did that affect it?
I dont know what to do, plz help

Beginner





Posts

: 2


Points

: 1724


Reputation

: 0


Join date

: 2012-12-04



Hello, I'm having the exact same problem. I've installed, uninstalled, reinstalled, and restarted my computer a dozen times. This is the third time I've reinstalled the game completely on my computer and I've never come across this issue before. My game worked perfectly the last two times I had installed it, however, this error is causing me some issues. I've tried variations on changing and not changing the SKU code, adding and not adding the Base Game crack, checking for updates before and after attempting to install WA and I've always come to this message. If I find anything in my research I'll let you know. Thanks for posting. It's good to know I'm not alone

Beginner





Posts

: 2


Points

: 1722


Reputation

: 0


Join date

: 2012-12-04



I actually just tried installing diesel stuff while waiting and got the same message and when i clicked yes it actually updated for me. It then asked me to download the latest 'origin' so i also downloaded that after.
I then went to the sims 3 launcher again and then it actually asked me to update.
And now it works!
Beginner





Posts

: 2


Points

: 1724


Reputation

: 0


Join date

: 2012-12-04



Beginner





Posts

: 2


Points

: 1722


Reputation

: 0


Join date

: 2012-12-04



No, that definitely works, there's nothing theoretical about it

Forum Administratrix
First Lady of the Forum





Windows version

:

Windows 8
Windows XP
Windows 10




System architecture

:

32 bits (x86)
64 bits (x64)




Posts

: 15105


Points

: 20012


Reputation

: 1430


Join date

: 2011-05-31



---
Permissions in this forum:
You
cannot
reply to topics in this forum