Hi guys,
First of all I wanna thank you, with your ultimate fixes you have really been helpful. Appreciate it.
Unfortunately, even if I already used your ultimate fix when I updated to 1.39 and 1.42, now I can't make it work with the 1.47.
I followed all the steps, as usual, replacing both .exe and .dll files as usual (I'm on a MAC) for all the expansions, but when
I try to update I get an error (attached here) and it just fails. I've downloaded the manual patch but I had no success anyway.
It gives me an error on the main exe and dll, it's a SHA1 error. But I already replaced those files with the right ones from your
ultima fix! Any ideas?
Cheers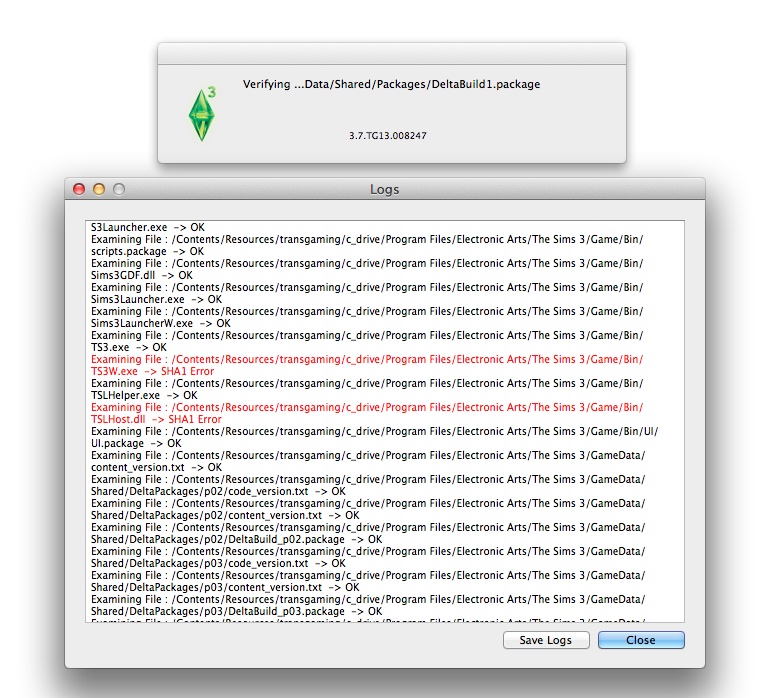 //MOVED
Hello,

Did you get the new fix? Your old fix won't work with this patch.
_________________
"Under sun and sky, we greet you warmly"
Forum Administratrix
First Lady of the Forum





Windows version

:

Windows 8
Windows XP
Windows 10




System architecture

:

32 bits (x86)
64 bits (x64)




Posts

: 14990


Points

: 20610


Reputation

: 1539


Join date

: 2011-05-31



Lady ElDi wrote://MOVED
Hello,

Did you get the new fix? Your old fix won't work with this patch.
Yeh I did, the latest one for patch 1.47!
Try using the manual patch for the correct regional code found here:
http://simswiki.info/wiki.php?title=Game_Help:TS3_Patching/Patch_Download_OSX
By following the instructions found on the official forums:
"PART A: Determine the Base Game Region Code
To manually patch the base game, you will first need to download the Super Patcher that corresponds to your base game region code. You need only download one manual base game update - do not download all of them.
If you only have the base game installed and no other expansions or stuff packs, simply run the game launcher and take note of the version number displayed in the bottom left corner of the window. The last digit of the version number will be the base game's region code - 1, 2, 3, 5 or 7. When done, proceed to PART B.
If you have other expansions and/or stuff packs installed in addition to the base game, to find out the base game region code you will need to access the base game's skuversion information:
1 - Use Finder and navigate to where the base game has been installed - by default this will be in the Applications folder
2 - Right-click on the base game application icon and select "Show Package Contents" - a new Finder window will appear
3 - Look for a file named info.plist and click on it once to highlight it
4 - Press Spacebar on the keyboard to open the file in Quick View mode
5 - When the file is opened, look for the following text string:
ClientBuild
6 - The line of text directly underneath will indicate the current version number of the base game - the last digit of the version number will be the base game region code (1, 2, 3, 5 or 7)
7 - When done, press Spacebar on the keyboard to close Quick View mode
8 - Close all Finder windows"
9 - Download the correct region number patch & install
Posting Lord





Favourite games

: Curse of Monkey Island, SimCity 2000


Posts

: 240


Points

: 2415


Reputation

: 26


Join date

: 2012-09-21


Location

: 3rd planet



Yep, correct. That's what I did. I downloaded the worldwide patch (region 2 cause last number in client build is 2) from 1.42 to 1.47 and when I try to install it the error reported in the screenshot I posted comes up. Don't really know what to do.
Solved! You can close the Thread! For those who have the same problem, I downloaded the cumulative patch (1.47 from any, 1.1GB) instead of the normal one (1.42 to 1.47) and it worked for me!
Ah! Good to hear!

Usually I link to the official Sims 3 cumulative patch but they haven't updated their mac one for 1.47. Typical eh!
Posting Lord





Favourite games

: Curse of Monkey Island, SimCity 2000


Posts

: 240


Points

: 2415


Reputation

: 26


Join date

: 2012-09-21


Location

: 3rd planet



---
Permissions in this forum:
You
cannot
reply to topics in this forum